Save the Date for Emerge!
In 2024, Delta Tau Delta will host Emerge, focusing on officer training. Emerge is a one-day event designed specifically for chapter officers. If you are planning to run for executive board (or have already been elected), plan to attend Emerge in your region.
The following officers should plan to attend Emerge:
President
Vice President
Director of Finance
Director of Recruitment
Director of Communication
Director of Risk Education
Director of Member Development
Director of Standards
New Member Education Coordinator
Chapter advisors and regional governors should also plan to attend.
Emerge will be free to attend and the Fraternity will cover or reimburse expenses related to travel. More information will be coming soon about the schedule, registration information and travel logistics. In the meantime, please review the Frequently Asked Questions.
Please note chapter presidents should also plan to attend PresX.
Questions? Contact Chief Development Officer Tiffani Ziemann.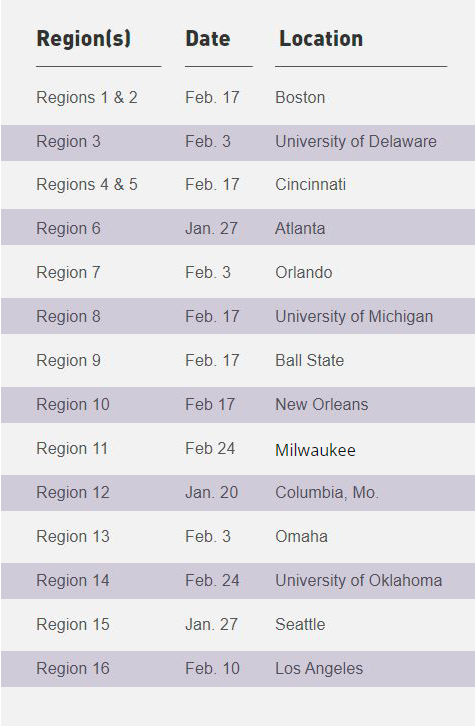 FAQs for Chapter Advisors and Officers
Q: What is Emerge?
A: Emerge is a one-day workshops focused on officer training and executive board development. There are opportunities for chapter officers to learn their positions, plan their year together, and meet other chapter members from the area.
Q: How is Emerge different from division conferences?
A: Emerge focuses solely on officer training and does not include the additional elements of Fraternity business and general leadership development. Emerge will be a one-day event in each region with fewer chapters in attendance at each one. While division conferences were open to any officer and volunteer, Emerge will be limited to specific chapter officers and volunteers as there will only be officer education offered at the program.
Q: Who from the chapter should attend?
A: Emerge will focus on training officers as outlined in the Delta Tau Delta officer structure. Since the day's focus will be the incoming executive board, attendance will be limited to those actually elected to positions. Chapters may not send substitutes unless it is a member serving in an assistant position. Chapter advisors should work with their regional governor for any requests for exceptions to the attendance policy.
The chapter officers who are expected to attend are: President, Vice President, Director of Finance, Director of Recruitment, Director of Communication, Director of Recruitment, Director of Risk Education, Director of Member Development, Director of Standards and New Member Education Coordinator.
Q: What if my executive board cannot attend Emerge for our region? Could my executive board split up to two different locations?
A: Your executive board should plan to attend Emerge together, preferably the one in your region. If your chapter has a significant commitment, the chapter can request to attend in a different region. The regional governors will review any requests to attend Emerge other than the one for your region.
Q: What if I have chapter members who want leadership development programming that was offered at division conferences?
A: They should check out Compass! It is open to all members and is focused on personal and leadership development.
Q: Should advisors plan to attend Emerge?
A: Yes! Volunteers will be critical to the success of the program. In addition to having time with your chapter to plan for the year ahead, volunteers will serve as position coaches throughout the day. Volunteers will be partnered with an officer position to help coach members in understanding the role.
Q: How far away is Emerge?
A: Most sessions of Emerge should be within a comfortable driving distance of the chapters. If chapter members are not within a reasonable driving distance of their region's location, arrangements will be made for hotels or flights as appropriate. More information is available in the travel guidelines that will be available soon.
Q: How much is this going to cost for my chapter?
A: There should be little to no cost to chapters/chapter members! The Fraternity and Educational Foundation are committed to making this program as accessible as possible for our chapters. There are no registration fees. Lunch and snacks will be provided on-site. Chapters that can drive will be reimbursed for mileage. Chapter members who need to fly or stay in a hotel will have those costs covered by the Fraternity, as indicated in the forthcoming travel guidelines.
Q: What about the costs to the volunteers?
A: The travel guidelines will apply to volunteers. Depending on your travel needs, you will either be reimbursed or have your costs covered.
Q: Are there really no costs to the students?
A: There are no registration fees. However, there will be a $50/member late cancellation/no-show fee for members who do not attend. This will be billed to the chapter. More information about any fees will be included in the registration materials.
Q: What are the benefits of attending the regional drive-in?
A: Newly elected officers will have an opportunity to learn more about their new role, spend time with their chapter advisors, and meet other chapter officers in the region. Additionally, chapters whose officers attend the drive-ins and President's Excellent Insititute will be eligible for a decrease in their chapter insurance allocation for the following year.