Regions and Regional Governors Announced
Delta Tau Delta is in the midst of the most significant change in the Fraternity's governance structure in more than 100 years. At the Norfolk Karnea in August 2022, undergraduate, volunteer and alumni delegates voted in favor of legislation promoting the change. As a result, the Arch Chapter reconsidered the regional makeup of the Fraternity, transitioning new boundaries and regional governors.
Following the 2022 Karnea, Chief Executive Officer Jack Kreman organized a task force to define the regional governor position and determine chapters assigned within each region's boundaries. The task force piloted a regional governor concept throughout the 2022-23 academic year, collected valuable feedback from chapter stakeholders, and began preparing the Fraternity for the formal implementation of the new regional model beginning in fall 2023.
Recognizing the support division presidents and division vice presidents have offered undergraduate members and volunteers, the task force designed the regional governor position through the lens of elevating the historical authority and scope of the division vice president role while scaling back the immensity of the division president role for more practical execution on a regional scale.
The cross-functional duties of the regional governor necessitate frequent collaboration with numerous Central Office staff. The volunteer support team, in collaboration with the chapter leadership consultants assigned to support specific regions, will serve as the primary catalysts to support the successful execution of regional governors' duties.
Delta Tau Delta recognizes that excellent chapters are created and sustained, in large part, by the continuity of effective volunteers. Chapter volunteers require and deserve guidance and support in the performance of their duties of coaching and mentoring undergraduate members. The role of the regional governor furthers Delta Tau Delta's mission by assisting chapter volunteers in achieving their goals.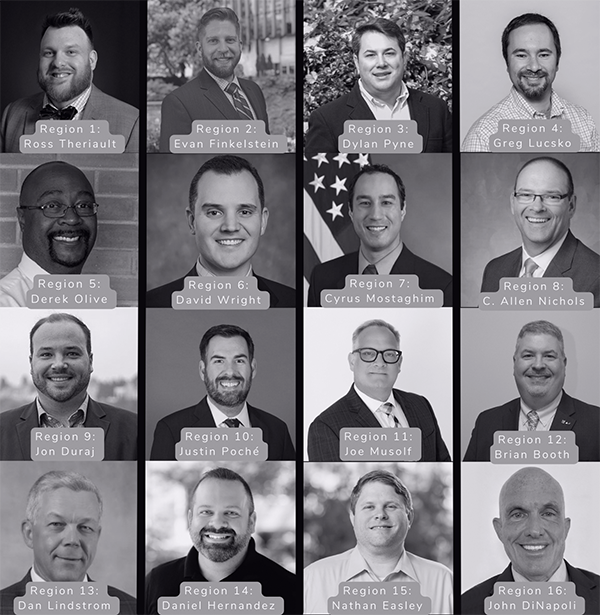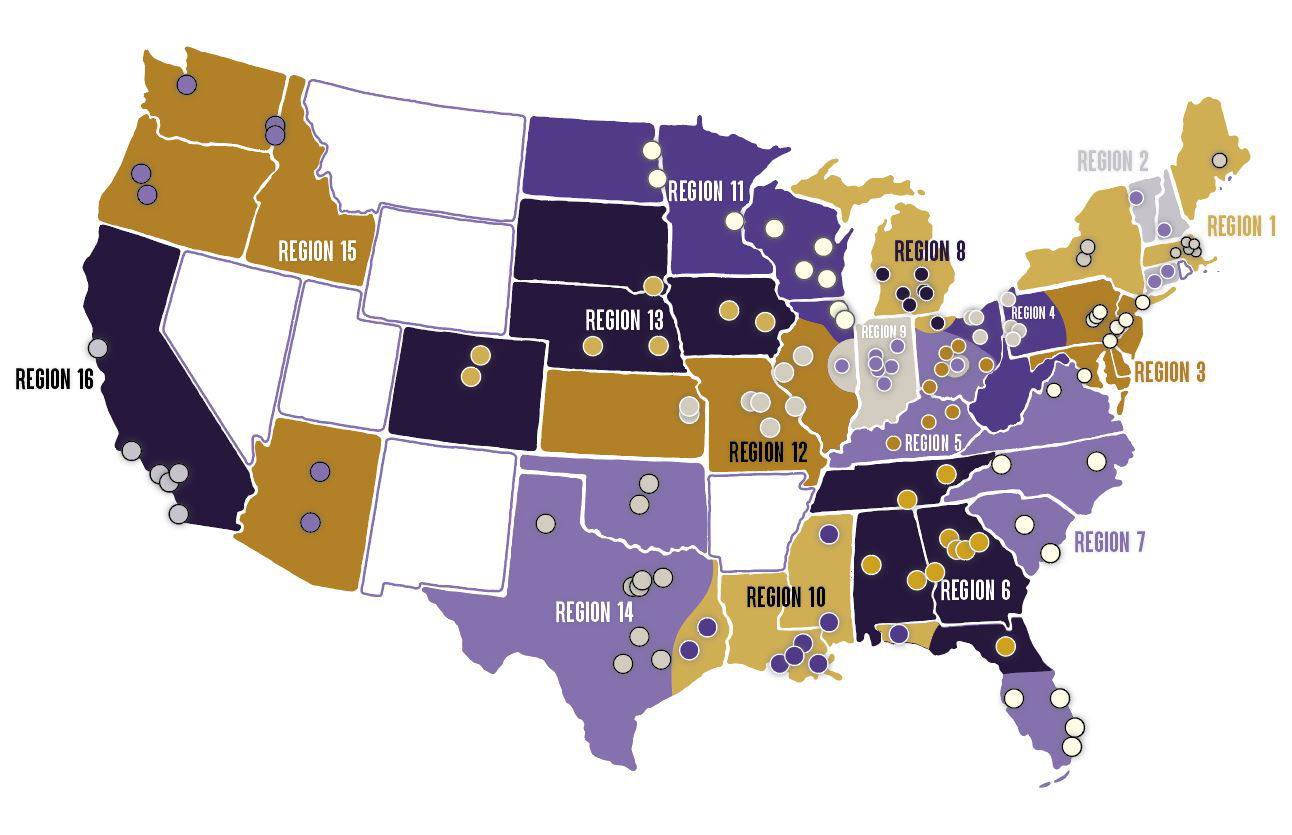 REGION 1
Maine, Massachusetts, New York
Gamma Nu — University of Maine
Beta Nu — Massachusetts Institute of Technology
Beta Mu — Tufts University
Beta Omicron — Cornell University
Gamma Omicron CC — Syracuse University
REGION 2
Connecticut, Massachusetts, New Hampshire, Vermont
Iota Tau — Sacred Heart University

Kappa Theta — University of Connecticut
Iota Omicron — Babson College
Beta Sigma — Boston University
Iota Psi — Northeastern University
Keene State University CC — Keene State University
Iota Pi — University of Vermont
REGION 3
Delaware, New Jersey, Pennsylvania, Washington, D.C.
Delta Upsilon — University of Delaware
Rho — Stevens Institute of Technology
Kappa Epsilon — The College of New Jersey
Nu — Lafayette College
Theta Tau — Moravian University
Theta Chi — Muhlenberg College
Zeta Theta — Villanova University
Gamma Eta — The George Washington University
REGION 4
Ohio, Pennsylvania, West Virginia
Zeta — Case Western Reserve University
Delta Omega — Kent State University
Alpha — Allegheny College
Zeta Mu — Robert Morris University
Gamma Sigma — University of Pittsburgh
Gamma — Washington & Jefferson College
Theta — Bethany College
REGION 5
Kentucky, Ohio
Zeta Zeta — Morehead State University
Delta Epsilon — University of Kentucky
Epsilon Xi — Western Kentucky University
Chi — Kenyon College
Epsilon Upsilon — Marietta College
Kappa Eta — Mount St. Joseph University
Mu — Ohio Wesleyan University
Gamma Xi — University of Cincinnati
Iota Beta — Wittenberg University
REGION 6
Alabama, Florida, Georgia, Tennessee
Epsilon Alpha — Auburn University
Delta Eta — University of Alabama
Delta Zeta — University of Florida
Beta Epsilon — Emory University
Gamma Psi — Georgia Institute of Technology
Iota Theta — Kennesaw, Georgia
Zeta Beta — LaGrange College
Beta Delta — University of Georgia
Beta Theta — University of the South
REGION 7
Florida, North Carolina, South Carolina, Virginia
Iota Nu — Florida Atlantic University
Iota Xi — Florida Institute of Technology
FIU CC — Florida International University
Epsilon Pi — University of South Florida
Iota Kappa — Appalachian State University
Kappa Iota — East Carolina University
Kappa Zeta — College of Charleston
Theta Eta — University of South Carolina
Kappa Beta — James Madison University
REGION 8
Michigan, Ohio
Epsilon — Albion College
Theta Xi — Eastern Michigan University
Iota Upsilon — Grand Valley State University
Kappa — Hillsdale College
Epsilon Iota A — Kettering University
Epsilon Iota B — Kettering University
Delta — University of Michigan
Delta Tau — Bowling Green State University
REGION 9
Illinois, Indiana, Ohio
Beta Upsilon — Champaign, Illinois
Epsilon Mu — Ball State University
Beta Zeta — Butler University
Beta Beta — DePauw University
Beta Alpha — Indiana University
Gamma Lambda — Purdue University
Beta Psi — Wabash College
Beta Phi — Ohio State University
REGION 10
Florida, Louisiana, Mississippi, Texas
Zeta Iota CC — University of West Florida
Epsilon Kappa CC — Louisiana State University
Epsilon Phi — Southeastern Louisiana University
Beta Xi — Tulane University
Epsilon Psi — University of Louisiana-Lafayette
Pi — University of Mississippi
Zeta Chi — University of Southern Mississippi
Epsilon Zeta — Sam Houston State University
Zeta Psi — Stephen F. Austin University
REGION 11
Illinois, Minnesota, North Dakota, Wisconsin
Gamma Beta — Illinois Institute of Technology
Beta Pi — Northwestern University
Beta Eta — University of Minnesota
Iota Sigma — North Dakota State University
Delta Xi — University of North Dakota
Delta Nu — Lawrence University
Zeta Alpha — Marquette University
Beta Gamma — University of Wisconsin
Iota Phi — University of Wisconsin-Eau Claire
REGION 12
Illinois, Kansas, Missouri
Zeta Omega — Bradley University
Zeta Lambda — Western Illinois University
Gamma Theta — Baker University
Gamma Tau — University of Kansas
Iota Chi — Lindenwood University
Epsilon Nu — Missouri University of Science and Technology
Gamma Kappa — University of Missouri
Delta Omicron — Westminster College
REGION 13
Colorado, Iowa, Nebraska, South Dakota
Epsilon Omicron — Colorado State University
Beta Kappa CC University of Colorado Boulder
Gamma Pi — Iowa State University
Omicron — University of Iowa
Theta Kappa — University of Nebraska-Kearney
Beta Tau — University of Nebraska-Lincoln
Delta Gamma — University of South Dakota
REGION 14
Oklahoma, Texas
Delta Chi — Oklahoma State University
Delta Alpha — University of Oklahoma
Theta Delta — Baylor University
Zeta Sigma — Texas A&M University
Epsilon Eta — Texas A&M-Commerce
Epsilon Beta — Texas Christian University
Epsilon Delta — Texas Tech University
Gamma Iota — University of Texas
Epsilon Rho — University of Texas-Arlington
Iota Omega — University of Texas-Dallas
REGION 15
Arizona, Idaho, Oregon, Washington
Theta Gamma — Arizona State University
Theta Omega — University of Northern Arizona
Delta Mu — University of Idaho
Delta Lambda — Oregon State University
Gamma Rho — University of Oregon
Gamma Mu — University of Washington
Epsilon Gamma — Washington State University
REGION 16
California
Iota Epsilon — Chapman University
Beta Rho — Stanford University
Delta Iota — UCLA
Theta Lambda — University of California-Riverside
Delta Psi — University of California-Santa Barbara
Theta Zeta — University of San Diego
Delta Pi — University of Southern California