History
Named in honor of Supreme Court Justice Thomas C. Clark (University of Texas at Austin, 1922), the Clark Alumni Council provides meaningful volunteer opportunities at a national level through the Delta Tau Delta Educational Foundation. Known as "The Man with the Bow Tie," Brother Clark's favorite expression was "Once a Delt, always a Delt." Clark was also the one to start the Fraternity's Undergraduate Council, giving undergrads a seat at the table during critical discussions impacting the Fraternity's future. It's no surprise that as the 28th president of the Fraternity, Clark's primary goal was to develop an even closer relationship among graduates, alumni and the Arch Chapter. The Clark Alumni Council embodies that sentiment by engaging Delts and strengthening personal and professional networks on a national level in the years following graduation to uphold a lifelong commitment to Delta Tau Delta.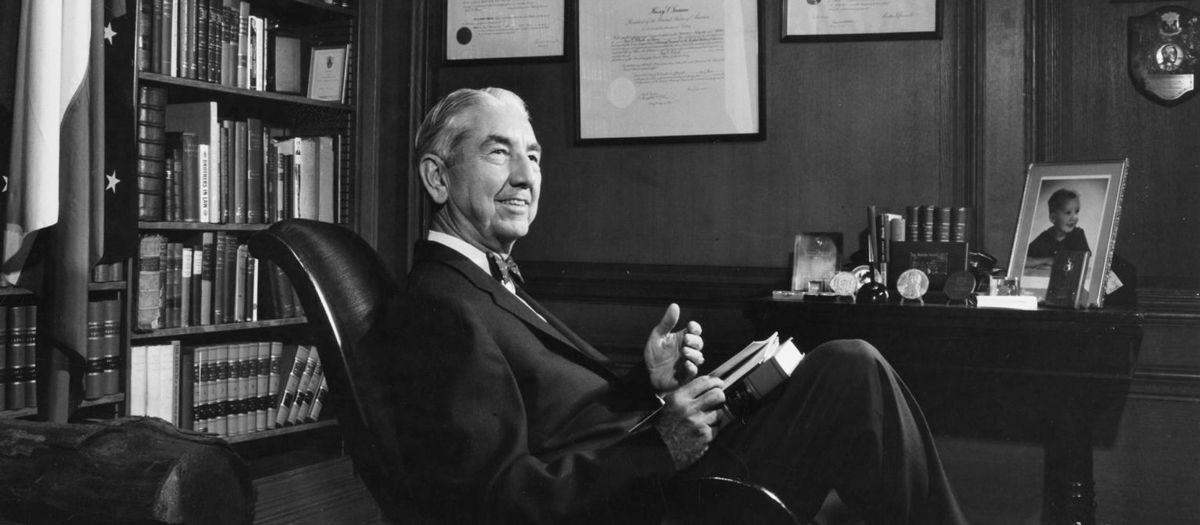 Guidelines
Members of the Clark Alumni Council will be exposed to a number of alumni engagement opportunities for involvement. It is requested that members can commit to two or three of either of the opportunities or expectations, listed below:
Alumni Engagement Opportunities
Serve as a member of the Foundation's scholarship selection committee
Review submissions and provide recommendations that enhance the Delt Foundation's annual awards program
Serve as a Day of Giving regional leader
Assist with donor events at Karnea and regional conferences
Host local alumni gatherings when relevant
Membership Expectations
Attend one Foundation board meeting per year
Commit to being a member of the Delta Alpha Kappa Society up to the Order of the C-- level if possible, while recruiting peers to do the same
Serve as a conduit by getting others involved and making meaningful introductions
Justin B. Archote (Southeastern Louisiana University, 2017)

Landon E. Bahl (University of North Dakota, 2015)

Bryson Brown (University of Kansas, 2019)

Tim P. Cullen (Tulane University, 2009)
Adam DeLand (Eastern Michigan University, 2013)

Cody J. Dewrell (Kennesaw State University, 2014)

Evan R. Finkelstein (Carnegie Mellon University, 2014)

Taylor Gage (Hillsdale College, 2010)
Raymond R. Goulet (University of Maine - Orono, 2015)

Benjamin T. Grothe (University of Iowa, 2017)
Austin Hastings (Western Kentucky University, 2014)
Current Members
Connor S. Hollrah (Westminster College, 2015)

Cody L. Keim (University of California - Los Angeles, 2016)

Christopher G. Law (Marietta College, 2010)

Andrew LaGrone (University of Nebraska - Lincoln, 2013)
Rian Mehta (Florida Institute of Technology, 2013)

Andrew G. Oguich (Robert Morris University, 2017)

Geoff Plourde (Pepperdine University, 2014)
Nathan C. Ply (Kettering University, 2012)
Joseph A. Quenga (Georgia Southern University, 2009)
Brooks P. Rahaim (Southern Mississippi University, 2019)
Graham C. Reeves (Case Western Reserve University, 2012)
Adam T. Rice (Missouri University of Science and Technology, 2021)
Ryan L. Ring (University of Wisconsin - Eau Claire, 2019)
Dustin D. Santjer (University of South Dakota, 2017)

Andrew M. Schreiner (University of Iowa, 2014)

Alex R. Schriver (Auburn University, 2010)
Daniel C. Shorts (American University, 2011)
Scott D. Snyder (Kettering University, 2012)
Jackson W. Vaught (Vanderbilt University, 2016)
Interested?
Interested and eligible alumni seeking more information about joining the Clark Alumni Council should fill out the form below or contact Senior Director of Advancement, Vince A. Russo (Robert Morris University, 2017) at vince.russo@delts.org.