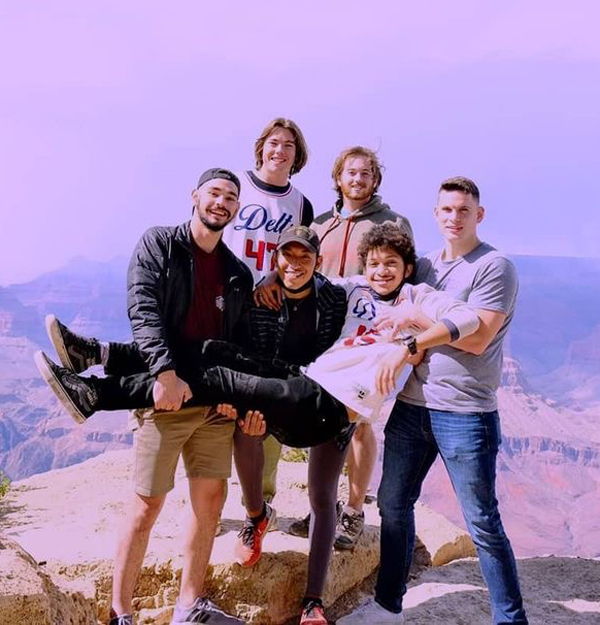 Our Delt Creed describes Delta Tau Delta as a shrine of International brotherhood…




…our cornerstone is friendship:




Delta Tau Delta aspires to be an organization comprised of a diverse group of individuals who are all committed to a shared Mission and Values.

---
Our Mission is "Committed to Lives of Excellence" – we challenge our members to engage in a lifelong journey in pursuit of excellence and service to others.
Our Values serve as our fundamental principles across all challenges in life
Truth requires us to be honest with ourselves and hold each other accountable
Courage inspires us to take on the greatest challenges and make difficult choices
Faith commands us to learn and live the truth, be confident in our actions, and honor all people
Power demands us to harness our inner strength to improve ourselves and our communities
Integrity is essential and requires our actions and behavior be fully compatible with our Oath and Ritual
Accountability is fundamental to all commitments, including the commitment of our organization and each member to the ideas of diversity, equality, and inclusion
Lifelong learning and growth are vital to enhance our pursuit of excellence through the exploration of new concepts and continuous improvement
Strengthening community is essential to our vitality and means our actions and behaviors should enhance the activities and culture of the total community - our campuses, the Greek system, our neighbors, our countries, and the world
Brotherhood sustains us through our commitment to honoring the unique and diverse nature of all our members and taking actions that are inclusive and understanding
Our Members include all those individuals who are fully initiated, as well as those new members who are committed to learning and fully accepting the meaning of our Mission, Values, and Ritual.
We use the terms Brother and Brotherhood affectionately to refer to the initiated members in our Fraternity.
Our Delt Family includes all those individuals who are not members, but who share an affinity for Delta Tau Delta and commitment to its ideals. We celebrate our staff, campus partners, and advisors in advancing our mission. We cherish the parents, sweethearts, spouses, children, family, and friends who love and support our Members.
…our foundation is conscience:
Strengthening Community is Essential to our Vitality and we must interact with a diverse group of people from a broad set of communities during our journey toward Excellence
---


We define Diversity as the range of different backgrounds, experiences, qualities, characteristics, and interests of our members that make us strong and vibrant as an organization
We define Equality as goodness of heart in the fair and just treatment of all people through our words and actions.
We define Inclusion as active engagement to involve, empower, and celebrate each of our unique members and reinforce Delta Tau Delta as welcoming to all people of good will, whether as Members, Family, or Friends.




…our columns are aspiration:
We acknowledge a pressing need across society to address the challenges of diversity, equality, and inclusion – it is essential we take action to strengthen Delta Tau Delta now and for the future.
---
Actions Taken:
In 2015-2016, a National Diversity Task Force explored where we stand as an organization and made recommendations for future action (read the report here)
In 2016 the Arch Chapter (the executive arm of the Fraternity) formally adopted language regarding inclusive membership as relates to gender identity and transgender individuals
In 2018, the Fraternity officially recognized two Affinity Groups to better connect our members in two key groups:

Delt Pride provides support, advocacy, and community to members who identify as GBT+ (gay, bisexual-transgender) and any other non-heteronormative sexual orientations, gender expression, or genre identities members of Delta Tau Delta.
Military Delts is a networking, professional development, and support network for members who are Veterans, currently serving in the military, or considering service

In 2020, many of our undergraduate chapters were moved by national events to issue statements condemning racism and directly support efforts to achieve racial justice
In late 2020, the Arch Chapter established a National Diversity, Equality, and Inclusion (DEI) Task Force to conduct a holistic assessment and take tangible steps to improve the Fraternity experience for all.
The Central Office also established a DEI committee to review its business practices, training plans, and staff recruitment, and partnered with professional consultants to assist in framing these efforts.
In 2021 we have:
Partnered with Social Responsibility Speaks to better assist in our efforts and hosted a Fraternity-wide discussion on Equality, Inclusion, and Diversity
Provided a single public-facing location to share DEI efforts and ensure transparency, including the availability of key documents, reports, and resources
Developed mechanisms for obtaining chapter-level observations on DEI topics as part of the chapter consultant visit program
Established a feedback mechanism for all members to provide ideas on how to address this issue
Future actions:
Emphasizing our Mission, Values, and Ritual as the foundations for recruitment and education of members in achieving a diverse and inclusive men's Fraternity
Developing and implementing methods to collect, analyze, and understand the true diversity of our membership and areas for focused effort
Supporting the Governance Committee effort to assess all governing documents and update language to ensure inclusivity
Supporting the Ritual Committee effort to assess our ceremonies and propose language modifications where appropriate
Providing a review of member education to update materials as necessary and identify resources for use by chapters and individual members
Reviewing and updating recruitment materials, websites, and social media accounts to better highlight the diversity of members
How students may help:
We need member input and ideas on how we can tackle this challenge and improve the Delt experience for all our members, please click here to provide your thoughts directly to the DEI Task Force
Have an open and honest conversation with chapter members regarding these topics and if there is more to do to be inclusive toward both chapter members and those within the community
Seek members of the campus and local community for feedback on how your chapter can be more inclusive in its programs
Incorporate discussions of diversity and inclusion into your recruitment training and local new member education; share our Mission and Values with potential new members and discuss how they can add uniqueness and vibrancy to your chapter