Whether this is your first or your twentieth, we're excited to welcome you to the Karnea experience in Norfolk. The hotel is within easy walking distance to the city's charming downtown district and many area attractions.
The Karnea schedule will be available at delts.org, through the Karnea app, and in registration materials. We will also review the schedule at the Wednesday afternoon Guest Reception so that no one misses any events. In many places, our guest schedule coincides with the Delt schedule; however, the Wednesday Guest Reception and Thursday Guest Program are limited to guests only. There may be additional events, such as reunions, breakfasts and chapter or division events that guests will be able to attend.
What to wear? You can't go wrong with a smart casual dress code for most events in this luxurious resort. The Friday Alumni Achievement Award Luncheon and Saturday Karnea Banquet will be more formal, with the men wearing coats and ties so women should dress accordingly on Friday and with cocktail dresses on Saturday.
Guests are welcomed to our in-hotel Guest Reception on Wednesday, August 3 from 3:30 to 5:00 p.m. This informative meet and greet is an opportunity to renew old acquaintances, make new friends, review our schedules, synchronize our watches and learn about the activities available at Karnea, our hotel and around the Norfolk area. Light refreshments will be served; Dress is casual.
Planning to bring your children to Karnea? Please reach out to www.care.com to arrange childcare if needed.
2022 BRIEF KARNEA SCHEDULE FOR GUESTS
NOTE: Subject to Change
Guests are welcome to attend any of the programming and business sessions.
WEDNESDAY, August 3
3:30 p.m. – 5:00 p.m. Guest Reception
7:00 p.m. – 9:00 p.m. Karnea Opening Celebration (Building the 21st Century Delt)
THURSDAY, August 4
8:30 a.m. – 4:00 p.m. Guest Program (off-Site)
11:45 a.m. – 1:45 p.m. Luncheon (JDRF)
6:15 p.m. Food Trucks on the Waterfront
FRIDAY, August 5
7:30 a.m. JDRF Walk/Event
9:00 a.m. – 10:00 a.m. Aron Ralston: 127 Hours (Keynote)
12:45 p.m. - 2:45 p.m. Alumni Achievement Awards Luncheon
6:00 p.m. Depart for Nauticus
6:30 p.m. – 9:30 p.m. Nauticus Maritime Museum/Wisconsin Battleship/Karnea Photo
SATURDAY, August 6
9:00 a.m. - 11:30 a.m. Rite of Iris/Ritual
Business Session including report of Ritual Committee
Guests are welcome to attend the Rite of Iris then will be excused prior to the Ritual.
6:00 p.m. - 7:00 p.m. Banquet Reception/Other Receptions
7:00 p.m. – 10:00 p.m. Karnea Banquet
10:00 p.m. Dessert Reception
Welcome to Karnea! It's been four years since our last Karnea, so we're going all out to ensure our guests enjoy the greatest of all Delt events.
A perfect combination of historical significance and coastal playground, Norfolk has something for you whether you are a history buff, love the arts, or enjoy waterfront fun.
The Waterside Marriott is perfectly situated along the Elizabeth River, surrounded by natural beauty, a historic downtown district, a complex of waterfront shops and restaurants, cruise boats and ferries and museums. Downtown Norfolk really comes alive in summer, and nearly everything is within walking distance of its thriving waterfront and our hotel.
For our first time together in four years, our Norfolk Karnea Guest Program provides experiences that are unique to Norfolk.
We will kick off Thursday's program after a hearty breakfast at the hotel. Then, we will visit the Chrysler Museum of Art, including a guided tour of the largest collection of art glass in the US, enjoy a glass blowing demonstration at the Perry Glass Studio, and browse the art glass gallery at the Glass Light Hotel.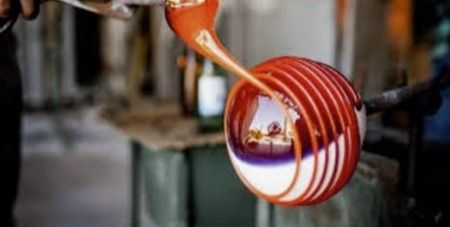 Why did the pirate go on vacation?
He needed some Arrrr and Arrr!
The afternoon will finish near our hotel after a two-hour harbor narrated cruise on a chartered 3-masted schooner, the American Rover. Young and old alike may sit and enjoy the fresh air or can have a hand in setting the sails or taking a turn at the helm.
At the Wednesday afternoon Guest Reception, additional information on the activities available in the Norfolk area will be provided.
Your Guest Registration includes:
Wednesday
Afternoon Guest Reception
Evening Karnea Opening Celebration
Thursday
All-day Out of Hotel Tour with breakfast and lunch
Friday
Morning JDRF Walk/Event
Karnea Photo, Nauticus, and Dinner aboard USS Wisconsin
Saturday
Karnea Banquet Reception Dinner and Dessert Reception