Every year, International Men's Day (IMD) is celebrated on November 19. This year, Delt is excited to provide educational programming in the days leading up to IMD that focuses on the unique issues that impact men and boys. Topics include masculinity, men's friendships, mental health, and physical health. We know our members live in a world where the definition of what it means "to be a man" is pretty narrow. Delta Tau Delta wants to change that.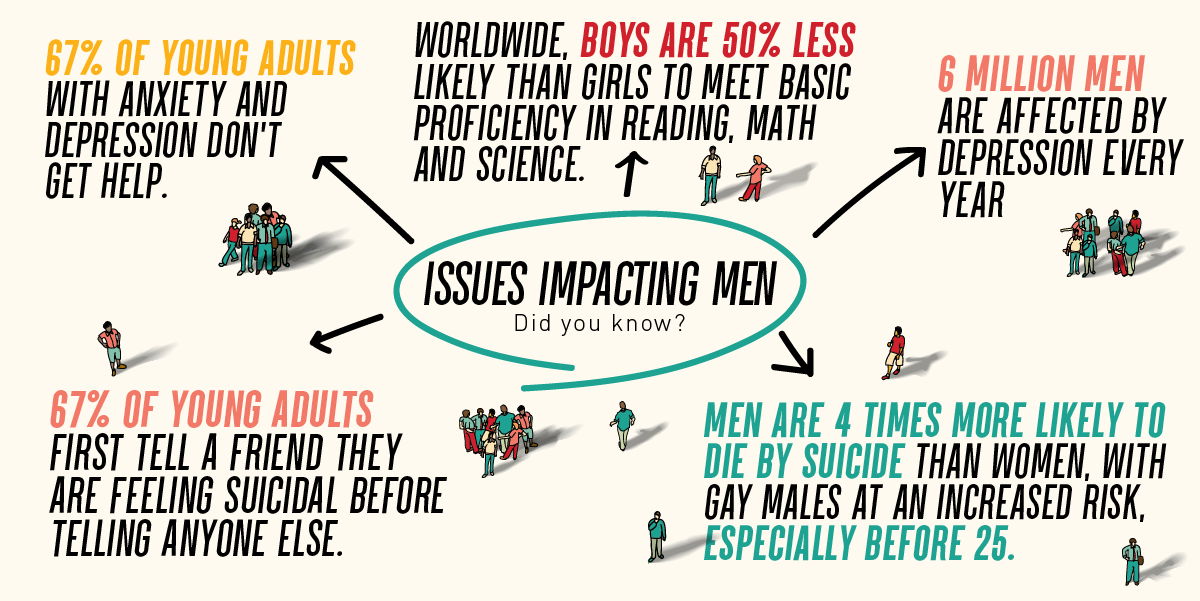 Join the conversation
Being a man or masculinity has a different meaning depending on who you ask, so we are asking you. Answer one or both of the questions below to join the conversation about men's health. Responses will be used throughout this weeks programs.

International Men's Day Programs
Panel on Men: Monday, Nov. 16, 2020 at 8 PM Eastern
Hosted by Robert Huffman (Florida Atlantic University, 2012) is a development manager for the Movember Foundation. Before working at Movember, Huffman was a founding father for Delta Tau Delta's Iota Nu chapter at Florida Atlantic University (FAU). While starting the chapter, he helped bring Movember's moustache movement to his campus in 2009 and eventually the chapter was growing moustaches and raising over $20K annually for Movember and men's health. Huffman then went on to work five years in aviation finance before he returned to his passion as a full time staff member at Movember and is now focused on bringing men's mental health to the forefront on college campuses.
Our experts include:
Lucas Budler (Wabash College, 2021), the Beta Psi Chapter's undergraduate mental health chairman
Rico Francis (Psi Upsilon Fraternity), who founded his own non-profit focusing on education
Nate Kern (Boston University, 2018), whose chapter brother died by suicide and who is now training to compete in the IRONMAN triathlon
Adam McCreary (Theta Delta Chi Fraternity), who specializes in conversations around masculinity
Andrew McElroy (John Carroll University, 2013), who is currently in his medical residence in urology
The Crisis of Connection: Tuesday, Nov. 17, 2020 at 8 PM Eastern
Join us as we learn more about what the research says is happening with boys and their male friendships. We'll then connect this research to the Fraternity experience. This session will be presented by Alex Kennedy, Delta Tau Delta Fraternity Director of Undergraduate Education and Vince Russo, Delta Tau Delta Foundation Senior Advancement Officer.

Asset-Based Approach to Masculinity
Understanding masculinity and using it as an asset can help us get the most out of our membership by emphasizing the natural talents and tendencies of men. Check out our social media accounts and website to access the recorded session from Karnea 2020 hosted by Jacob Ellis, Coordinator of Undergraduate Education.

You Can Help A Brother: Thursday, Nov. 19, 2020 at 8 PM Eastern
Delta Tau Delta is excited to partner with our friends at the JED Foundation to unveil our newest chapter resource on mental health, the You Can Help a Brother program. Join us to experience the program firsthand and learn more about how you can bring this program to your undergraduate chapter.