Honor Flight Boosts Navy Veteran's Outlook on Life
Navy veteran Joseph Doran (Ohio University, 1949) gained a new perspective after an honor flight in 2017. He traveled with HonorAir Knoxville, an organization that takes veterans from East Tennessee to Washington, D.C. to visit the memorials built to honor their sacrifice.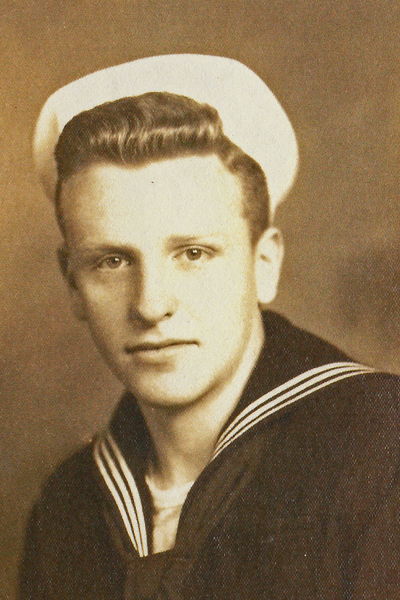 Doran had to cancel his first opportunity to participate because he was caring for his wife. After she died in 2016 his kids encouraged him to reapply. "When you lose somebody that you have been with for 67 years, it takes a long time to get over. You don't ever do, but at least when I went on that trip there was quite a large crowd there to thank us for our service coming back to Knoxville from D.C. There were over 2,000 people there," Doran said.
The honor flight is a one-day trip leaving at 7 a.m. and returning about 12 hours later. While Doran had been to Washington, D.C., it was before many of the monuments were built. Visiting the monuments was powerful, but the sentiment behind the trip and the messages of those supporting veterans proved to be the most powerful force.
"On the flight back," Doran said, "They had what they call a mail package day and they had collected thank you letters from the kids in school and grown-ups who wrote thanks for your service letters. There were 131 of us on that plane and we all got a package of eight, nine, 10, letters from complete strangers thanking us for our service. In 70-some years since I got discharged, I can't remember ever hearing anybody say thank you for your service until lately. Now that has spread all over the country. You hear it all the time. It's amazing."
Doran enjoyed seeing the memorial, but what he gained most from the honor flight was the awareness of how many people care. "It changed my whole outlook on life," Doran said, "I was kind of down after I lost [my wife]. To know that many people who don't know a thing about any of us would take their Saturday evening and come to the airport to thank us was absolutely unbelievable to me. I said to myself, well, God's keeping me here for some reason. Maybe I better change my outlook on things and start thinking differently than I'm thinking now. I made up my mind if they could give up a Saturday night to honor us, I would try every day to do something nice for somebody else."
His acts of goodwill could be opening the door, carrying a package, driving someone who needs a ride or visiting other veterans. Doran has taken his 30-year hobby of collecting music to share meaningful CDs for people he knows like music and could use a pick-me-up including more than 300 residents at a nearby facility. "If they're sick or they're not sick, if that cheers them up a little, I get more satisfaction out of it than they do by getting the CD," Doran said. "I probably have given away well over 2,000."
The Honor Air flight also allowed Doran to connect with Lindsey Robinette, a volunteer veteran escort who has a master's degree in history with a focus on World War II. Robinette visits elementary schools and middle schools in Tennessee and Doran has helped share newspaper clippings, books and other materials to supplement her educational programs about World War II.
Doran earned his high school diploma in 1945 but did not graduate in person. He left high school in April and graduation was in June. "I went to Great Lakes [Naval Training Center] and got assigned to the Naval Air Transport Squadron in Seattle. I got transferred to Hawaii and we flew to all the islands in the Pacific, taking supplies and personnel out, bringing back wounded guys to the Naval Hospital above Pearl Harbor. I was a transport airman, which would be like a loadmaster today," Doran said.
Though he had never been on campus before, he enrolled at Ohio University one week after he was discharged and graduated in three years. "Delta Tau Delta has been a big part of my life," Doran said. "I had a cousin who was in the Fraternity before the war and he had me come to one of their pledge parties and I pledged. I served as pledge master, vice president and president," Doran said.
Moves related to his banking career took Doran from Michigan to New York to New Jersey before he retired to a home he and his wife built in Tennessee. There he enjoys hosting family and will celebrate his 93rd birthday next week.
"It surprises me how, after the war, when I went to Ohio University, most of the guys in the Fraternity had been in some branch of service, but we never talked about it," Doran said. Four years ago, Doran reconnected with chapter brothers after he read a Delt story about his classmate Jack Daugherty (Ohio University, 1949). "I knew Jack for three years and never knew that he was a medic and that he'd been on Iwo [Jima] and received a Purple Hearts and a Bronze Medal of Honor. I didn't know anything about it."
After reading that story in 2016 Doran got together with Dave Keller (Ohio University, 1950) and Bob Bires (Ohio University, 1951) and they called and talked with Daugherty. Both Daugherty and Bires died in 2018.
Last fall Doran received another symbol of care from Quilt of Valor through the Manchester, Massachusetts based Quilt of Valor Foundation, whose mission is to cover service members and veterans touched by war with comforting and healing Quilts of Valor. "I was lucky enough to be awarded one myself," Doran said.
As President Harry S. Truman is quoted on the Quilt of Valor website, "Our debt to the heroic men and valiant women in the service of our country can never be repaid. They have earned our undying gratitude. America will never forget their sacrifices." Thank you, Joseph Doran.