Jack Daugherty's Uncommon Valor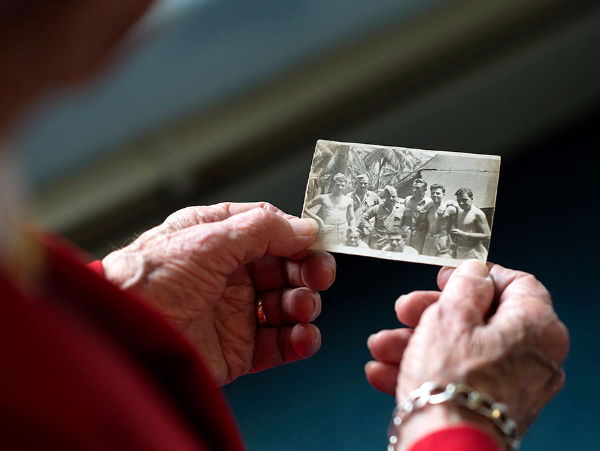 Jack Daugherty (Ohio University, 1949) landed on Iwo Jima on February 22, 1945. He was among the 30,000 Marines and 500 landing craft that hit the beach prior to the iconic February 23 raising of the U.S. flag on Mt. Suribachi.
Deeply entrenched in combat three weeks later on March 17, 1945, Daugherty, a young Navy pharmacist's mate serving with the Ninth Marines, volunteered to climb up a hill to rescue a wounded Marine in an area surrounded by enemy machine gun fire.
Daugherty enlisted another Marine in his plan directing him where to throw smoke grenades to provide cover and ran uphill toward the injured Marine. He was hit in the side by enemy fire before he dove into the trench. When he finally reached him, he learned the man was not severely injured, but his back had been grazed by a bullet which stung his back and made him rise up from the trench.
The two injured men were then trapped in the trench waiting more than eight hours to move through the darkness and return to the other Marines. Daugherty was honored with the Bronze Star for coming to the aid of the wounded Marine and also received a Purple Heart because of his own injuries incurred as he crawled up the hill.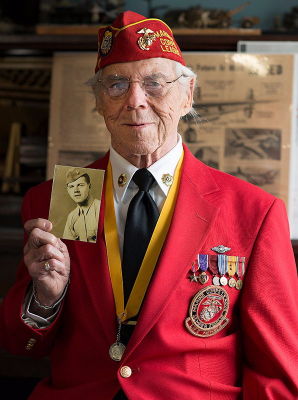 The Bronze Star citation by Secretary of the Navy James Forrestal states, "Daugherty unhesitatingly went to the stricken man's assistance." The citation goes on to say that when his patient was attacked by an enemy soldier, Daugherty killed the attacker with two shots from his carbine. "Later, wounded himself and separated from his company by enemy fire he outlined an effective means of recovering wounded," the citation reads.
Daugherty's service embodies the sentiment of Fleet Admiral Chester Nimitz, who reflected on the incredible sacrifice of Marines with the tribute, "Among the men who fought on Iwo Jima, uncommon valor was a common virtue."
A Columbus, Ohio native, Daugherty graduated from high school in 1942 and completed one year at Ohio University before he turned 18. He was initiated into Delta Tau Delta in May 1943 and enlisted in the Navy that same year. "I joined the Navy because I wanted to travel. After boot camp they sent me to Charleston, South Carolina because my aptitude was medicine," said Daugherty.
He took a six-month course to become a lab technician and served as an instructor for two months before the Marines called for a thousand men. With the Marines, Daugherty went to boot camp for seven weeks followed by training in California. He spent eight months with the 9th Marines, 3rd Division on Guam as a replacement medic before he landed on Iwo Jima. "I'm very proud of the Marine Corps," said Daugherty.
Daugherty returned to Ohio University after being discharged from the USMC and graduated in 1949. He remained involved with Delta Tau Delta and looks back fondly on his days living in the Beta Shelter in Athens, Ohio. He first learned about the Fraternity from his aunt and uncle who owned a restaurant in Athens. "My aunt told me, 'We always try to get Delts to be waiters. You should be a Delt,'" Daugherty said. "When I went to the library to study I always saw three boys—three Delts who sat across from me. I thought, 'That's what I want to be.' When one of them asked me to join, I did. In everything that happened on campus the Delts seemed to be the leaders. We were very proud."
Daugherty met his wife in Athens after the war. They married in 1950 and had one son. He earned a DDS degree from Case Western Reserve University in 1953 and served an internship at the University of Cincinnati Hospital where he was a resident the following year. In 1955, he was the only resident accepted at Ewing Clinic in Akron, Ohio and in 1956 he became the chief resident. He retired as an oral surgeon in 1987.
Now 91, Daugherty lives in Dayton, Ohio. He participated in the Kansas City Karnea in 1998 and is a Bethany Society member among those who have made a gift of more than $25,000 to the Delta Tau Delta Educational Foundation.
"Jack is a tremendous Delt alumnus who served his country and almost paid the supreme sacrifice being wounded in battle on Iwo Jima during World War II. He has given back to his fraternity in many ways. In the 1990s Jack volunteered to assist the newly formed Theta Rho Chapter at the University of Dayton and served for five years almost never missing a meeting or event," said Carl Wick, (Ohio State University, 1963), a former chapter advisor to Theta Rho at the University of Dayton.