Zeta Zeta Chapter at Morehead State University Celebrates 50 Years

Zeta Zeta Chapter's 50th celebration included several events starting with the Early Bird Social on Sept. 22 taking advantage of Morehead's new downtown entertainment district with outdoor seating allowing brothers to visit and reconnect. The reunion event had been delayed since COVID-19 precautions resulted in postponing the 2020 reunion. On Sept. 24, brothers gathered at the Sawstone Brewing Company Reception Hall for lunch. The Zeta Zeta House Corporation then hosted the 50th Anniversary Pig Roast at the remodeled Delt House at 1032 Gregory Court, Morehead, Ky. A guided campus tour highlighted the many incredible improvements to campus concluding at The Rock—a state-of-the-art dining facility.
The Bulldog Golf Scramble kicked off at 9 a.m. on Saturday, Sept. 24, at Morehead State University's Eagle Trace Golf Course. Brothers took part in the golf scramble supporting the Delta Tau Delta Fraternity Scholarship Endowment at the MSU Foundation.
They concluded the weekend with a reunion banquet at the Adron Doran University Center allowing brothers of all generations to connect and reflect while highlighting undergraduate members and recognizing their strong brotherhood. More than 100 members and guests enjoyed a dinner of prime rib, chicken and all the accouterments. During the event, the Fraternity announced the progress of the Delta Tau Delta Fraternity Scholarship Endowment.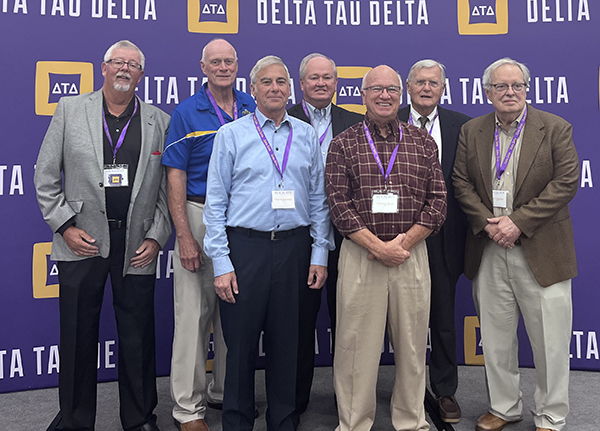 The scholarship endowment supports active brothers who are full-time MSU students with a minimum 3.5 GPA and who have been chapter members for at least two semesters. Recipients are selected by a committee consisting of Zeta Zeta's director of academics, faculty advisor, an alumni donor and a representative from the MSU Foundation.
"The Zeta Zeta Chapter of Delta Tau Delta is thriving, and we were honored to welcome so many alumni back to campus to celebrate our success over the last 50 years," said Darrin DeMoss (Class of 1989, 1991), current Zeta Zeta Chapter advisor. "Though our reunion was delayed due to the pandemic, it was worth the wait."
Southern Division President, Mark W. Nichols (Kansas State University, 1991) represented the Arch Chapter accompanied by Southern Division Vice President, Derek B. Olive (Western Kentucky University, 1991). Vice President of Advancement, Tony E. Vukusich represented the Fraternity and Foundation staff and joined them in providing a brief commentary.
Topping the evening's festivities was a keynote address by one of Zeta Zeta's founding fathers, Robert Williams (Morehead State University, 1970). Complete with props including a typewriter, land-line telephone and slide rule, Brother Williams detailed the changes over the last 50 years. He also regaled attendees with stories of youthful adventures to local establishments long since shuttered. Rounding out his speech, Williams underscored the enduring power of brotherhood and the ability of the Fraternity to change lives.