Brothers at the University of Tennessee Help Raise Mental Health Awareness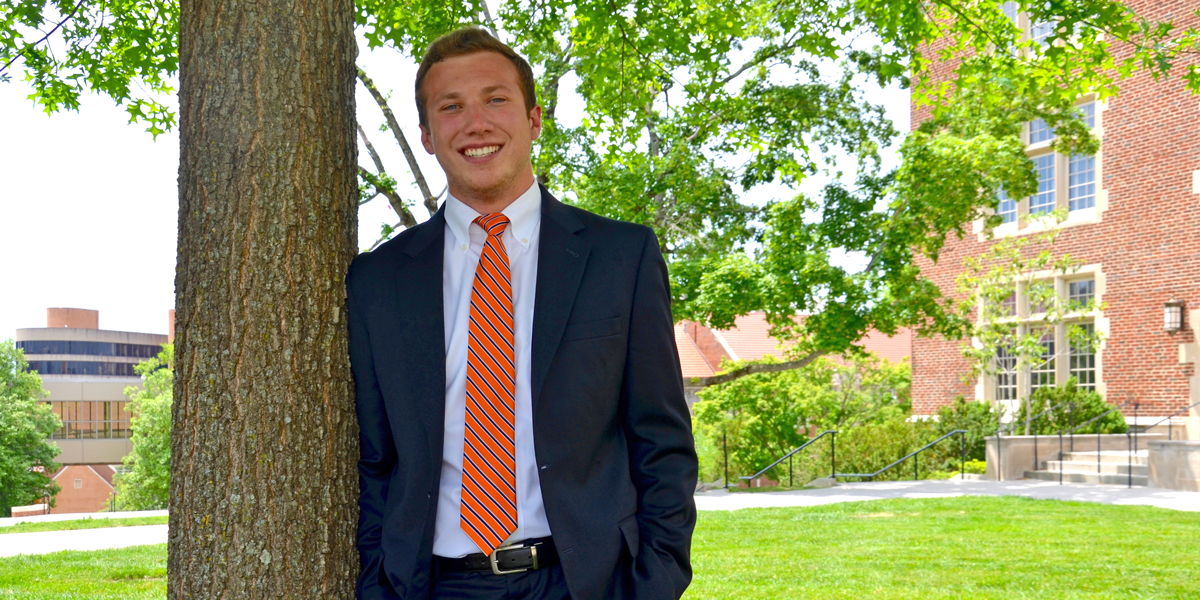 As student body president, Carson Hollingsworth (University of Tennessee, 2017) helped lead the Student Government Association (SGA) to implement the school's first ever "Mental Health Awareness Week" in the fall of 2016. Through collaboration with the Dean of Students Office, Center for Health and Wellness, and the Counseling Center, the organization engaged thousands of students and raised awareness of various mental health issues prominent on college campuses.

Hollingsworth said he first learned that mental health was a priority and topic of discussion for Delta Tau Delta at the Orlando Karnea when he heard International President Jim Garboden (University of Pittsburgh, 1988) speak and affirm a commitment to this area of our brother's lives.
Dr. Melissa Shivers, dean of students at the University of Tennessee, has known Hollingsworth since his freshman year and said he was integral to leading the Mental Health Awareness initiative. She credits Hollingsworth's vision for leading SGA and serving as the voice of all students. "When the SGA executive branch became increasingly aware of students' struggles with mental health, specifically depression and anxiety, they sought to bring light to what is otherwise a taboo topic. The Mental Health Awareness week sponsored both in the fall and spring terms was a proactive approach to bringing a real life, common issue to the fore without shame or judgment but in a way to bring unity and support," Shivers said.
One of the main components of the University of Tennessee Mental Health Awareness Week program included handing out colored wristbands to students all five days of the week which had the phrase "You Are Not The Only One" alongside the Distressed Student Hotline. The color of the bands the students could wear represented various mental health issues to either note support based on personal experience or through knowing someone affected.
Green bands signified general mental health awareness, red signified anxiety, blue signified depression, purple represented eating disorders, teal signified trauma, and yellow stood for suicide; each of these colors is the nationally recognized symbol of these respective mental health issues.
Counselors and employees from the Counseling Center participated in the event on the main campus walkway where they interacted in-person with the students on campus. "It was incredible to see the counselors talk directly with students, provide their contact information, and form connections with various individuals that would normally never interact with the Counseling Center," Hollingsworth said. "We provided resources to students outlining the services offered in the Center for Health Education and Wellness."
A video produced as part of the awareness week was viewed more than 14,000 times and reached over 53,000 people. "This outreach with this video has been incredible, and we have even received requests from other institutions to show our video and utilize our programming for their campuses," Hollingsworth said.
While the Delta Delta Chapter did not technically sponsor this program, several brothers volunteered throughout the mental health awareness campaign. Doug Kievit (2017) initially got involved in student government with the help of Hollingsworth. "I ran for an SGA Student Senate seat as a part of his presidential campaign last spring," Kievit said. "In response to Tennessee's state legislature signifying its intent to cut all funding from UT's Office of Diversity and Inclusion, I sought a role on campus in which I could take action to ensure all students at our university felt valued and respected. Mental Health Awareness Week provided the perfect opportunity to do just that."
Throughout the week, Kievit engaged with students across campus. Volunteers distributed awareness bracelets, shared information about resources available for anyone struggling and offered reassurance that they are not alone. They set up an awareness table outside the library during the day and manned one on the main floor of the library at night.
"I will never forget the amount of wholehearted "thank yous" warmly relayed to us by students, faculty, and staff as they emphasized the importance of sending an empathetic message across the university," said Kievet. "As a psychology student and strong advocate for ending the stigma surrounding mental health, I recognize the need to express support for those suffering in silence."
Before he graduates in December, he plans to work with his roommate, Grady McGinnity (2019), to grow Mental Health Awareness Week even more by creating a new student organization that hosts a Mental Health Awareness Week every month. The specific aim is to tackle the mental health stigma and inform peers of all the support structures they can use if needed.
Dr. Shivers expressed her pride in the SGA members and their willingness to engage and support peers. "Often governing bodies concern themselves only with policies and avoid the social issues that plague our society. SGA took an important conversation and raised it to a level of significance while also normalizing and encouraging dialogue and action in our community," Shivers said. "You're Not the Only One" isn't just a slogan, it's a message that permeates the overall efforts and focus of SGA and our Greek letter organizations on campus."
Hollingsworth wants Delt brothers and others to know Mental Health Awareness Week proved to be invaluable for the entire campus community working to end the stigma associated with mental health illnesses. "We got people talking about this important issue, some for the first time," he said.