Wrigley Field Reunion Revives Fraternal Bond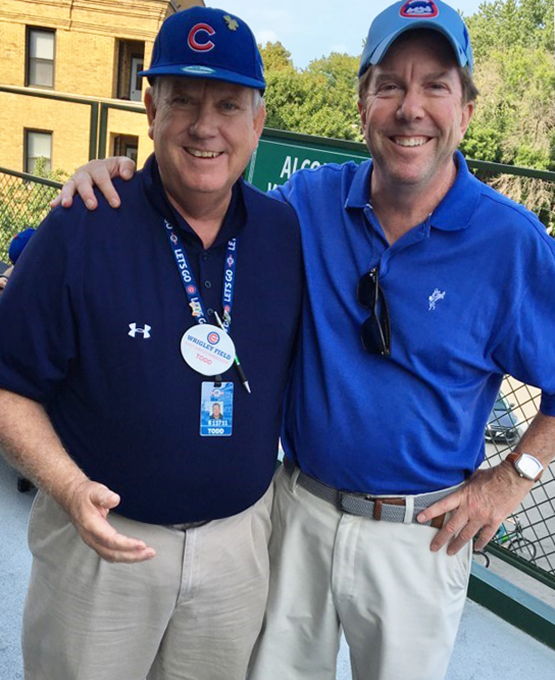 Todd Costigan, (Marquette University, 1977) got doubly lucky last summer when he took a job as a guest service ambassador with the Chicago Cubs. Costigan reconnected with a chapter brother whom he hadn't seen in a couple decades—a connection that has led to additional reunions and after 108 years the Cubs won the World Series.
Costigan was between jobs following a layoff when he decided it was time to have some fun and applied for a position with the Cubs. As a guest service ambassador, he helped ensure "Marquee Moments" for guests at Wrigley Field, where the club's mission is to make every visit memorable at Chicago's second largest tourist attraction.
Dave Heinz (Marquette University, 1977) saw Costigan's Facebook posts about his work at Wrigley Field in a Zeta Alpha Facebook group last summer. Then, as the Cubs drove toward the pennant in late September, Heinz sent a message to Costigan from his bleacher seat at Wrigley Field. As luck would have it, Costigan was working just one section over from where Heinz was sitting in the Friendly Confine's bleachers.
After not seeing each other for more than 20 years the two met between innings. Since then they have met for lunch several times to discuss old times and the reestablishment of the Zeta Alpha Chapter at Marquette in 2016.
The chapter's return has rallied alumni who are renewing their own connections. Delts from the class of 1977 are planning an even bigger reunion in Chicago this year. "We likely can't wait 108 years like the Cubs did," said Heinz. "This year is our 40th reunion, so it's a great time to get us back together. Marquette won the NCAA basketball tournament the year we graduated, so we feel we're a class of destiny."
Costigan is grateful for the opportunities to reconnect as well as his experiences at Wrigley Field last year. "I loved greeting people. That was my favorite part, and seeing the little kids light up because I remember going to the other ballpark in Chicago with my parents." As a lifelong Chicago baseball fan Costigan doesn't play favorites between his two hometown teams. "Neither team wins enough, so I'm going to root for them both," he said.
With his 40th reunion coming up this spring Costigan is pleased to be reconnecting with brothers. "This rekindled my desire to reach back out," he said. "These were guys that I had a lot of good times with, went through things with and grew up. When we get together, we win championships. It brings a smile and warms my heart."