Westminster Alumnus Named Best-In-State Wealth Advisor for the Third Time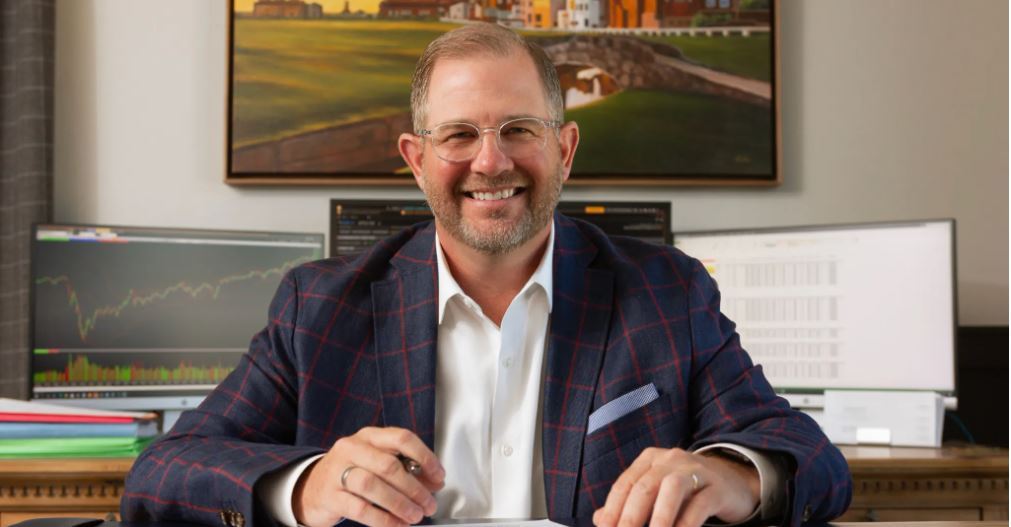 Forbes has named Lance Baker (Westminster College, 1995) a Best-In-State Wealth Advisor not once, but three times.
Yet Baker refuses to take all of the credit for his well-documented professional success.
"It's a wonderful reward for a lot of years of hard work, but it's also a direct reflection of the wonderful clients we serve and the incredible team I have in place," he humbly clarifies.
Baker is the president and founding partner of The Advisors, part of Raymond James Financial Services, where he has served as a financial advisor for eight years.
His current position is the result of nearly 30 years in the finance industry, which began on the A.G. Edwards trading floor in 1995, right after he graduated from Westminster.
Baker says Brock Ayers (Westminster, 1983) was responsible for launching his career three decades ago. "As our chapter advisor with Delta Tau Delta, Brock was vital in helping me get my first job at A.G. Edwards," he reminisces. "I absolutely owe the start of my career to him."
Born in Poplar Bluff, Missouri, Baker grew up in Fulton, Missouri, and therefore was highly familiar with Westminster.
Close proximity, however, did not lead to his decision to enroll at the College … at first.
Instead, after attending Union University in Jackson, Tennessee, for one year, Baker decided he wanted to play baseball. The Blue Jays baseball team ended up being a perfect fit.
He adds, "But I knew I would graduate with a degree that would help start a strong career."
At Westminster, Baker met his future wife, Laura (DeLana) Baker (who later transferred to another college), when she was a sophomore and he was a senior majoring in business administration with concentrations in finance and economics.
Today, the two reside in Edmond, Oklahoma, and are the parents of two children, Elizabeth (23) and Harrison (21).
When he isn't busy helping people map out their financial futures, Baker serves on several advisory boards, including Vizavance, Kismet Arts Studio, and Project 31. He also served on the board of directors at Oklahoma Christian School.
"We have always been involved with our kids' school and our church," Baker explains, adding that he and Laura led a Sunday School class for more than 12 years but now are empty nesters enjoying a smooth transition into watching their children establish their own lives.
These days, time permitting, Baker enjoys playing golf and reading or listening to golf history books on Audible. His particular favorite is A Course Called Scotland: Searching the Home of Golf for the Secret to Its Game by Tom Coyne.
Currently, Baker is taking a break from golf history books and reading Atomic Habits by James Clear. The subject matter is fitting for someone who has been goal-oriented since his Westminster days, even while playing frisbee golf and hanging out on the Delta Tau Delta house front porch.
Baker says he has Dr. Robert Hoerber, his faculty advisor, to thank for his clear focus in business.
"I felt so prepared as I transitioned into the business world," Baker reflects. "I had been challenged in my coursework and felt like I possessed the tools to make a difference in any organization I joined after graduation."
Forbes would agree ― three times over.
Originally published by Westminster College and shared with permission.