Volunteerism, Fundraising and Education
A mother's instinct led Dave Melin's wife, Lora, to take their daughter Maggie to urgent care in the middle of the night several years ago when she was just two years old. "We found out her blood glucose ratings were off the chart. Within moments she was on her way in an ambulance down to Cincinnati Children's Hospital," said Melin a 1990 graduate of the University of Cincinnati and alumnus from Gamma Xi Chapter.
Now eighteen, Maggie has lived with her type one diabetes (T1D) diagnosis most of her life. She was one of the first young children to use a Medtronic pump and has had a continuous glucose monitor (CGM) and pump since they became available. "It's been amazing over this journey how much technology has advanced and what has advanced has made quality of care much greater," said Melin.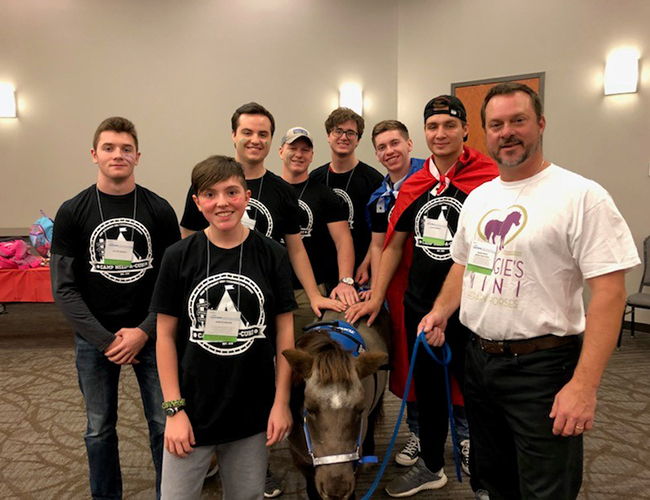 As the Melin family initially worked through the shock of Maggie's diagnosis, they began to navigate their resources and support systems. They found excellent clinical care in Cincinnati but sought more resources for everyday life such as navigating birthday parties, schools and sending a child on the bus with a bus driver-- little things could be big things for a child with type 1 diabetes.
"We dealt with all the fun things of managing a two-and-a-half-year-old—trying to figure out if she's going eat or not eat and draw small amounts of insulin through a little tiny syringe and inject her three to five times a day, depending on when she ate or didn't eat," said Melin.
Seeking community support, Lora organized a group of moms who met monthly over coffee to support each other through the T1D journey. The group of type 1 diabetes families grew to a significant base of more than 200. After an outreach program through JDRF of Southwest Ohio office absorbed the group, Lora joined the local JDRF board, and the family has been heavily tied to JDRF ever since.
Recently Dave Melin began seeing articles in Delt's magazine, The Rainbow, about the Fraternity's partnership with JDRF. Then while at a JDRF summit, Lora struck up a conversation with some volunteers only to learn they were Delt undergraduates from Gamma Xi Chapter.
"That has been a nice touchpoint and personal to us where I had, and still have, a great Delt experience. A lot of my closest friends are Delts who I went to school with. To connect back to the Fraternity through an organization that we support and believe in heavily has been rewarding," said Melin. "It resonates with us to see young college kids showing up at 7 or 8 o'clock on a Sunday morning to give back to the community and support an organization that touches a lot of folks."
For the Melin family, the value of the support network offered through JDRF is beyond measure.
"One of the nice things about JDRF from a family perspective is having that support network. Who do you call when you've got a question, or how do you connect families with other families, so they feel like they have a support network they can rely on?"
Melin hopes Delts learn about type 1 diabetes through their support of JDRF and gain a broader view of the philanthropic partnership. "It's volunteerism; it's fundraising, it's education, all those wrapped into one," he said.
Maggie's Mini Therapy Horses
To combine her love of horses with her passion for helping children with chronic illness, Lora Melin founded Maggie's Mini Therapy Horses. With animal-assisted therapy proven to improve mental, physical and emotional well-being Lora saw a natural mission to help those with chronic illness, special needs or other disabilities. She has also seen how much interacting with horses helped her daughter, who was diagnosed with type 1 diabetes at age two.
"We have five miniature horses trained that go into the hospitals to visit kids," said Dave Melin. "Animal therapy has been enormously rewarding for everyone. Not only do you have the patients but the thing that I didn't think about was the physicians and nurses in stressful jobs and how relaxing the animals can be in kind of a stressful day."
Learn more about Maggie's Mini Therapy Horses.