Volunteering for JDRF One Walk Makes an Impact
Delts from Epsilon Chapter at Albion College gathered to lend a hand for the JDRF One Walk in Jackson, Michigan on September 7, 2019.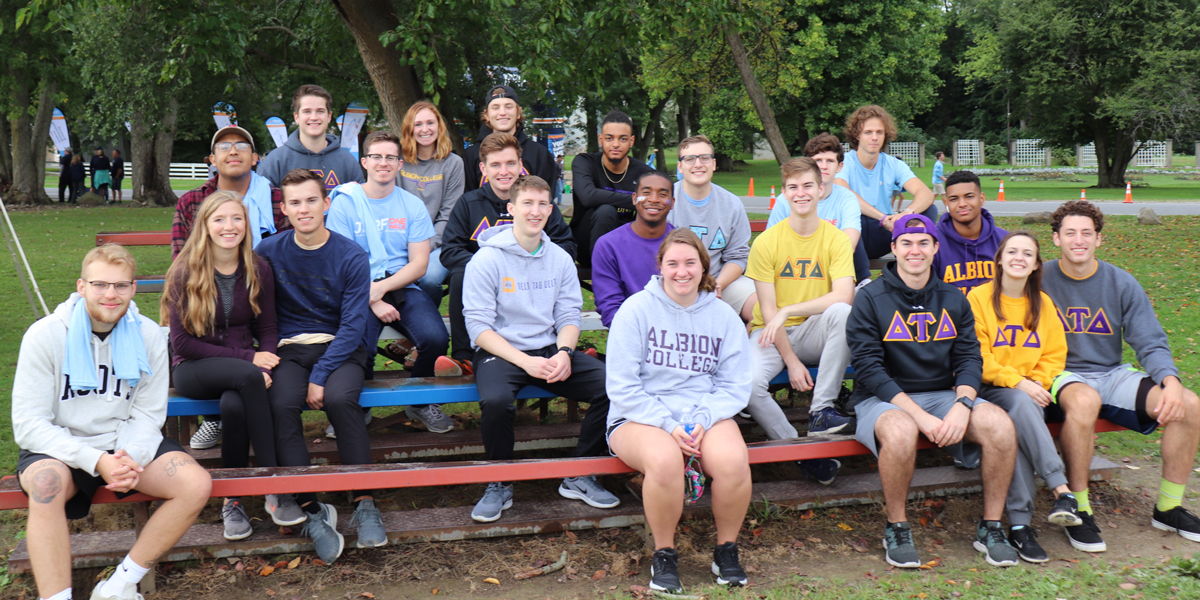 "Led by Philanthropy Chair Parker Thorson (Albion College, 2021), they were on time and ready to help in any way we asked, and they stayed until the work was done. They truly went above and beyond, with smiles on their faces and kindness for the kids, families, and fellow volunteers in attendance," said April Gasbarre, donor relations manager for JDRF's Michigan and Northwestern Michigan Ohio Chapter. "Thanks in part to their volunteerism, this local walk—which raised $100,000 and still rising—enjoys a return on investment greater than 90 percent. These funds are vital to JDRF's mission to cure type 1 diabetes (T1D)."
There is more to the story for this one local event. "Our walk showed a family whose toddler had just been diagnosed in August there are others nearby who can help and relate," Gasbarre said. "We showed two families who lost adult type 1 diabetics within the last year to complications of this disease that we will continue the fight in honor and memory of their loved ones. And we showed all the members of our T1D community there are allies like the men of Delta Tau Delta who stand ready to help us win this battle."
On behalf of the Jackson T1D community, Gasbarre thanked the chapter for supporting the national partnership with JDRF which has a profound local impact on the T1D community.
In November, the Theta Eta Crescent Colony at the University of South Carolina came together to raise more than $6,000 for the JDRF One Walk at Segra Park in Columbia, South Carolina. The Delt team ranked sixth in fundraising out of 74 community teams helping the JDRF Palmetto chapter raise nearly $180,000. The team braved a cold and rainy Saturday morning.
Iota Psi Chapter at Northeastern raised $4,668 through the JDRF One Walk Boston and Zeta Zeta Chapter at Morehead State University raised nearly $3,000 through the JDRF One Walk Bluegrass in Kentucky.
Among several other chapters also supporting JDRF volunteering or fundraising for JDRF, four Delt chapters came together for the One Walk Pittsburgh in September including Delta Beta Chapter at Carnegie Mellon University, Gamma Chapter at Washington & Jefferson College, Gamma Sigma Crescent Colony at the University of Pittsburgh and Zeta Mu Chapter at Robert Morris University. Delts from the Three Rivers Alumni also gathered to support One Walk Pittsburgh which is hosted by JDRF's Western Pennsylvania Chapter.
Look for a JDRF One Walk near you at jdrf.org/events. In addition to volunteering at a walk, chapter members can host a campus fundraiser or volunteer at a JDRF Gala.