Volunteer Bug Bites Dormant Volunteer
When the Fraternity initiated the Ignite program in 2012 the focus was squarely on the undergraduates. Three years into the program, however, it is clear the program's impact is multigenerational. Alumni volunteers are being impacted just as deeply as the students. The program's reach across generations has been both surprising and inspirational.
Jason Feiner (Bradley, 1997) last served as an official Fraternity volunteer in 2008. A change of job and a move across the country from eastern Pennsylvania to Portland, Ore. limited his ability to remain involved. He also felt it was time to let others have an opportunity to volunteer. When he was asked to be a small group facilitator at the San Diego Ignite, it was his first official volunteer role in more than seven years.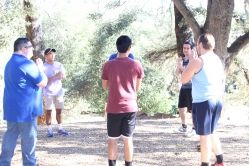 Though Feiner had long since been away from service, his love for the Fraternity never declined, "Honestly, I missed the Fraternity. The Fraternity provided so much to me, opportunities as an undergraduate, support and mentorship in graduate school and in my career in higher education. I have always had a strong sense of having to give back and serve in any way possible. ," said Feiner
Even though he had not been involved in an official capacity for nearly 10 years, Feiner did not find any difficulty engaging as an Ignite facilitator, "Volunteering at Ignite really felt like hopping right back on a bike. Of course I had to be updated on a couple of things that have changed, but the opportunity to work with students is important and rewarding no matter the setting. Ignite offered me the opportunity to meet some dedicated younger members who believe in the Fraternity and are really committed to its success," said Feiner.
Feiner, like many Ignite volunteers, come away impressed both by the quality of the curriculum and the quality of the students. Ignite is the Fraternity's emerging leadership program. Recent initiates are selected to learn how to apply the values system of the Fraternity in practical application at the chapter level. They also learn strategies for making their personal value system align with the values of the organization.
Prior to stepping back from volunteering, Feiner consistently volunteered for more than a decade. But even he, a savvy veteran, came away moved by how much he enjoyed working with students, "I had some great experiences working with colonies and chapters when I lived in areas where there were Delts close by. I didn't realize it, until I was at Ignite that I really missed being connected to the Fraternity in a meaningful way. It is of course great and rewarding to give to the Foundation whenever you can, and you should, but there is something so much more rewarding to get to work with members. To hear a group of men that I hadn't known for that long all recite the Delt Creed in unison sent a chill down my back," said Feiner.
Most importantly, though, it is volunteering and service which recharges the Delt batteries. Young men need mentorship now more than ever. There is no better place to offer services as a mentor or facilitator than in the Fraternity setting.
"Everyday is a great day to be a Delt. I'm constantly reading about poor choices that other organizations are making all across our country. It hurts me. I sincerely believe in the fraternity and sorority experience for students, the potential it has to develop students, enhance learning inside and outside the classroom, and the support and loyalty to the alma mater that it fosters. When I read about Delts, I learn about incredible growth opportunities, increased membership, superior academic achievement, commitments to serving the community and raising funds for charity, and a loyalty that transcends generations. I'm looking forward to finding opportunities in the Western Pacific Division where I can serve and become a part of what I've experienced so far is a great community," said Feiner.
Small group facilitators, such as Feiner, work with a group of 8-10 students over the weekend. Any Delt alumnus in good standing is encouraged to consider becoming an Ignite volunteer. To learn more contact doug.russell@delts.org for more information on 2016 Ignite facilitator opportunities.