USF Delt with T1D gives back to JDRF
When Juan Carlos Castillo (University of South Florida, 2018) joined Delta Tau Delta and learned about the Fraternity's philanthropic partnership with JDRF Castillo knew he was in the right place.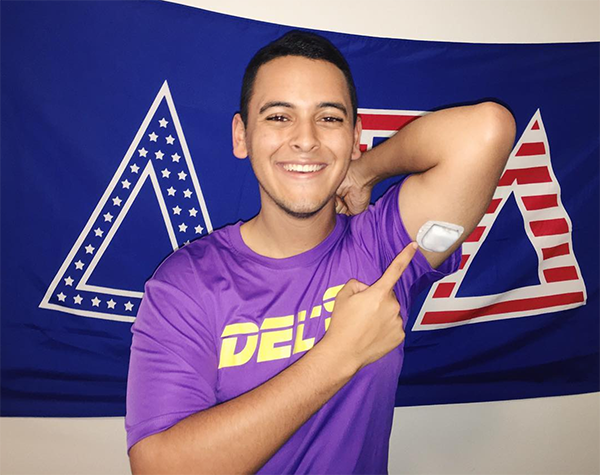 "I was so excited to see that Delta Tau Delta gives back to a disease that not only I struggle with daily, but millions of other people worldwide," Castillo said.
Castillo was diagnosed with T1D in August 10, 2012, at age 16.
"When I was diagnosed, I felt like my whole world went upside down. I have lived my life for 16 years that were not affected by T1D and now everything that I did, or will do has to be planned with the risks and complications of T1D," Castillo said. "With my dad being a doctor and my loving mother, I have a huge support system for this rollercoaster."
Fortunately, Castillo connected with JDRF, the leading global organization for type one diabetes research. Attending his first JDRF event shortly after being diagnosed was eye opening and gave him hope that everything would be alright. "I no longer felt alone or discouraged but I felt like I was a part of a community," Castillo said.
Now, a part of the Greek community Castillo is a new member and the philanthropy chair of Delta Tau Delta's Epsilon Pi Crescent Colony at the University of South Florida (USF). The colony is slated for installation April 22, 2017.
Living with T1D isn't easy and needs an extensive support system to make sure a person's levels are where they need to be. "The chapter has been one of the biggest support systems that I have while at USF. Usually, I find that support from my family, but at school, the chapter is my family." Castillo said.
Through The Road: The Journey to Excellence programming events the chapter hosts each semester, Castillo gets the opportunity to educate his brothers about T1D and the medical devices he uses. "With me being a diabetic it is important for people who are around me to know what to do if my blood sugar drops, or if it goes high. I also teach them about the devices I use like my Omni pod insulin pump and Dexcom continuous glucose monitor," Castillo said.
It was important to Castillo to become philanthropy chair because he wanted to help the chapter and give back to JDRF at the same time. In this role he is also able to educate the USF community.
Castillo and the chapter are in the process of creating signature events on the USF campus to support JDRF with "Deltona 500" a tricycle race in the fall and "Kick For A Cure" a kickball tournament in the spring.
"Volunteering and raising money for JDRF helps them advance medical research and technology for people living with T1D," Castillo said. "Without JDRF and all their advancements, I'm not sure I would be here today, let alone all of the other diabetics in this world who have been helped by JDRF.