Undergraduate's passion leads to Mid-Atlantic Emmy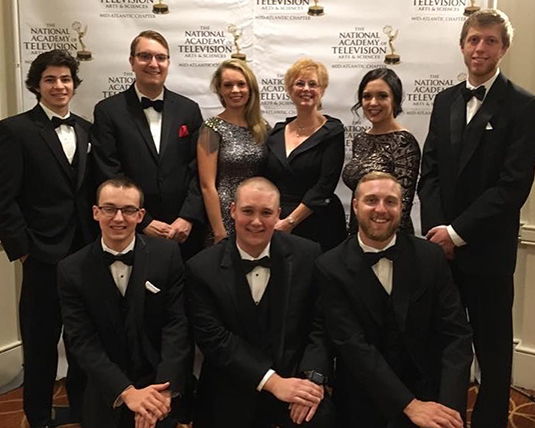 Being behind a microphone and talking about sports is where Vince Russo (Robert Morris University, 2017) feels at home. Following his passion for sports guided Russo down the path of broadcast journalism.
His passion and hard work came full circle when he and five other members of the Colonial Sports Network (CSN) team at Robert Morris University (RMU) won a Mid-Atlantic Emmy.
Russo and the rest of the CSN team received their National Academy of Television Arts & Science Mid-Atlantic Chapter award for "RMU Men's Hockey vs. Army West Point Game 2" in the Sports-Live Event category.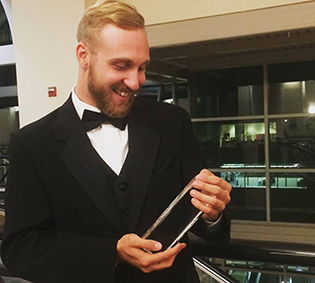 "I was so nervous, like out of my mind nervous, because I thought we really had a strong chance of winning whenever we scouted the competition.' Russo said. "When they read our name, it's one of those things where you remember it, but you don't because you're just so excited in that moment."
The winning broadcast was entirely produced, directed and executed by students at the game. After a few minor edits, the broadcast was submitted for review. Russo attributes a large portion of the credit to the CSN crew and to the university for putting them in a position to win awards.
"I couldn't get up to the stage quick enough with my crew," Russo said. "It was a nice moment that we got to share, because we worked really hard. The fact that we got recognition for something that we do and are passionate about was an extraordinary experience."
Though Russo had a high chance of winning the Emmy, his chapter brothers had more faith in him and the CSN. "I was nervous and I didn't know if we'd bring it home. My brothers seemed to be pretty sure that we would, so it was really great to have people who are supportive of the dream that I have for my life."
Russo, now in his fourth year with the CSN went from camera man to sideline reporter but started to see his role expand during his sophomore year. With a lot of talented people in front of him, it wasn't until his junior year that he would get the chance to call a game.
"I got passed over for the first football game of the year, and I was a bit irritated because I kept waiting my turn and I was excited and anxious for it. My parents told me just to be patient, that my time would come and luckily the next football game, they decided to give me a shot." Russo said.
He has applied his strong communication skills to his role as director of recruitment for Zeta Mu Chapter and approached the job the same way he does calling a game.
"Just how I have to do a lot of prep work for a good broadcast, I have to be prepared to talk about the ins and outs of my chapter and the national organization," Russo said. "I try to be incredibly transparent and forthright when it comes to talking about the Fraternity, so when we get new members, they know exactly what they're joining for, and they know exactly what they're getting into."
He believes this leads to a more engaging experience with passionate members who drive his chapter to be successful. "Our enthusiasm and passion for recruitment has trickled down from myself to my fellow brothers, and then trickles down to the potential new members. They see how passionate we are about school and the fraternity, and people follow passionate people."