Two Delts Named Ed Howell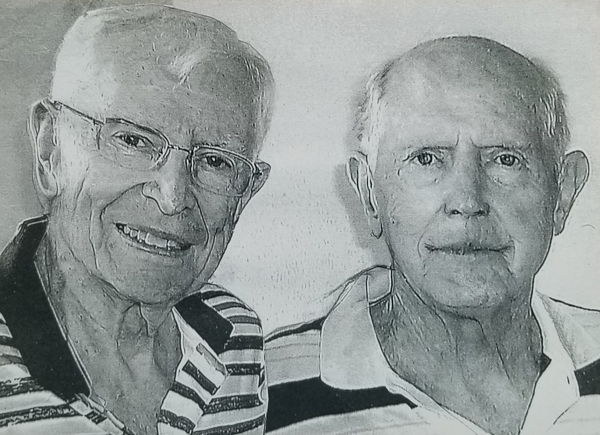 Edward T. Howell (University of Delaware, 1952) only spent two years on campus, but he maintained a strong Fraternity connection with fond memories, and he gained an unexpected friend decades later. "My Delt history was rather abbreviated, I only had two years of fraternal life at the University of Delaware before I transferred to the Rhode Island School of Design," he said.
After graduation he returned to Delaware to work for the DuPont Company in Wilmington. Remembering his fraternity days, he frequently visited the chapter, which, in his absence had moved into a larger shelter in need of basic furnishings. Ed saw an opportunity to help. He borrowed the family station wagon and hauled many rolls of DuPont Nylon carpeting—purchased for pennies-on-the-dollar from the company's salvage department—to the Newark campus, several miles south of Wilmington.
Ed also brought his design skills to the chapter. "I designed an entryway and they built it with wonderful construction help among the members," he said. "And I gave them an idea for a common room in the basement. They didn't have a room in the basement, they had a crawl space. At some point, I came back, and they had built it—they had built a wonderful space there."
During his visits with the chapter, Ed had noticed an "Ed Howell" was on the list of current chapter members. "I mused the coincidence, but never got to meet my 'other self,' he said. The other Ed was Edmund O. Howell (University of Delaware, 1958).
Fast-forward four decades—both Eds had independently joined the Edward Howell Family Association whose members can trace their roots back to an Edward Howell who founded the town of Southampton, Long Island, the first English settlement in the future state of New York, in 1640. At one of the family annual reunions, the two Eds finally met and discovered their unusual connections—cousins and fraternity brothers from the same chapter.
"It was quite a revelation when we got together," said Ed T. who retired in 1991 from a career in marketing with Eastman Kodak and eventually moved to Florida where Ed O. already had a winter home.
Ed O. had spent two years in the Army as an engineer, then pursued a 58-year career before retiring at age 80. He was a mentor to young engineers, tutored high school physics students and volunteered with Meals on Wheels.
The two Eds and their wives built a tradition of gathering at least once each winter, said Ed T. to talk family, fraternity and the fickleness of fate that, after forty years, finally brought them together. "And not to let a good pun go to waste," said Ed T. "we always agreed 'two Eds are better than one.'"
The two didn't get together this last winter due to COVID-19 but had planned to continue their visits. Ed O. died in July, so their last reunion was in 2019.
"At my point in time, all of my friends have died including some of my best friends and that's sort of disheartening, but it's the way of life. I've had wonderful friendships," said Ed T.