Twelve Flags: One Brotherhood
A senior from Costa Rica, Konstantinos Mira (Emory University, 2017) wanted to stay involved with Delta Tau Delta after he finished his term as president of Beta Epsilon Chapter so he took a role that usually isn't taken seriously and decided to make something of it. He created the "apparel chairman" position and began brainstorming to find a way to truly represent his chapter through a t-shirt.
"I wanted to create a shirt that captured Beta Epsilon Chapter, Emory, and Delta Tau Delta all at once," Mira said. "I asked myself, 'What makes Beta Epsilon different? What makes us special?' I realized that what makes us different than other chapters on campus is our commitment to diversity."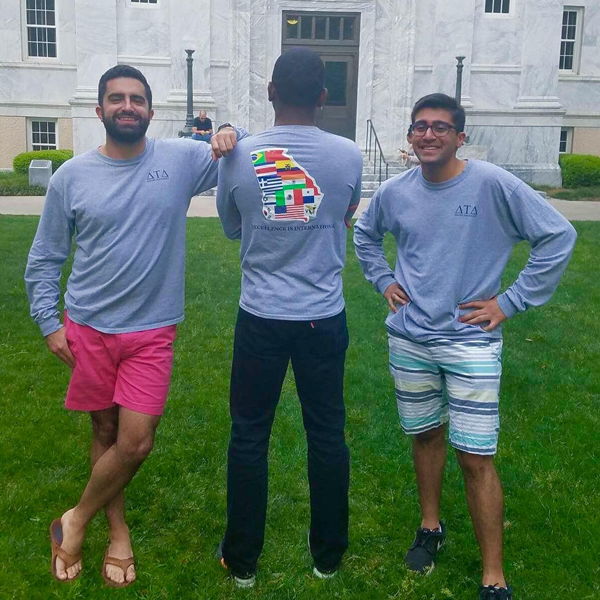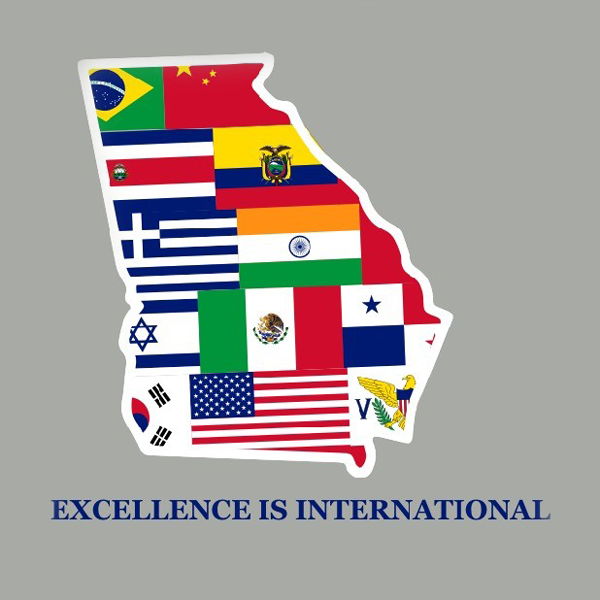 International students make up 20 percent of the chapter and the brotherhood includes 11 different nationalities and for many brothers who are thousands of miles away from their families, the chapter feels like home.
"To capture our essence, we enclosed the 12 flags our brotherhood represents, Brazil, China, Costa Rica, Ecuador, Greece, India, Israel, Mexico, Panama, South Korea, U.S.A., and the U.S. Virgin Islands within the Georgia state outline," Konstantinos said.
Cyrillus Tan, (Emory University, 2018) is one of the international students. Originally from China, Tan had heard only about the culture of fraternities in American colleges from news reports before he enrolled at Emory. He started to learn the values of Delta Tau Delta the weekend after he accepted his bid at the first colony meeting. "When brothers stood up for the Creed and solemnly said they believe this fraternity would help them to fulfill their obligations and maintain their self-respect, I knew I was in the right place," Tan said.
Although they do talk about big issues, Tan has found brothers learn more about each other's cultural background from little things they share. Early in the semester, he took a few new members to an authentic Chinese restaurant to taste some of his favorite dishes. "They all said what they tried was different from the Chinese food in their minds, but some of them really like those. Also, my brothers sometimes share their stories of being raised in a Jewish family or the Northeastern United States, which are really eye-opening to me," said Tan.
Neil Shahdadpuri (Emory University, 2019) was born in the United States to parents who came from India in the early 1990s and fostering his Indian culture is a big part of his life.
Shahdadpuri has two sisters who graduated from Emory and are sorority alumnae so he knew about the Greek system but thought of it only as a social club for parties and networking. "My experience was not only matched, but it exceeded my expectations," Shahdadpuri said. "I am happy to have joined the brotherhood. It was one of my best decisions I've made in college."
During recruitment, Shahdadpuri said he only considered Delta Tau Delta because the chapter did not have a reputation. He wanted to know who the members were and why they committed to the Fraternity. The conversations he had influenced his decision to join.
"Specifically, I remember having a conversation with the chapter president and vice president at the time about food and relationship issues. Being able to have fun and deep conversations with the brothers is what convinced me to join," Shahdadpuri said. "They acted like a close group of guys that wanted to know more about me and did not come off as the stereotypical frat boy, they were real people!"
At Emory, he is part of an Indian dance team and Indian Culture Exchange Club. "Some cultural differences I have discussed with brothers are Indian culture traditions like Diwali and Holi as well as Indian food and my dance team. I am part of Bhangra team at Emory, which is an Indian folk dance, and I recruited one of my brothers to join my team. I love teaching them about my Indian culture, and they love to learn more about my different background."
"I love that in our chapter, no matter what background we come from, we are always accepting of each other and feed off of learning the differences we have to learn more about each other," Shahdadpuri said.
Brothers have worn the t-shirt with even more pride following the chapter's installation in March. Mira echoed Shahdadpuri's comments, "We feel that our acceptance and celebration of different cultures and origins is what challenges us to think and act differently, and ultimately pushes us to achieve excellence at Emory University."