Tulane Chapter Grows with International Flourish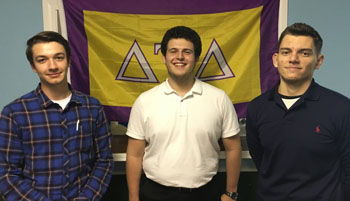 The Beta Xi Chapter at Tulane University continues to expand its horizons as it welcomes three new members with international ties including Samir Chebat (2018) from Belize City, Belize, Theodore Rudic (2019) from Belgrade, Serbia and Theodore Hector (2019) from Vancouver, Canada.
Chebat moved from Belize to South Florida when he was 18 years old and spent two years working on his associate's degree before he enrolled at Tulane where he's pursuing a B.S. in management with a major in finance. He hopes to go to law school and pursue a career as a corporate attorney.
In the fall he heard about Delta Tau Delta from another transfer student who told him about a Taco Tuesday event. There he met recruitment co-chairman Andrew Landsiedel (2018) who was immediately personable and welcoming. "That made me feel like this is somewhere that I could one day consider home," Chebat said.
Theodore Rudic moved to the U.S. at age eight. He has gone to American schools for most of his life but has a strong sense of purpose and place. "In Europe, there are a lot of barriers to advancement in education and society. The old haute classes very much still control access to prestigious positions and posts. Here in America, it really is the land of opportunity. I am able to pursue an education and career that would be much harder to do back there."
Rudic plans to enroll in medical school after graduation to pursue a career in cardiology. He is majoring in biochemistry with a marine biology minor.
He first learned about Delta Tau Delta at a tabling event on campus where he met Landsiedel along with Jack Jambon (2017), Josh Spencer (2015) and Andrew Hanson (2017). "They were very friendly and seemed like really good friends. That got me interested in the organization and I decided to see if it would be a good fit for me," Rudic said.
Since the concept of fraternity doesn't exist in its American form overseas, Rudic describes it to friends and family as a moral and social organization for college men that gives them social structure throughout college life and after college.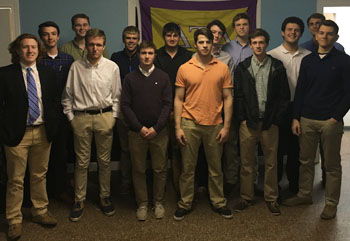 With the freshman class at Tulane claiming representatives from 30 foreign countries, the chapter membership reflects a campus climate at Tulane where international students are commonplace and many students choose to study abroad for a summer, a semester or a full year. These new members join senior Josh Spencer, a German citizen who spent a significant amount of time living in Germany and Chapter Vice President Arman Raz (2017) who was born in Florence, Italy.
In order to recruit international students Landsiedel said chapter members have to focus on explaining how Delta Tau Delta will enrich their lives and make them better men. "My approach really emphasized the values of the Fraternity and the brotherhood we share," Landsiedel said. "Fraternities offer a close network of friends that can help them feel at home despite being thousands of miles from home."
Chapter President Will Griffin, (2017), who was a co-recruitment chairman last fall, shares Landsiedel's perspective and explains chapter demographics combined with the international influences ingrained in New Orleans culture have established a chapter environment favoring openness, understanding and brotherhood. "I think recruiting foreign members, educating them about our values, and asking them to buy into our Fraternity's mission says a lot about how genuine Delta Tau Delta's goals are. Having a diverse new member class confirms that people from different backgrounds and around the world can relate and respect the Fraternity's lessons. I'm excited to teach these men more about our values through our upcoming ritual ceremony."
Griffin feels the members who are international students are open to sharing their perspectives with each other and with brothers from the U.S. while brothers from the U.S strive to be accommodating during the transition to college life. "First and foremost, our members share a strong mutual bond of friendship. Some of them may even visit our brothers abroad and learn about their country," Griffin said. "I can't wait to see how these new perspectives translate to organizational flexibility, creativity and productivity as Delta Tau Delta seeks to grow and gain a competitive advantage in the Greek community. Understanding each other better and working toward the Fraternity's betterment is an important step in developing both our U.S. and our international members."