Transforming Student Life as the First Fraternity on Campus
Mount Saint Joseph University in Cincinnati, Ohio is known for developing students who are critical thinkers, skilled communicators and effective professionals, but the school had never been connected with a fraternity or sorority community. In fact, the idea of establishing a fraternity seemed somewhat foreign at this small, private liberal arts institution started by the Sisters of Charity as an all women's Catholic institution.
That changed when Josh Harness (Mount St. Joseph University, 2016) and Hayden Sharp (Mount St. Joseph University, 2017) set out on a mission that would transform their campus. Harness was interested in Greek life because his dad and his aunts and uncles all belonged to Greek organizations. When he learned other students were interested in bringing a fraternity to campus Harness took the idea to Mount St. Joseph's Dean of Student Affairs Janet Cox who embraced the idea.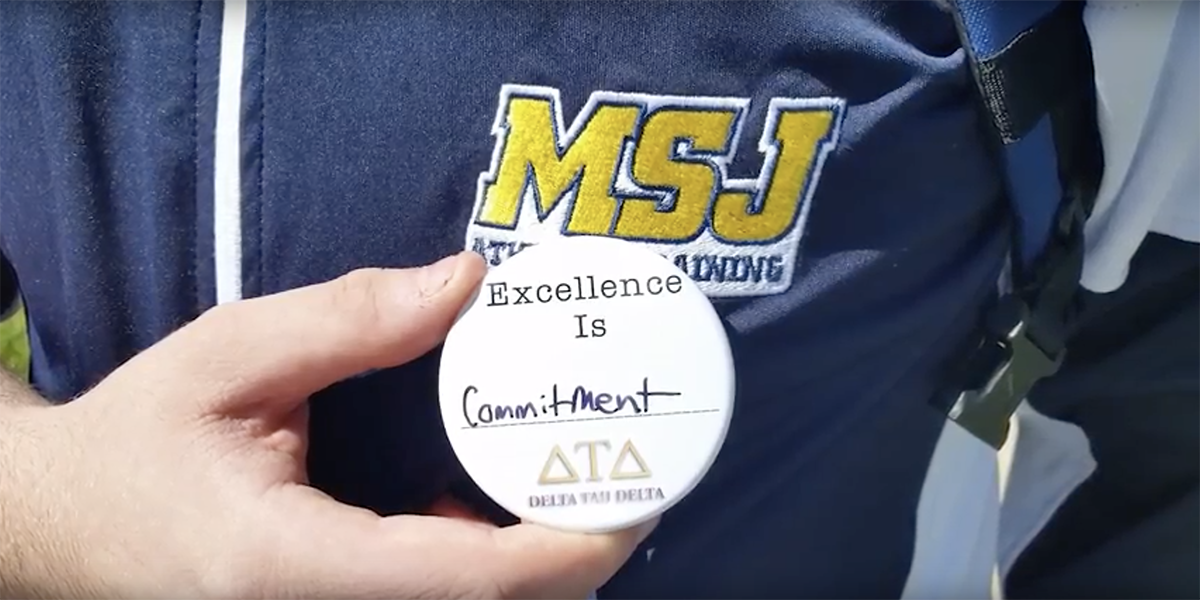 Eventually they had to make their case to the student government, a student board, and then finally to the cabinet for the university president. After months of hard work Sharp and Harness finally got approval to move forward.
"I got a call from Hayden Sharp," Harness said. "He said to me, 'You did it. You started something that is going to be here for the rest of your life and the rest of this university's lifetime.' I cried. I got pretty emotional. I kind of broke down at my house. My roommates thought I was going through a really tough time. It was just jubilation and people thanking me and us. I couldn't have done it without Hayden getting involved as soon as we began the process bringing a green light. Anyone who was involved, it was a phenomenal experience."
The men selected Delta Tau Delta as the Fraternity to come to campus, and after a four-week recruitment period Harness and Sharp along with 22 other men started the Mount Saint Joseph's Crescent Colony.
As dean of student affairs, Janet Cox recognizes the growth in student involvement has developed along with Delta Tau Delta's arrival. "There are several members of the group that would have been involved in campus wide activities regardless of their affiliation with Delta Tau Delta, but there are some that, because of their affiliation with Delta Tau Delta, have become more ingrained in our campus community."
The change in campus life is significant. With colony members participating in student activities and attending sporting events and establishing their own presence on campus other students have become more involved and the campus community became more cohesive.
Harness and Sharp's desire to ensure members have the best collegiate experience possible has helped increase student morale and activity throughout the campus. Their work continues seek to leave legacy on their campus, but they are on the path to building a community that both complements and enhances student life on campus.
"I would do it over again 100 percent. To help them establish a fraternity such as Delta Tau Delta, it was a dream," said Harness.