Transforming Lives through a Dropout Recovery Program
Thirty years ago, Bob Bowser (University of Florida, 1961) put his 20-plus years of experience teaching school to the test with a bold plan for an educational recovery program. He started working out of a 36-foot motor home for the Orange County Department of Education in California. Initially, he worked to establish a school for 11 kids who were on probation.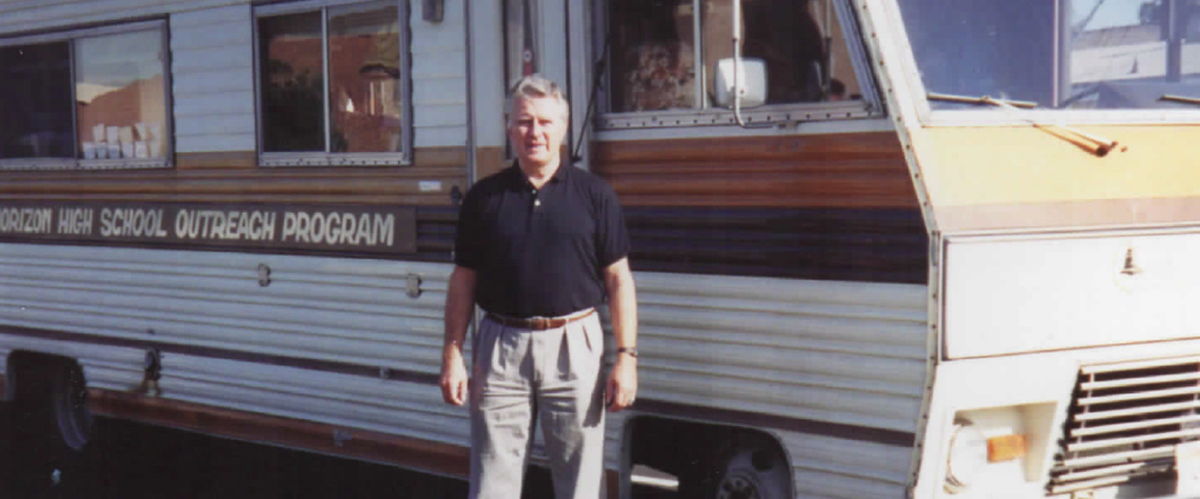 He worked one-on-one with students as both a teacher and a counselor and over time he grew the Horizon High School program to add new school sites throughout Orange County. Probation officers or the department of children and family services referred most students.
"As soon as I got 35 to 40 students we'd rent an office suite or an abandoned laundromat and hire a teacher and get a phone and some books and I'd move on," said Bowser. "We eventually had Orange County covered all the way down to Dana Point. We retired Betsy the motor home at that point and I spent my last years at a site in Santa Ana."
Bowser retired 17 years later after establishing 57 sites and serving nearly 7,000 students. "Sixty percent graduated and of that group 60 percent went on to community college," he said. "We made a big difference in that school. It was the best job I ever had."
While the main success story was the sheer number of graduates and lives changed by delivering education where it was needed, one remarkable story stands out. One of the teachers left California and moved to Kentucky after getting married. Later, while undergoing cancer treatment at Vanderbilt Medical Center in Tennessee she learned one of her doctors was a former student from Horizon High School.
As Horizon High School grew it was divided into regions and today has morphed into Orange County's ACCESS program focusing on individual student talents, learning styles and strengths, and learning strategies that foster and ensure success. The goal is to inspire students to succeed academically, behaviorally, and emotionally.
Today, Orange County has achieved the lowest dropout rate of all the major urban counties in the state of California, due in large part to the success of keeping at-risk youth, who would have dropped out of traditional programs, engaged in the educational process.
Bowser grew up in Pittsburgh and his family moved to Illinois and then Florida. After serving in the Air Force he enrolled at the University of Florida where he joined Delta Tau Delta in April 1956. "Bill Benson invited me. He was a big man on campus," Bowser said.
As a literature major, Bowser reveled in campus activities and opportunities. He recalls the opportunity to attend performances by the Boston Pops, readings by poets Robert Frost and W.H. Auden and a conference where he met psychologists Carl Rogers and Abraham Maslow. In 2010, Bowser told the University of Florida that he credits a history of the English language course with "instilling in him the social consciousness and inclusive approach to language that shaped his career as a teacher and counselor."
Bowser returned to the Air Force for three more years before graduating from UF in 1961. He studied Russian at the Army's language school in Monterey, Calif. and then spent three years in Roswell, N.M. before embarking on his teaching career. Now 87 years old, he lives in Flagstaff, Ariz.