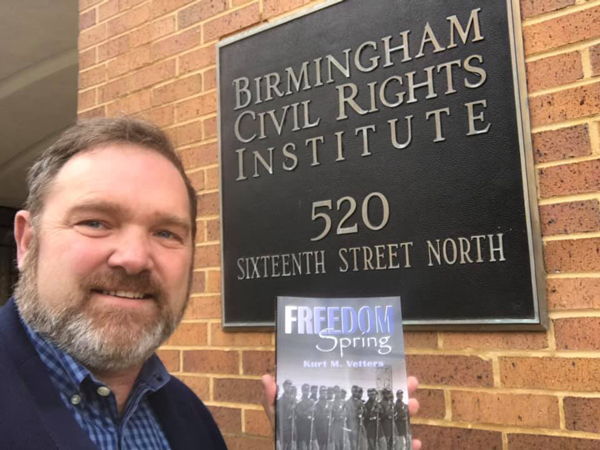 Kurt Vetters (University of Alabama, 1983) is on a mission to spark kids' interest in history. With his recent young-adult books he channels his passion for Civil War history to increase interest in history among young and old. Though his intended audience is 12 to 14-year-old readers, he found his books are embraced across generations and including parents and grandparents of his targeted student demographic.
Formerly a U.S. Army Captain and commander of the American Legion Post in Greenfield, Ind. Vetters has studied the Civil War his entire life, both as a military professional and as a hobbyist. After taking an active role in the classrooms of his three children, he gained an understanding of children's interests in this powerful subject which awoke his interest in storytelling.
Initially, Vetters set out to share a family story that had been passed down. While on the road in his full-time job selling medical equipment, Vetters spent a lot of nights in hotels. "I decided I was not going to watch television when I was on the road. Every night I was on the road, I would sit down to write. I hand-wrote the first novel," he said. "It's amazing what you can do by not watching television."
His first novel "Confederate Winter" is about a 14-year-old soldier, William Sweeney, who was Vetters' great-great-great grandfather. "His dad fights for the north, and he gets drafted in the Confederate Army," said Vetters who pieced his stories from historical documents and oral history.
For the second novel, he worked on a computer which he said was much easier than hand-writing. "Freedom Spring," tells the story of a young African-American soldier, a 14-year-old who journeys from slavery to join the Union Army and eventually to freedom.
Vetters appreciates the opportunity to reach students with both Confederate and Union stories.
"I had a book signing at Beauvoir, which is Jefferson Davis' home. I was probably the first guy to ever talk about, and sign books there about African-American soldiers who fought for the North," said Vetters whose books are also sold at the Birmingham Civil Rights Institute and online, "My mission is to explain history in a non-judgmental way. It's very embracive."
"I've had a good journey. What excites me is to get people who are 50, 60, 70 years old and they've only read about one side of the Civil War. I make them really think about what it was like to live then," said Vetters. "It's fascinating to know that I have reached people who are hard-core Civil War buffs, but who are reading about black soldiers for the first time."