Theta Omega Crescent Colony Marks Delt's Return to Northern Arizona University
Delta Tau Delta returned to Northern Arizona University in Flagstaff with 20 members of Theta Omega Crescent Colony established on February 21, 2020. The colony boasts a cumulative GPA of 3.47 based on the fall 2019 semester.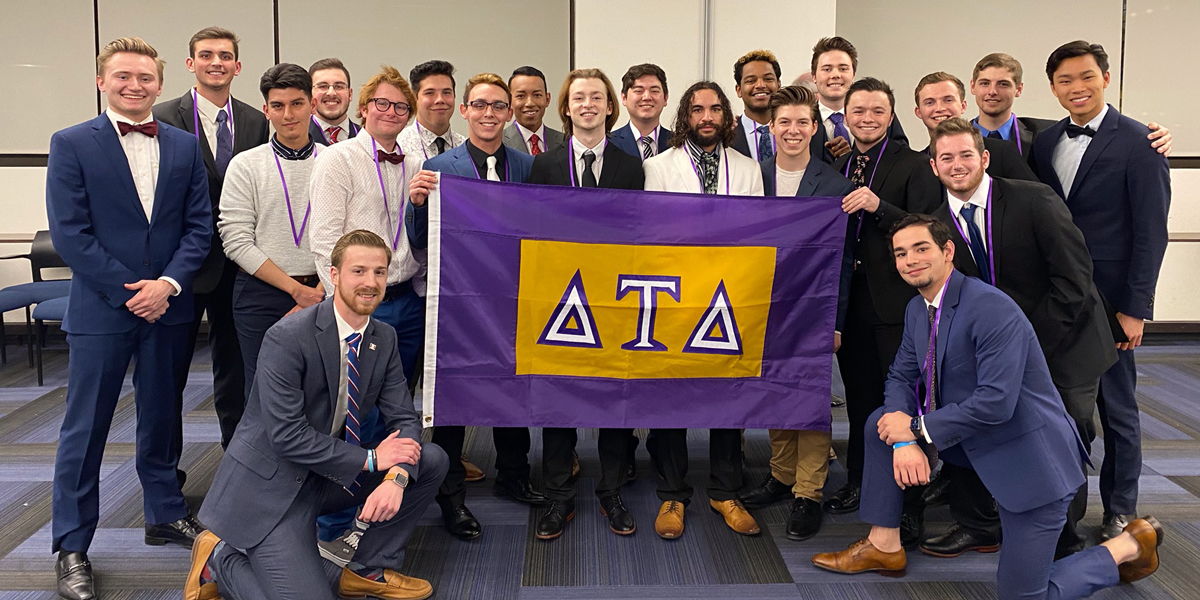 "After a four-year absence, the Theta Omega Crescent Colony is back with a full head of steam and 20 eager founding fathers," said Chapter Leadership Consultant Kobe Nelson and expansion team lead. "Over the last month, we worked closely with these impressive young men and the drive we see in them is astounding. I can't wait to see what this group does both as members of the NAU community and of Delta Tau Delta."
Chapter Leadership Consultants Michael Nguyen (Case Western Reserve University, 2019) and Heath Schintler (University of Iowa, 2019) are also part of the expansion team that began recruiting on campus in late January.
The colony joins 14 organizations in Northern Arizona University's Interfraternity Council. The campus of more than 27,000 students with 95 degree programs has a total of 18 fraternities and 18 sororities
Colony members joined Fraternity leaders and guests at the Du Bois Center on campus for the ceremony. The Fraternity Ritual team included Colony Advisor Matt Tantau (Northern Arizona University, 2003), Theta Gamma Chapter President Phillip Asuelo, (Arizona State University, 2022) and Theta Gamma Chapter Vice President Jake Walters (Arizona State University, 2022).
Ceremony attendees also included Western Pacific Division Vice President and Chapter Advisor for Theta Gamma Chapter at Arizona State University, Richard Schmidt (North Dakota, 1976); Former Western Pacific Division President, Vice President, and Theta Gamma Assistant Chapter Advisor John Bickerstaff, (University of Arizona, 1975); Connor Kralik (Northern Arizona University, 2016), Andrew Pitt (Northern Arizona University, 2015); former Chapter Consultant and original Theta Omega founding father Jake White, (Northern Arizona University, 2001) Ryan Ewing (Northern Arizona University, 2005) and Greg Baker (Northern Arizona University, 2015).
Director of Fraternity and Sorority Life Kevin Gemoets attended along with College Panhellenic Council President Morgan Butler, 11 undergraduate members of Theta Gamma Chapter and 40 members of NAU's campus community.