Theta Eta Chapter Installed at the University of South Carolina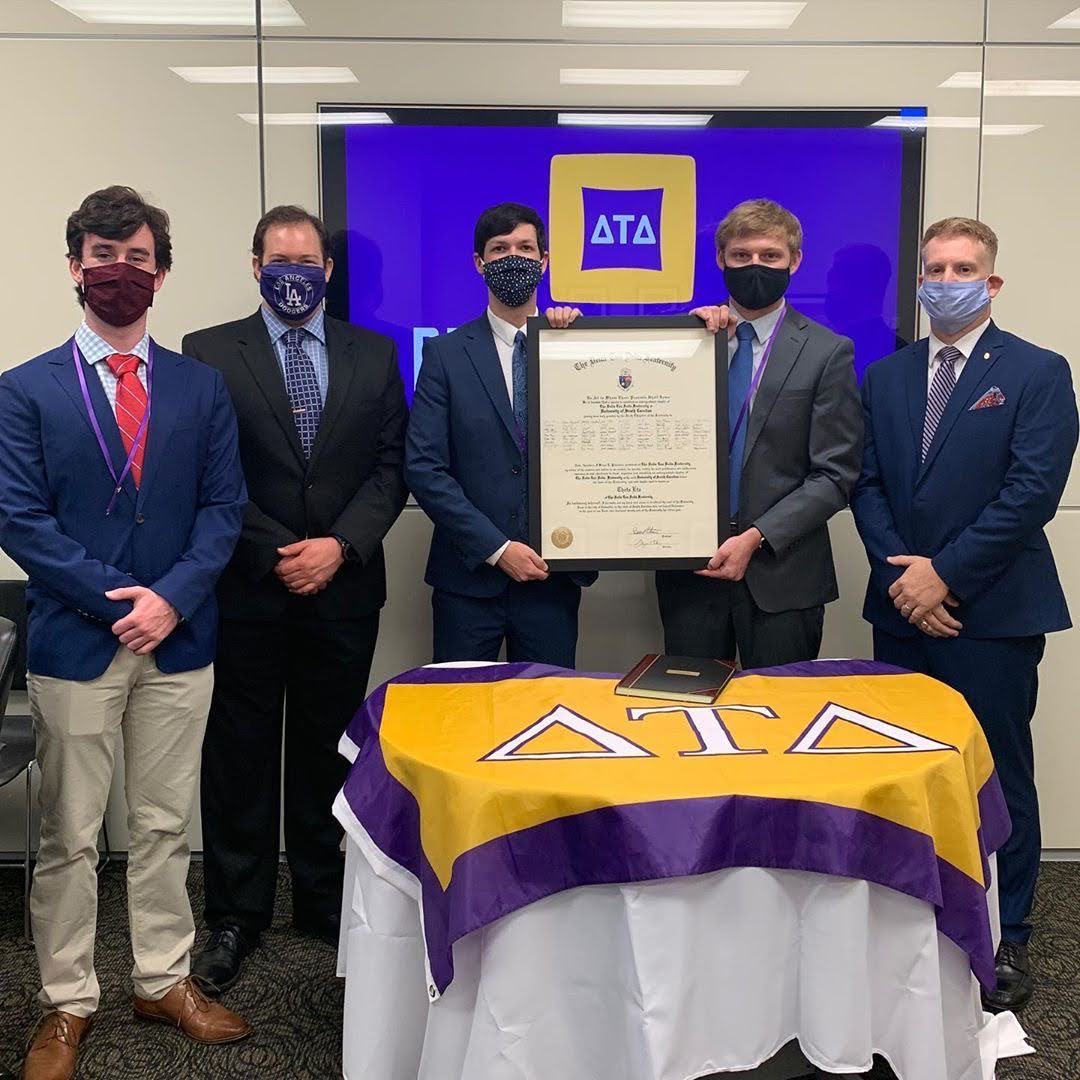 On Nov. 1, 2020, Delta Tau Delta celebrated its first-ever virtual installation welcoming 93 founding fathers of Theta Eta Chapter at the University of South Carolina.
Installation ceremonies were held via Zoom due to the COVID-19 pandemic. International President Bruce Peterson (University of Wisconsin-Milwaukee, 1975) and International Secretary Bryan Adams (University of Maine, 2007) signed the charter before it was mailed to the home of Chapter Advisor David Baker (University of South Carolina, 2000) in advance of the installation.
Delta Zeta Chapter from the University of Florida performed the model Ritual, welcoming the founding fathers to the Fraternity. The founding fathers signed the roll book and the charter in pod-style following health and safety procedures and to abide by CDC guidelines. Two of the men initiated were colony graduates who joined the installation to be initiated with the 91 undergraduates. While most initiates joined the Zoom call from locations around Columbia, S.C., a few joined from their home states including Virginia and Pennsylvania, where they are pursuing their studies from afar.
In addition to Peterson on Zoom from Illinois and Baker from South Carolina, Southern Division President Mark Nichols (Kansas State University, 1991) joined from Louisiana.
"I'm excited to have Theta Eta Chapter return to campus at USC," said Nichols. "During the installation ceremony, I called out the once-in-a-lifetime experience these young men have gone through—within one year, they colonized, met chartering requirements, came together as a brotherhood, moved to virtual classes and dealt with COVID-19 while maintaining their grades. To say it's easy to go to college these days cannot be further from reality."
Delta Tau Delta CEO Jack Kreman (University of Nebraska at Kearney, 2004) was present from Indiana, Director of Growth Adam Abbott (Morehead State University, 2017) from Kentucky and Colony Support Consultant Justin Vatti (Moravian College, 2020) from Pennsylvania as well as Delta Tau Delta Education Foundation President Steve Vedra (Butler University, 2002). Representing the chapter's advisory team led by Baker, Assistant Chapter Advisor Bryan Chavez (Allegheny College, 2013) was also in attendance.
Three of the four expansion team members including Zack Day (Northern Colorado University, 2018), Nick Pidgeon (University of South Florida, 2019) and Kobe Nelson (Oregon State University, 2019) were in attendance for the historic installation.
"From our very founding, our leadership has found ways to make the Fraternity work in spite of some truly challenging circumstances. A virtual installation is simply another example," said Kreman. "I cannot speak highly enough of the hard work by the men of Theta Eta Chapter. They have earned this and I am proud to call them brothers. On the backside of this pandemic, they will be positioned to be among the elite organizations on their campus."
An in-person celebration and more detailed Ritual education will be held once campus and state restrictions related to COVID-19 are lifted and it is safe to gather.
Originally chartered in 1993, the Theta Eta Chapter represents more than 450 alumni who have joined the Fraternity at the University of South Carolina. Delta Tau Delta is among 21 members of the Interfraternity Council at the campus which has an undergraduate student population exceeding 26,000.