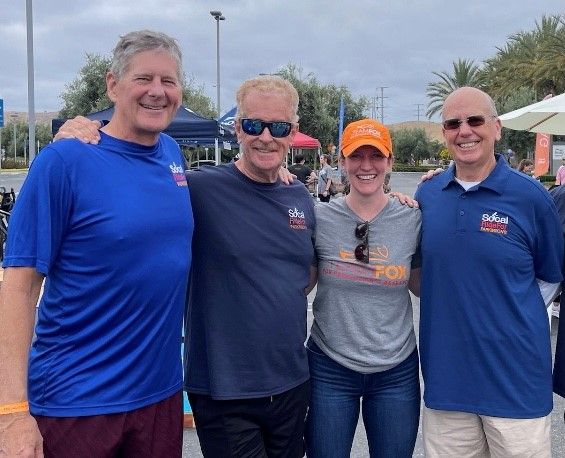 The Winter 2022 issue of The Rainbow magazine featured Brian McGuire for his role in raising funds for The Michael J Fox Foundation. Bringing his very personal battle with Parkinson's under the spotlight, he established Team McGuire in the SoCal Ride for Parkinson's, and in its second year knew he wanted to be a key partner, helping the event to grow.
It was no surprise to McGuire when Dennis Rainey, his friend for more than six decades, was there to help in any way that he could. Together with another longtime friend — UCLA Beta Theta Pi alumnus, Emile Bayle — the "Gauntlet Challenge" was born. The Delts stepped up, helping to raise $3,600. Although this was $300 less than Bayle raised, it was a significant showing, nonetheless.
For Rainey, this lifelong friendship is a lifelong commitment, with a bond that has grown deeper through his friend's journey with Parkinson's. It was never a question of whether he would jump on board and get involved. "Maybe this falls into the 'right thing to do,'" he said. "Nobody ever tells you; you just know it."
This year, the ride took place on June 4 and the Gauntlet Challenge was on once again. "The secret sauce in all this stuff is you've got to ask for help and that is something not a lot of people are good at," Rainey said.
So, ask he did. And the Delts did not disappoint, raising funds through an online group started by Delta Pi chapter alumni. "I sent it out to see what happens," Rainey said. "This year we had a handful of people who I hadn't talked to in forever jump right in and actually reconnect in this whole process, too."
In a thank you to the brothers who participated through donations, Rainey was humbled by another very close challenge. "We resurrected our USC-UCLA Gauntlet Challenge, acknowledging the spirited competition between our two great universities. Between us we raised almost $15k, more than double last year's total," he wrote. "Pretty good for two guys that know nothing about fundraising."
This year, Team McGuire raised a total of more than $21,000. With 13 teams riding in the event, Team McGuire alone raised nearly 30 percent of the overall total of $73,000. For the second year, the SoCal Ride for Parkinson's has been recognized by The Michael J Fox Foundation as a Team Fox MVP.
Rainey also acknowledged that UCLA/Emile won the gauntlet trophy once again "by less than $200 and with no time on the clock." He plans to remedy these defeats next year, when the race moves to April, in conjunction with Parkinson's Awareness Month. He has already secured a matching donor as the friends brainstorm new ideas. "The three of us just had lunch a couple of days ago," he said. "We have an iced tea and a sandwich, and it's funny how many crazy ideas pop out."
Through friendship, brotherhood and campus rivalries, Team McGuire continues to make a difference in their community and beyond—an inspiration that has not gone unnoticed.
"The Michael J. Fox Foundation is energized and inspired by the Delta Tau Delta brothers as friends and Team Fox supporters in our mission to find a cure for Parkinson's," said Liz Diemer, MJFF Vice President of Community Fundraising. "Their efforts to raise funds and awareness through the So Cal Ride for Parkinson's displayed the perfect balance of creativity and dedication mixed with a fun, healthy dose of friendly competition. Furthermore, with their efforts generously benefitting Team Fox — MJFF's grassroots community fundraising program — 100 percent of every penny raised was directed to the high-impact research programs funded by MJFF. And that's what's so special about Team Fox! Through the dedication of groups like Team McGuire, events such as the So Cal Ride for Parkinson's evolve into more than just an outstanding outlet to build community and raise awareness for Parkinson's; they play an important and direct role in tangibly helping to speed a cure and breakthrough treatments for the millions of people and families living with this disease around the world."