The Power to Impact Community and Address Healthcare Inequity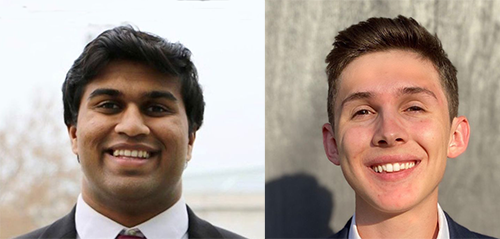 Two Delt seniors are working to address health disparity in their community calling for fair access to COVID-19 vaccines for minority and low-income residents in the Cleveland area. Gautham Chitturu (Case Western University, 2021) and Will Schwartzman (Case Western University, 2021) were purposeful in choosing their college community and driven to help others as seen in an op-ed they recently authored.
Schwartzman knew he wanted to pursue a career in medicine majoring in an engineering discipline when he enrolled at Case Western. "There are phenomenal health systems here and Cleveland is a hub for health equity work, which I am extremely passionate about," he said. "I decided on biomedical engineering as a major due to its applications to the medical field and will also be completing a minor in sociology."
Chitturu, who is studying neuroscience and health care management says he wanted to enter the medical field for as long as he can remember, and knew Case Western had a great program for aspiring pre-medical students. "With University Hospitals and Cleveland Clinic right around the corner from campus, I was so excited to gain clinical experience in the Cleveland area," Chitturu said.
Once on campus Chitturu met several Delts and knew the Fraternity was a place he wanted to build friendships. "I was drawn toward the fraternity because of the clear camaraderie and I joined because I quickly found a home there. These guys are some of my best friends now and I wouldn't have it any other way," Chitturu said. "They aren't just my close friends, but they are my roommates, my confidants and my go-to people here on campus. Anytime I need advice or want to talk to others, I turn to them for support. In addition to friends, I've developed leadership skills in the Fraternity, and have learned a great deal about community needs. I truly believe that I have developed into a better man since joining Delta Tau Delta."
Though Schwartzman had no intention of joining a fraternity but said Zeta Chapter's dedication to core values resonated with him and joining Delta Tau Delta has been one of the best decisions he's made as an undergraduate. "The chapter really helped to redefine my expectations of what a fraternity is and the role it should play in a person's life. During rush, I met some incredible upperclassmen who were obvious role models and who I became very close with after joining the chapter."
Through a Delt brother, Rahul Bais (Case Western University, 2022), Chitturu learned about Universal Health Aid in Toledo. Intrigued by the work his chapter brother was doing, so he volunteered at the annual free health clinic in Toledo in the summer of 2019.
"Once I saw how impactful the organization was to the citizens of Toledo, Will and I decided to start Universal Health Aid Cleveland. Since Universal Health Aid is a national organization with multiple chapters, Cleveland became the newest Universal Health Aid chapter on the scene. Cleveland faces slightly different health access problems than Toledo given that Cleveland is a bit more urbanized. We were driven to tackle these problems by asking community leaders questions about the root cause of certain health disparities. From there, Universal Health Aid Cleveland took off," Chitturu said.
Chitturu and Schwartzman have served as co-presidents since they founded United Health Aid Cleveland in July 2019, and will pass off the reigns in March. Though Universal Health Aid Cleveland is a small student organization lacking the resources and manpower of large non-profits, its size enables flexibility to fill the specific niches of advocacy unique to each community in Cleveland.
Recently, with the COVID-19 vaccine coming out the two Delt seniors, Chitturu, and Schartzman led a team of individuals to question Ohio's drafted distribution plan. "We saw holes in the draft that did not specifically address populations that have been affected by the virus disproportionately. Given our mission to help alleviate healthcare disparities in Cleveland, releasing the op-ed was meant to inform lawmakers and legislators the improvements that can be made to ensure fair and adequate access to the vaccine," Chitturu said.
"Our initial goal was to present epidemiological evidence to attest to the fact that individuals of lower socioeconomic status and/or who identify as racial minorities should be prioritized during vaccine distribution. In October, Ohio released a preliminary COVID-19 Vaccine Distribution Plan that does show some focus on equitable distribution according to these social determinants of health. As such, we decided to pivot our focus to critiquing this plan, because while it does contain language focusing on equitable distribution prioritizing disproportionately impacted communities, we believe the methods are inadequate and need to be improved," Schwartzman said.
After graduation in May, Schwartzman plans to attend medical school and hopes to continue being a part of the effort to eliminate health disparity. Chitturu also plans to attend medical school and continue to fight for appropriate and fair healthcare access in underserved communities.
For now, they remain focused on their final undergraduate semester as they navigate disruptions from the pandemic. "It has been tough dealing with COVID-19, but the same goes for all Americans as the vaccine is starting to roll out. All of my classes have changed to an online format, so I take my classes in an off-campus apartment with my other roommates," Chitturu said.
"I have been fortunate enough to have a roof over my head, a stable internet connection, and a working computer, and that has been enough to continue pursuing all my passions. I have been one of the very fortunate members of society during this crisis—someone who doesn't have a frontline healthcare or service job. Many of the struggles I have faced during COVID-19 pale in comparison to theirs, and for that they have my deepest gratitude," Schwartzman said.
Their commitment to the community and the focus on addressing healthcare inequities is clear.
"Being a Delt has meant so much to me, but the biggest thing I can take from my experience as a brother is that we can always learn more about the communities we live in," Chitturu said. "I started Universal Health Aid Cleveland with Will because I wanted to lessen the impact healthcare inequities had on certain populations, but I have learned a lot about the communities surrounding Case Western in the process. Meeting with community members and other individuals has taught me a great deal about what we can do as college students to lessen these disparities. I encourage everyone, especially college students, to discover the communities they live in. What makes them unique? How can you impact them in a positive way? These are important questions to ask yourself as a Delt but also as a human being."
"I think undergraduate students have a lot more power than we realize to make a difference," Schwartzman said.
Read Chitturu and Schwartman's op-ed here:
Ohio must ensure fair access to COVID-19 vaccines for minority and low-income residents: Gautham Chitturu and Will Schwartzman