The Person Who Saved My Life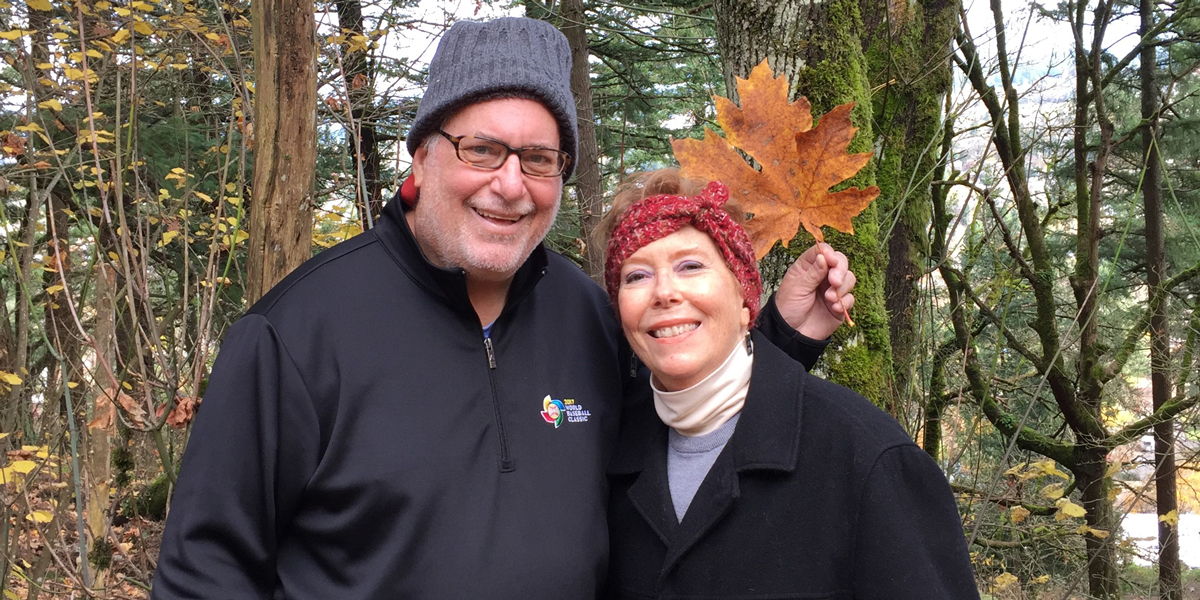 My husband and I had just arrived in the mountains of Colorado on July 23, 2017, a few days ahead of our annual family reunion, and I opened this email from the person who saved my life:
Hi Jane,

My name's Jack Milligan, and I just recently found out you're the person I donated to through Be The Match. I just wanted to check in and see how you're doing. Feel free to give me a call if you want, my number is …

Best Wishes,

Jack
My heart leaped, possibly because it felt a connection to the email's author. Jack's blood had become my blood just 14 months before, when he donated his stem cells to me though the National Bone Marrow Registry. I was 61, and Jack was 21 and soon to be a senior at Texas A&M University in College Station, where he also was president of its Delta Tau Delta chapter.
We spoke on the phone the next day and the first thing Jack wanted to know was if I immediately felt better after my transplant on May 18, 2016, at Mayo Clinic Hospital in Phoenix.
He was raised right.
HOW JACK DID IT
Jack grew up hearing stories about Greek life, as both of his parents were involved during college. They made it sound fun, and the camaraderie and leadership were appealing to Jack. He pledged to the Zeta Sigma Chapter of Delta Tau Delta at Texas A&M and learned the chapter had a relationship with a Be The Match partner in College Station. It was a good cause that put the focus on the compassionate work in which some fraternities engage.
Jack signed up as a donor in 2014, never imagining he'd be a match — only 1 in 430 are — then went about his studies in economics. He also rose through the ranks of the fraternity, from president of his new member class to internal vice president to president.
In the spring of 2016, following communications between Mayo's Bone Marrow Transplant team and Be The Match, Jack got the call — he was among nine potential matches for a woman with cancer. Was he still willing?
"Wow, I hope I'm the match," he said to himself. "That would be cool."
In fact, Jack was determined to be my perfect match based on 10 human leukocyte antigens, or HLA markers, that exist on most cells in a person's body. The immune system uses the markers to determine which cells belong in the body and which do not.
Jack's mom, Jennifer Espejo, remembers getting word that her only child was a go.
"In college, you hope your kids will seek out activities that will help them grow as a person," Jennifer said. "When Jack called to say he was a match for a cancer patient and that he was excited at the prospect of perhaps saving a life, I could not have been more proud."
Jack wasn't fond of needles, but that didn't stop him from having the requisite blood work to verify his good health and several injections of the drug filgrastim to increase the number of blood-forming cells or blood stem cells in his body. "My arms were really sore, but it was nothing compared to your leukemia," he told me.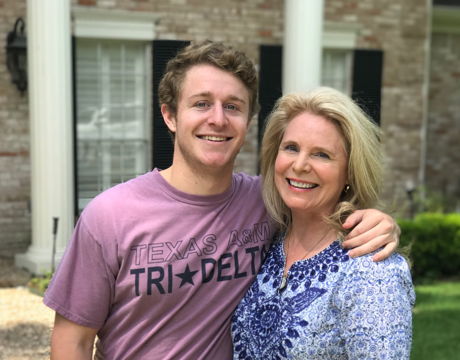 The next step was for Jack to visit Gulf Coast Regional Blood Center in Houston. For four hours, he sat in a chair watching ESPN's SportsCenter while his blood was withdrawn with a big needle in one arm, passed through a machine that collected only the blood-forming cells, and returned through a big needle in his other arm.
Alongside him was his mom, who had something to do with his decision to donate in the first place. She has since become a Be the Match registrant. My own three adult sons are now also Be the Match registrants
"My mom is the most compassionate person I've ever met. I've learned how to be more compassionate from her," he said. "If this was to happen to my mom, I'd be devastated. But I'd want to know that someone was there who was willing and able to save her life."
Jack had minimal side effects — just sore arms for a few days. He'd thought his blood looked like tomato soup, but when it arrived in my room the next day, we greeted it as Magenta Polenta, the victorious name in a contest my husband, Jack, and our three grown sons — all SportsCenter fans — held.

HOW I DID IT
By the time of my transplant, about 1,100 miles west of College Station, I'd already had four rounds of chemotherapy, a handful of bone marrow biopsies and lumbar punctures and considerable side effects. Accepting Jack's cells — similar to a bag of saline coursing through a tube into a central line in my chest — was the easy part.
I had no adverse reactions to his donation — and about 90 days later, my hematologist, Mayo Clinic Dr. Jeanne Palmer, called to give us the news we'd prayed for. An examination of my bone marrow showed my blood cells were 100 percent Jack's.
HOW DELTA TAU DELTA HELPS
Jack and six other members of Delta Tau Delta at Texas A&M have donated blood cells or bone marrow to save the lives of people like me. His chapter has recruited 606 people to sign up for Be the Match and inspired an additional 159 people to sign up at drives held by the Delta Tau Delta chapter at Baylor University in Waco, Texas. That's 765 people who've pledged to help save lives if called upon, all because of the Fraternity's work.
"It's amazing that all of these guys come together for such a great cause," said Tatjana Spearman, a representative of Scott and White Marrow Donor Program, a Be the Match partner in College Station. "They are really passionate about Be The Match, and it shows when they're out there talking to people on campus about the registry. They've been helpful in sharing their personal experiences to educate people about the donation process and to encourage others to sign up. We love working with them because fraternities have a lot of connections on campus, and they aren't afraid to approach people."
HOW WE'RE DOING
Jack and I are Facebook friends, as I am with his mom, and we have exchanged gifts, cards and photos for birthdays and Christmas. I believe our connection was predestined — we have the same initials, his and my husband Jack's birthdays are only one day apart, and they were born in the same city. They love the Kansas City Chiefs and the Kansas City Royals. Jack's dad and our eldest son attended the same law school. I'm sure other similarities will be revealed in time.
This spring Jack will graduate from Texas A&M and he will attend the Southern Methodist University Dedman School of Law in the fall. As for me, I'm still cancer-free and enjoying every minute of life. We haven't met yet, but I expect my heart will leap again when I see him, and I will love and be grateful to this caring young man for the rest of my life.