The Longest Flag Football Game of All-Time
The Delta Tau Delta Charity Marathon for Muscular Dystrophy
October 27 to November 5, 1971
Introduction
The story of the first Muscular Dystrophy Charity Marathon Flag Football game has been told many times and has varied somewhat from mouth to mouth. In 2021, on the occasion of the 50th Anniversary of the event, Keith Sliman ( Louisiana State University, 1973) attempted to tell the entire story and capture important details in writing.
Sliman writes, "Although some of the story is written in the first person, it is important to note that I am not claiming responsibility for the event as a whole. This event was accomplished by the efforts of all of the members of Epsilon Kappa Chapter of Delta Tau Delta, the other fraternities and sororities at LSU, numerous service organizations, the LSU Administration and individuals too numerous to name.
I am writing this simply because I was involved from the beginning to the end and know most of the stories. I am happy to be known as the person who originated the idea but accept no other credit."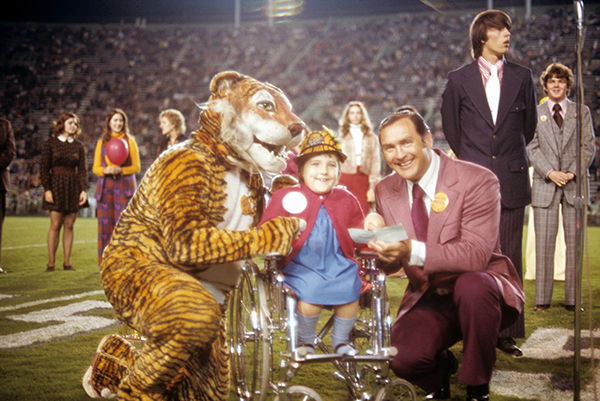 Prologue
You're going to play non-stop football for 241 consecutive hours? That's physically impossible.
Raise $10,000 while doing it? Are you kidding? No one could raise that much money in 10 days!
The idea's great, but it will never work. Maybe you should try something on a smaller scale.
These are among the comments offered during the pre-game activities of Delta Tau Delta Charity Marathon for Muscular Dystrophy.
However, these pessimistic attitudes did not dampen the spirit and enthusiasm or discourage the implementation of plans for what was to be the longest continuous football game in college (world?) history.
As a result of one individual's idea and the combined brilliance of many others, an official goal of the Charity Marathon for Muscular Dystrophy was established. "The gaining of better community relations for the Greek system and the attainment of a cure for Muscular Dystrophy – these are the goals to be accomplished in the collegiate tradition of athletics through the Delt Charity Marathon.
Also, it was the desire of the members of Delta Tau Delta Fraternity that these ten days of football be devoted to those who were unable to enjoy the sport. So that it might brighten their vantage point of life – their view from the sidelines.
The Idea
I grew up in New Iberia, Louisiana, a small town in the heart of Cajun Country. It was a time when people did not lock their doors and during the summer kids could safely stay out late at night.
One afternoon in the summer of 1968, a group of my friends and I were playing touch football on a field in the city park. As the day ended and evening fell, we kept playing (the field had lights that automatically came on at night) and continued the game into and through the night. In the morning, a reporter from a local TV station heard about our game and mentioned our 24 hour continuous game on the news that evening. We all felt that we had just experienced our 15 minutes (or TV seconds) of fame.
I graduated from Catholic High School the next year in 1969, enrolled at LSU and joined the Epsilon Kappa Chapter of Delta Tau Delta Fraternity. The Delts at the time were a relatively new Fraternity on campus and had, in a short time, grown in respect on the LSU campus, but hadn't yet reached the level of some of the larger Fraternities.
Fraternities then, as now, were very competitive in sports, academics and recruitment of members and always seeking ways to attract new members. Early in the fall semester of 1971, as always, we continuously looked for ways to grow in stature and distinguish ourselves from the other Fraternities on campus.
One night, I was up late studying for a class that my memory has graciously let me forget when I decided to take a shower to help keep awake. While in the shower, my mind strayed from the subject of the exam and toward our search for an event of notable magnitude. It was then that I remembered the recognition received from the 24-hour football game that I had played in several years before.
Since we were in the middle of football season and competing in intramural flag football, I thought that another game like that could be just the thing that we were looking for.
The idea that I took to some of the members was to play non-stop flag football long enough to set a world record. There was, of course, no Internet then and the Guinness Book of World Records had no such record in its book. So, we arbitrarily chose 10 days guessing that it would probably top any other games ever played. Most thought that I was crazy, but what they didn't know was that some of us were just crazy enough to pull it off and the more they dissented the greater our resolve grew.
The more that we discussed the matter, the more that we won over supporters until it was accepted that we would give it a try. But how could the 90 members of the chapter keep a game going on 24 hrs a day for 10 days and keep up with our daily responsibilities? As we discussed this challenge, the original idea evolved several times.
While every Fraternity had its moments, there was a strong emphasis on scholarship, athletics, brotherhood and community service. Seeking to make the activity more altruistic we decided to also use it as a vehicle to raise money for a charity. Since the Jerry Lewis Telethon had just concluded, we decided to dedicate the event to raising money for Muscular Dystrophy.
Financial Goal
With no history or any similar event to compare to, we originally set a goal of $1,000.
Now that we had the objective (10 days and $1,000), we really had no idea how we were going to make it happen.
Support and Approval
We quickly realized that that we would need support for such an event and agreed that we should invite the LSU sororities and other fraternities to participate. After all, they all supported philanthropic programs and it would certainly be more fun if they were there to participate or keep us company while we played, especially at 3:00 in the morning. We soon found that this would be one of the biggest challenges to the project.
When we approached the University administration for approval to play the game around the clock for 10 days, it was quickly and strongly noted that underclasswomen, at the time, still had hours and had to be in their houses and dorms by 11:00 p.m. We appealed to Margaret Jameson, dean of women, for an exception to this rule. She turned us down and told us that her girls would not participate. Dean French, dean of men, was also not very fond of the idea and let us know that although the men technically had no curfew there would be no open support or approval for the men to remain out all night long. We took the matter up the administrative chain and were continually denied approval. It would appear to some that the idea had fallen dead in its tracks before it really got started.
While we struggled not to get discouraged, we fought with the dilemma that during a time of Vietnam War spawned student protests and a growing drug culture we wanted to do something worthwhile, and we were met with indifference and resistance. Relying on our "Never Give Up" attitude, we visited Jake Staples, a member of the LSU Board of Supervisors and local restauranteur. We described our project to him, emphasizing that it was largely a charity event but was getting no cooperation from the LSU administration. Jake seemed to like the idea; said he would see what he could do. We thanked him and left. Two days later I received a call and later a letter from LSU Chancellor Cecil Taylor telling us that he and the University would consider it a personal favor if we would proceed with our project. Thank you, Mr. Staples.
We chose Wednesday, October 27 as the start date for the game so that it could end 10 days later Saturday, Nov 6 when LSU would host the Alabama Crimson Tide in Tiger Stadium. We had approximately three weeks before the start and there was much work to be done.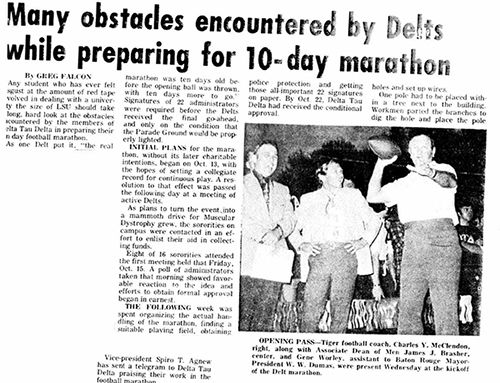 Location and Lighting
Although the University had approved the project, we still had the challenge of selecting a place to play. The logical place was the LSU parade ground where the other flag football games were played but realized that there was insufficient lighting to play at night. We went to Gulf States Utilities and asked for help but were turned down. We then went to Dixie Electric, an up-and-coming competitor of Gulf States. We luckily were introduced to a young go-getter who, after hearing that their competitors had chosen not to help, quickly gained his company approval and then bent over backward to accommodate the effort.
Within a few days, light/power poles were erected around the field, but the power had to be accessed from one of the office buildings across the street. It was done, but University President John Hunter was somewhat taken back when he returned from vacation to find a power pole in the flower bed just outside his office window. Gulf States reversed their earlier decision to not participate and provided the power to the lights at no charge.
Pay-To-Play For Charity
Deciding to raise money for charity was easy, determining how to get the donations was another matter. It was decided to open the game to anyone who wanted play for a fee. Our goal of $1,000.00 seemed out of range, but we always did reach for the sky.
Allowing anyone to play was a reasonable method to raise money and gain support of the activity, but it was contrary to our original goal of our Fraternity setting a record for 10 continuous days of play. As a compromise, we made a requirement that two members of our Fraternity would always remain on each side of the ball and the remaining positions filled in with contributors.
We drafted a schedule whereby at least four of us would be on the field at all times from Wednesday Oct. 27 at 6:00 p.m. until Saturday, Nov. 6 at 7:00 p..m. 10 days later. It was a stretch to fill those spots with only 90 members who also needed to attend class and work part-time jobs.
A fee to play was established, but some special events (described later in this narrative) attracted such participation that we were able to auction off spots or opportunities to play, with the high bidders getting into the action.
Fundraising Challenge
Charging players to participate would bring in some money, but it would take additional efforts to meet our goal. We, therefore, established a contest between the sororities to see who could raise the most money and offer the most support to the event.
Each participating sorority came up with its own plans to raise money while we went about publicizing the event and lining up players. It later became obvious that we should invite the other fraternities and University service organizations to compete as well.
Much of the eventual success of the Charity Marathon must be attributed to the tireless efforts of the fourteen sororities that participated in the charity project. Each sorority was provided two Delt coaches who were assigned to help coordinate Marathon activities.
A point system was established to decide which sororities would receive trophies for outstanding contributions to the event. An anonymous panel would judge each based on 50 percent for contributions, 25 percent on actual game Participation and 25 percent ingenuity. Trophies would be presented for each category and one to the overall winner.
Ingenuity activities included dinner being served to the largest donor by sorority members, a live rock band at the game and a "20s costume party"
Wednesday, October 27, 1971
After unaccountable hours of planning, plotting, and scheming the day had come to begin the event. The evening began with a dinner for sorority representatives and members of the LSU Administration. A parade then began at the Delta Tau Delta House on Lakeshore Drive. Complete with cars, trucks, bicycles, motorcycles and flambeaux (burning torches carried in night parades by white-robed figures known for their uninhibited twirling, general clowning around and prancing), the procession progressed along University Lake past the sorority houses and then wound through the campus to the parade ground where over a thousand people had congregated for the start of the event.
A field had been laid out, a tent erected, and a scoreboard put up to track the score of the game between the Purple and Gold Teams and money collected. On hand were Associate Dean of Men, James J. Brasher, Gene Worley, assistant to Baton Rouge Mayor President W.W. Dumas and LSU Football Coach Charlie McClendon1. With the scoreboard reading Purple 0 – Gold 0 and $0 raised, Coach Charlie McClendon threw in the game ball that he had offered compliments of the LSU Athletic Department and blew the whistle to start the game at 6:30 p.m.
Financial Goal Increased
The game progressed beyond our wildest dreams and having met our original goal of $1,000 after only two days we raised it to $10,000.
All Americans - Bert Jones2 and Tommy Cassanova3
On Saturday, Oct 30 LSU played at Ole Miss and unfortunately came up on the short end of a 22-24 game. However, when the team returned to campus after the game, All-Americans and future NFL All-Pros QB Bert Jones and DB Tommy Cassanova visited the field. They were invited to play but indicated that they had had enough football for one day. They did return later in the week and played, sparking one of the more memorable moments of the marathon.
Their presence, which obviously attracted a crowd and more donors than we could put on the field, created one little problem. During a game later that week, Bert threw a touchdown pass to a co-ed who raced into the end zone for a touchdown. The problem was that she kept running with the ball. It seemed that she was not going to give up the TD ball that she had caught from LSU QB Bert Jones. We had to chase her across the parade ground and behind the LSU Law School to retrieve the game ball.
Billy Cannon4 and Jake Gibbs5
"Billy Cannon's Halloween Run."Just the mention of those four words is enough to raise goose pimples and bring a sense of pride and joy to any LSU football fan.
Late in the game on Halloween night, October 31, 1959, #1 LSU was trailing #3 Ole Miss 3-0 when LSU running back Billy Cannon returned a Jake Gibbs punt 89 yards for a touchdown, breaking 7 tackles along the way. The return turned out to be the only touchdown of the game. The Rebels drove down the field but were stopped on 4th down on the LSU 1 yard line by Bo Strange and Billy Cannon (who also played defense) as the top-ranked Tigers defeated the No. 3 Ole Miss Rebels 7-3. On that night a legend was born. See footage of the run on YouTube http://www.youtube.com/watch?v=GIHdlAg4Uic.
Since Halloween was on the Sunday after LSU played Ole Miss, it was only natural that the runback be recreated. Dr. Billy Cannon, DDS and Jake Gibbs were asked if they would participate and they, of course, both graciously agreed. So, on October 31, 1971 (12 years after the original play) Jake Gibbs again punted to Billy Cannon. The only problem was that Jake had to punt several times to a little less-than-fleet-of-foot Cannon before one was caught with the proper bounce. With some literary license and staging that would make a Hollywood Producer proud, Cannon again returned the punt for a TD. This time, the Muscular Dystrophy Association was the winner.
Playboy Bunnies
At that time, the Playboy Club was still open in New Orleans. It was suggested that we invite the Bunnies to play in the game. It is easy to imagine the excitement when news of their acceptance spread.
We auctioned off the right to drive to New Orleans and bring the Bunnies to Baton Rouge and again to take them back to New Orleans. We did not charge them to play but did ask the spectators to contribute (at a higher-than-normal rate) – which they generously did.
Although it was exciting, the Bunnies dressed in jeans and sweatshirts were not exactly what most expected when anticipating that particular part of the game.
Gubernatorial Candidates - Edwin Edwards6 and Bennett Johnston7
1971 was an election year and Edwin Edwards was facing Bennett Johnston in the primaries of the Louisiana Gubernatorial election. We called Edward's campaign headquarters and told them that Johnson had pledged $500 to play against them (he actually hadn't) and asked if he would accept and match. He did. We then called Johnston campaign headquarters and told them that Edwards had pledged $500 to play against them and asked if he would accept and match. He did.
In addition to setting a record for the longest flag football game in history, we also made the short list of those who ever outsmarted Edwin Edwards.
Had we known then what we know now, we would have had Edwards play against the Bunnies. Who knows how much money we would have raised?
3:00 a.m. in the Rain
Flag football typically involves 7 against 7 and for most of the time there were more than enough contributors to keep the teams full. However, each night after 1:00 AM, the crowd thinned and it fell on us to keep the game going. In addition to the late hours, on a few nights it turned cold and rained.
With little or no donors playing, the responsibility of fulfilling the challenge of a non-stop game fell on the members of our Fraternity. It was typical to have only 2 on 2 or 3 on 3 between 2:00 AM and 6:00 AM for the 10 days. With just enough energy to stay out there and little to chase ball carriers around the field, the normal progress was to snap the ball, go out for a pass, throw the ball, catch the pass and score.
"The Bear"8
One of the most incredible feats of the entire affair was pulled off by Danny "D" Green. We were sitting in my room one night when D-Green suggested that we invite Bear Bryant, who was bringing his Alabama team to town the next weekend to play. I casually offered. "yeah – you take charge of that".
If you knew D like we did you were normally not surprised by anything that he did. We often thought that he was the model for the Fonz, someone full of self-confidence and with an attitude of being able to do anything. But what happened next was outrageous even for him.
D picked up the phone, dialed 0 and asked the operator for directory assistance for Tuscaloosa, Alabama. When connected he asked for the phone number of the University of Alabama Football Office. We figured that even D didn't have the nerve to do this and that he was simply calling for the correct time or weather.
A moment after dialing, it appeared that he had received an answer, and what we heard on our side was something like the following:
"Bear Bryant, please.

Tell him that Danny Green from Baton Rouge is calling

Bear, D-Green from Baton Rouge.

Look, were playing in a 10-day non-stop flag football game that will end on Saturday night and would like for you to come play with us on Saturday morning. Coach McClendon has already agreed to play (he hadn't, but later did)"
At this time, I had to know and put my ear to the phone to hear the famous gravelly voice say that he would be happy to. I sat back in shock and listened to the rest of D's side.'
Great. Do you need a ride? No? OK




Well come to the LSU Parade ground at 9:00 a.m. and ask for Sli or D-Green. Thanks. See you then.
He hung up and said "He's coming." Not a big deal for D-Green. He later called LSU Coach McClendon, told him that The Bear was coming and asked if he would also. He, of course, agreed.
When the ABC TV crew arrived to cover the LSU-BAMA contest, we invited them to film and participate in the event. It took a while to convince them that I was serious about Bear Bryant and Charlie McClendon playing in a flag-football game the next day. They guardedly agreed to be there the next day and I left with the same uncertainty about them as I did The Bear.
I don't remember sleeping that last night and at some point, made my way to the field where we had worked and played for over 225 hours. The word had spread that Bear Bryan was supposed to show and a large group, including ABC cameras began to grow. At about 8:45 a.m. two unexpected visitors arrived at the field with Coach McClendon.
Chris Schenkel9 and Bud Wilkinson10 who would be calling the game for ABC, after hearing about the event, decided to see what it was all about.
Before long, the crowd began to buzz as several State Trooper vehicles approached the field and parked. We held our breath in anticipation as the door opened and out stepped Paul "Bear" Bryant. He walked up to the tent and, in his gravelly voice, asked for "Sli or D-Green". I got my heart out of my throat, found a breath, and told him that I was Keith Sliman. D-Green came running up, patted him on the back, thanked him for coming and asked him to sign our guest book.
We had our players, but the TV crew was not ready, so D-Green suggested that we go to the LSU Union and have some coffee. So Chris Schenkel, Bud Wilkinson, Charlie McClendon, Bear Bryant, Keith Sliman and Danny Green walked across the Parade Ground to the Union for coffee.
At D-Green's insistence, the Bear regaled us with stories of Joe Namath, Kenny Stabler and other notable Alabama athletes as we drank our coffee. Throughout, D-Green kept reminding him that LSU was going to kick their butt that night (one of only a few of D-Green's failures – Bama beat LSU 14-7).
At some point the TV crew announced that they were ready to play and Bear Bryan faced off against Charlie McClendon (who had played receiver for the Bear at Kentucky) across the line of scrimmage rather than across the field as they would that night. The Bear played QB while McClendon played some QB and WR, his former position. On a double-pass, Charlie Mac jumped up to catch a pass of which Bear commented "He never made a catch like that for me".
While we would have liked for the game to never end, the coaches, broadcasters and TV crew had to get to work, and they left. A portion of the footage that was shot that morning was shown during the ABC broadcast of the game that evening.
The Final 30 minutes
As the end of the last day drew to a close, a select group took the final snap on the parade ground and advanced the ball (still playing the game) through the campus toward Tiger Stadium where the LSU Tigers were preparing to meet the Alabama Crimson Tide. They worked their way across the Quad, between the classroom buildings, around the Indian mounds and down the hill toward the stadium.
Thousands of visitors and tailgaters that packed the route along the way made way as the players approached the portal through which the team enters the stadium. They worked their way along the inner halls and through the tunnel that opens into Tiger Stadium, more affectionately known to Tiger fans as "Death Valley".
After an announcement over the stadium PA of what was about to occur, the 70,000 fans who would later welcome the team as it entered the field, greeted the flag-football players with almost equal exuberance. They passed under the goal posts in the North end zone and onto the field and played the final minutes of the game.
The final whistle blew at 7:15 p.m. ending 241 hours and 15 minutes of continuous flag football.
Half-Time
The end of the game did not, however, mark the end of the event. At halftime, ABC made mention of the game and showed footage of the game earlier in the day with coaches Bryant and McClendon playing.
In addition, we met on the field and presented trophies to the organizations that had won the various contests. I had the honor of presenting the final check of $15,647.81 to former LSU All-American and NFL Hall of Fame Running Back Jimmy Taylor11 who accepted on behalf of the Muscular Dystrophy Association.
On the field with us was MDA Poster Child Jay Dupuis who was greeted with an ovation from the crowd and entertained by LSU Mascot Mike the Tiger.
The look on Jay's face while shaking hands with Mike, receiving the check from Jimmy Taylor and hearing the cheers from the Tiger Stadium fans made every second of the effort worthwhile.
The Final Score(s)
Game Score: Purple – 5025 and Gold – 5019. I think the Vegas line was 6-1/2
Money Raised: $15,647.81
Number of Participants: Estimated at more than 2,000
Alpha Delta Pi Sorority – Most money raised, Participation and Overall Winner
Alpha Xi Delta Sorority – Overall runner up
Delta Gamma Sorority – Ingenuity Trophy
Epilogue
Looking back at the time and effort that went into the event, we asked ourselves if it was worth it. Did we get the publicity that we were seeking? We certainly did but knew then that the ultimate outcome was far greater than any fleeting recognition. In the end, we took pleasure in knowing that we had taken on a personal challenge and met it. We also united a community, for a short time, and raised awareness of a worthy charity.
The event was so successful that the Epsilon Kappa Chapter organized and managed it again the next year. The toll, however, on the chapter members was great. By the end, we were all physically and emotionally spent and had to admit that our GPAs weren't as stellar as we would have liked.
Therefore, after two years, it was turned over to the LSU InterFraternity Council who continued it for another 12 years. In that time, more than $250,000 was raised on behalf of the Muscular Dystrophy Association.