Team McGuire Raises Almost $30,000 for SoCal Ride for Parkinsons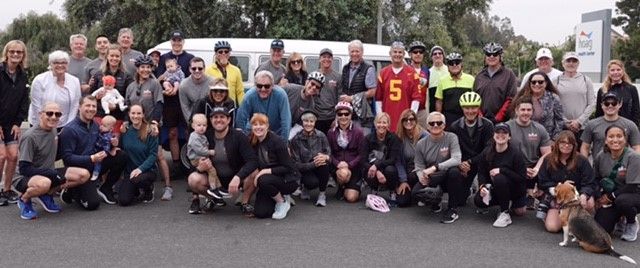 Dennis Rainey (University of Southern California, 1978) reports that Team McGuire (honoring Brian McGuire (University of Southern California, 1977) raised almost $30,000 of the total $100,000 raised through the SoCal Ride for Parkinson's on April 29, 2023.
Meade Wildrick (University of Southern California, 1978) joined the team as the newest Delt rider.
The Delta Pi Delts contributed $2,400, including a dollar-for-dollar match up to $1K by a brother who remains anonymous. And the USC-UCLA Gauntlet challenge continues with initial counts of $8,774 raised through USC alumni and $8,749 raised through UCLA alumni, including Brian's friend and Beta Theta Pi alumnus Emile Bayle.
"Here is maybe the best news that preceded the Ride," Rainey said. "Up until a few months ago, Parkinson's was considered an incurable disease. That changed when a Parkinson's biomarker was found in the brain. This gives researchers the ability to start taking steps to bring an end to Parkinson's."