Chapter Leader Earns United States Teaching Assistantship
Neal Hayhurst (Wabash College, 2021) is one of five Wabash College students (two current students from the class of 2023 and three recent graduates, including Hayhurst) who accepted fellowships in Europe and Asia in 2021. Hayhurst earned a United States Teaching Assistantship (USTA) to Austria. He is now in Rotholz, Austria, for his fellowship. Another Wabash student from Hayhurst's class is also teaching in Austria and will be a couple of hours away by train.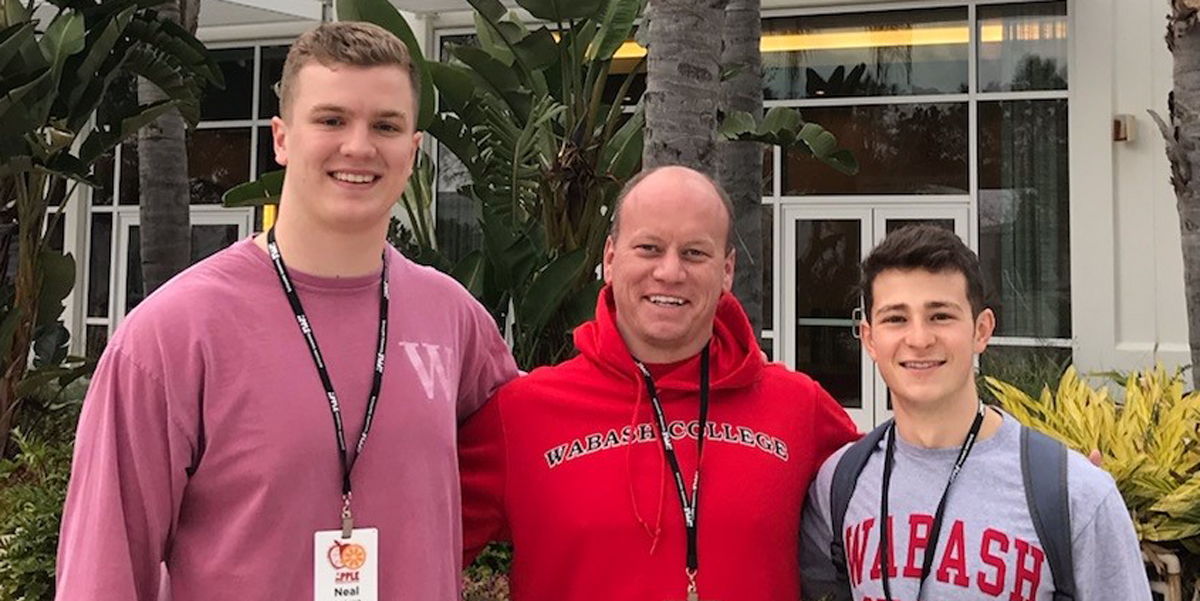 Hayhurst graduated with bachelor's degrees in both religion and biochemistry and a minor in German. Hayhurst is from Newburgh, Ind.
The USTA program selects American citizens who have attained at least a bachelor's degree to teach English at Austrian schools. Those selected must have at least intermediate German skills but don't have to be pursuing a teaching career.
Hayhurst moved to Innsbruck in the state of Tirol in mid-August to start an intensive language course before reporting for his teaching job on October 1. His job officially ends on May 31, 2022, but he plans to travel and sightsee some more before returning home. He will be working as an English teaching assistant for students at an agriculture and nutrition institute in Rotholz. Rotholz is about 20-25 minutes from Innsbruck by bus.
Teaching assistants are also expected to serve as a cultural resource/ambassador at the school and in the community. "I plan on starting an American culture club, American literature book club or something of that nature depending on what is already established at the school," Hayhurst said.
During the second semester of his freshman year, Hayhurst took an elective German course in which the students learned about the intellectual and cultural history of Germany. At the end of the course, the students took a two-week trip to Tübingen, Germany, just south of Stuttgart. In Tübingen, they took a language class from a native German speaker. They also visited monuments, museums and the graves of the people and ideas they discussed in the class.
"It was captivating to see the things we learned come to life," Hayhurst said. "But what fascinated me the most was how fast we improved our German skills by being totally immersed in the language and culture."
Hayhurst was already planning on pursuing a German minor, but he kept revisiting the idea of majoring in German throughout the next couple of years because of that immersion trip. "In the end, I settled on a German minor, but I was very attracted to the USTA program as a sort of capstone to my German studies," Hayhurst said.
During his sophomore year, Hayhurst did independent research on protein design in the biochemistry lab of Wabash professor, Dr. Wally Novak. This experience helped Hayhurst identify a passion for life sciences and his pursuit of a career in healthcare.
Specifically, they studied proteins that could bind to DNA and affect the expression of genes. The research consisted of computer modeling and designing of proteins that would selectively bind to very specific DNA sequences and then growing and testing these proteins in the lab.
"I learned a lot of lab techniques for designing, producing and testing proteins as well as what goes into designing, executing and then publishing a scientific research project," Hayhurst said. "On a more general level, I was struck by the incredibly complex interactions that occur at a microscopic level to affect and control how our minds and bodies function."
"While my studies in German and religion developed my macro-level mind to better understand the human mind and societies, biochemistry exercises my micro-level mind and grows my understanding of the most basic foundations of life," Hayhurst said.
Hayhurst served as president of Delta Tau Delta's Beta Psi Chapter during the second semester of his sophomore year and first semester of his junior year and he served as the kitchen steward during his junior and senior years.
Hayhurst said he had never even considered being president of the Fraternity until he was nominated. "To be honest, it was uncomfortable for me at first," Hayhurst said. "I didn't feel like I had the leadership credentials to be deserving of leading my peers. However, I was wrong in two ways. First, being a good president (or leader in general) isn't about doing as much as you can on your own with your own abilities. It's about enabling, encouraging and supporting your brothers and teammates to optimize the collective abilities of the group. Second, I realized that I consistently underestimate myself.
My brothers seemed to see something in me that I couldn't easily see in myself. Getting out of my comfort zone with the help of my Delt brothers at Wabash gave me the confidence to pursue the USTA opportunity in Austria."
After this fellowship, Hayhurst will begin medical school at IU School of Medicine in Indianapolis. He was accepted into the class of 2025, but he was granted a deferral to start in fall 2022 with the class of 2026 so that he could pursue this opportunity in Austria. "I'm not yet sure what specialty of medicine I want to pursue, but right now, I think that I am most interested in some type of surgery specialty," Hayhurst said.
"One of my favorite quotes that I have come across during my German studies is from Johann Wolfgang von Goethe, one of the greatest literary figures in German history," Hayhurst said.
"The original German is 'Nichts ist höher schätzen als der Werth des Tages' which translates to something like 'Nothing is of higher value than the worth of each day.' That is the kind of spirit that convinced me to pursue this opportunity with the USTA program is Austria. I thought, 'When else in my life will I have the opportunity to do something like this?'"