Summer Experiences, Life Lessons
Brothers from Epsilon Eta Chapter at Texas A&M Commerce spent the summer with rewarding summer jobs benefitting kids and the community and learning life lessons about competition, friendship, respect, imagination, God, nature and even bugs.
With his senior year approaching, Greyson Allen (Texas A&M Commerce, 2020) took on a new challenge as head swim coach for the city of Commerce, Texas. Through the summer months, he taught and trained 30 kids, teenagers and adults to compete in an area league.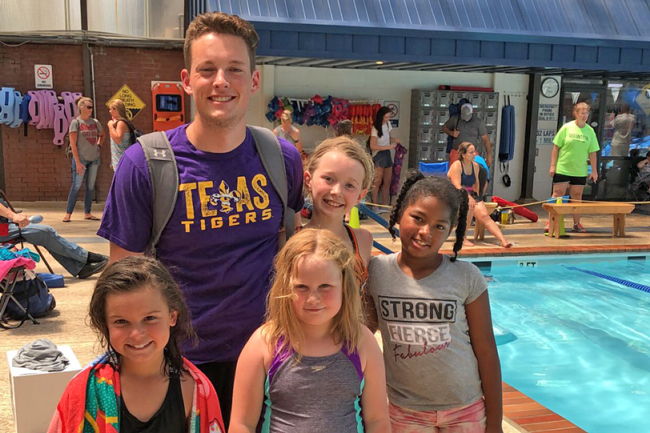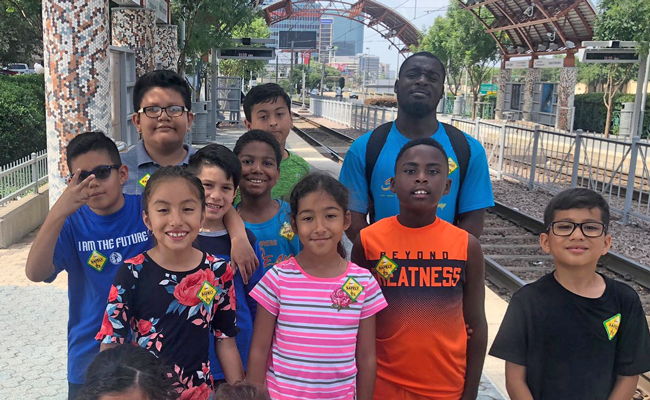 "Being a head coach is something I've wanted to do for a long time," said Allen who is studying sports and recreation with a minor in business management. He swam competitively for more than 13 years leading his high school team to a state championship and competing at the national level.
"Swimming has always been a passion of mine and something I always turn back to." Before becoming the head coach at the City of Commerce he coached a team for a country club in Richardson, Texas leading swimmers to a division championship and a runner-up spot the next year.
Nic Smith (Texas A&M Commerce, 2021) also spent the summer near a pool working as a lifeguard for Campus Rec at Texas A&M Commerce. Smith, who is studying psychology, hopes his training and experience in rescue and lifesaving will help prepare him for a future career as a firefighter.
"Apart from the skills needed for the job, I learned that it's not as hard to make friends as I previously had thought," said Smith. "My favorite thing about the job was that I befriended almost all of my coworkers and the lifeguards spent every Wednesday night together."
Camaraderie played a significant role for two Delts who worked as summer camp counselors.
Tahj Bovain (Texas A&M Commerce, 2020) sought a camp position to gain experience working with kids. "I want to be a teacher and football coach and dealing with behavior, and teaching kids how to play different sports allowed me to gain helpful experience," said Bovain. "I learned that kids tend to respect an adult they can relate to. The best thing about summer camp was walking into work every day and seeing how happy the children were to see me."
Also a camp counselor, CJ Williams (Texas A&M Commerce, 2022) worked at Allaso Ranch, a church camp, for two months and at the YMCA's Camp Dakotah as a day camp counselor for kids age 5-13. Williams, who is studying sports and recreation management, is working toward a career as a sports agent.
"At Allaso Ranch I gained a closer relationship with God and learned the book of Romans. I also was trained to be a lifeguard and earned my certification. I even got certified as a high ropes facilitator, so if you want to do rock climbing or obstacle courses I'm your guy. At Camp Dakotah I learned that kids' imaginations are bigger than ever. I learned that taking care of kids is not an easy task but a very fun one. Would I do it again? Maybe not, but I bonded with those kids and it was heartbreaking when camp ended."
What Williams liked most about the summer was his experience with nature. "I'm a city boy so I don't go outside often, and I hate bugs and can't stress that enough. So being around nature was a little different for me at first but in the long run, I really loved it."