Student Trustee is Focused Leader
Dylan Mace (Kent State University, 2022) learned about the opportunity to serve as a University Student Trustee when he was chapter president during his sophomore year. Kent State's Fraternity and Sorority Life Director, Dennis Campbell, suggested Mace apply, so he talked to university officials and past student trustees to learn more about the position. After an interview, the dean of students recommended Mace for the position and he was appointed after a subsequent interview with Governor Mike DeWine's office in Columbus, Ohio.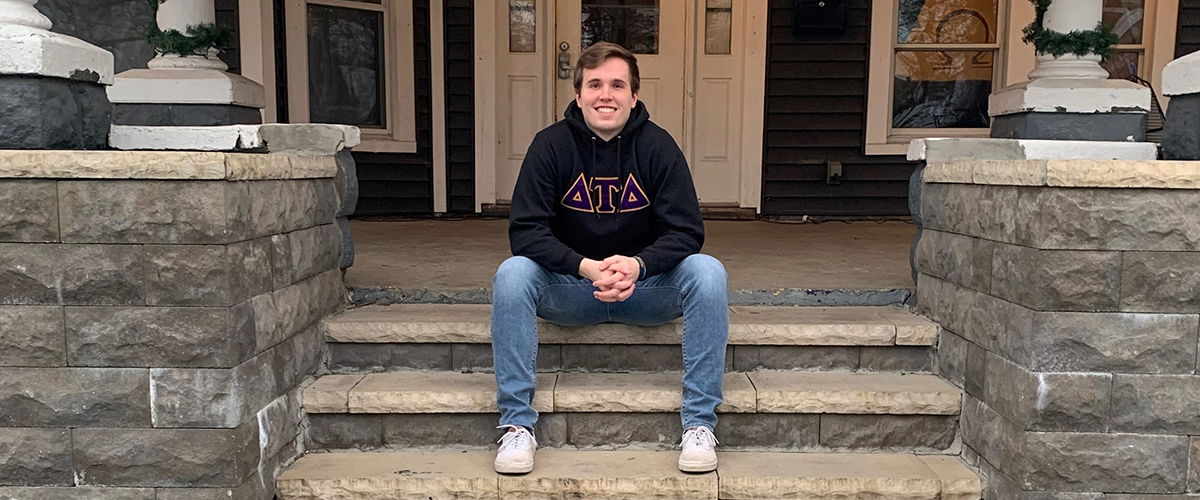 "Serving as Kent State's undergraduate student trustee has been and is a great opportunity both personally and professionally. I have learned an immense amount about how a university operates and all the work that goes in behind it," Mace said.

When he enrolled at Kent State, Mace focused on a top-notch education at an affordable price close to home but not too far away. He liked the balance of a college town feel in Kent, but the nearby Cleveland job market. He never imagined serving as a student trustee where he had the opportunity to meet members of the University's cabinet and an array of students all with differing opinions on the University. "I was extremely honored to be appointed to the student trustee role at Kent State. I am very proud to have the opportunity to represent Kent State University's students at the highest level of the university. It means a ton to me that so many people trusted me to fulfill this role."
In addition to having served as Delta Omega Chapter president, Mace was elected to serve as Interfraternity Council President in 2020. As IFC president he planned to focus on communication with all 17 chapters and building personal relationships tied to recruitment. "We talked about recruiting different types of members than we have in the past, members who would not usually be the first to join fraternities," Mace said.
With the pandemic, IFC had to quickly adapt its goals. "We had to start navigating fraternity life from a completely virtual setting with no past experiences to base off of. Our biggest challenge became how to put on a successful recruitment at Kent State while keeping everyone safe and healthy. From there, we looked heavily toward keeping our members engaged without in-person events. In order to do these two things, we relied heavily on constant communication through multiple channels and the advice of our Kent State advisors. While it was stressful at the time, looking back now we had a successful year as an IFC executive board."
A committed leader, after serving as IFC president Mace did not step down but remained involved as IFC's director of member education. In this role, Mace focused on new member education for fraternity and sorority life at Kent State in terms of hazing prevention, prevention of alcohol abuse and mental health awareness. "Now, more than ever, men need to check on their mental health and check in on their friends. We need to work toward fighting the stigma against men's mental health awareness," Mace said.
Before setting foot on campus, Mace was interested in joining a Fraternity. He had talked with two Delta Tau Delta alumni—his uncle, Cy Turner (Kent State University, 1981) and a coworker, Joseph Casedonte (Wittenberg University, 2015). Both men encouraged Mace to consider Delta Tau Delta. Then he learned his freshman year experience student teacher was Delt's recruitment chairman, Michael Trauman (Kent State University, 2021). After Trauman showed him around campus and introduced him to members of the Fraternity, Mace knew he wanted to become a member of Delt.
Mace, who is majoring in finance with minors in data analytics and computer science, hopes to work for a large banking organization after graduation. He is thankful for the help and guidance he's received from his Delta Omega Chapter Advisor Daniel Shuster (2015) and Dennis Campbell (Kent State's Assistant Director for Fraternity and Sorority Life) who he says have been crucial to his successes at Kent State. "My closest friends in the chapter, Michael Trauman, Garrett Naylon, and Adam Hackett, have always had my back along the way. I couldn't be more thankful for this group of guys," said Mace.