Standing for Those Who Can't
Fifteen brothers from the Epsilon Mu Chapter participated in Ball State University's Dance Marathon on February 25. Through their commitment to stay on their feet for 13.1 hours, 15 brothers raised $2,800 to support Riley Hospital for Children. Riley Hospital is Indiana's first and only comprehensive pediatric hospital with more than 245,000 inpatient and outpatient pediatric visits annually from across the state, nation and the world.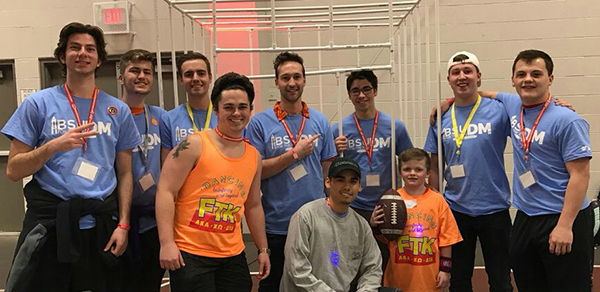 Team captain Ian Jones (Ball State University, 2018) managed the behind the scenes planning and coordinated Delta Tau Delta's participation in the event. The year-round fundraising and awareness effort comes together for Dance Marathon to celebrate enduring hope, lifelong healing, and lasting friendships in honor of Riley kids and families.
Their team was with assigned a "Riley kid" named Aylor. "We were fortunate to have Aylor by our side," said Arturo Ruiz (Ball State University, 2020). "Aylor is a seven-year-old who was diagnosed with Dandy-Walker malformation, but there is much more to him. He loves all things sports and wasn't scared to go far while playing catch with the football."
Dandy-Walker malformation affects brain development, primarily development of the cerebellum which is the part of the brain that coordinates movement. In individuals with this condition, various parts of the cerebellum develop abnormally.
Ruiz and his chapter brothers were overwhelmed with emotion when Aylor told them Dance Marathon was his favorite day of the year, even topping his birthday.
"While it can be said that we helped put a smile on his face that day, it would be a lie to say that he didn't put a smile on our faces as well," said Ruiz. "We were only able to stay on our feet because of Aylor. His smile and joy that day was so apparent. His physical presence that day made a huge change in how close we were to him. Hearing that we would be making a difference in a kid's life is completely different than actually experiencing it, and it was that feeling that inspired us."
Chapter brothers shared a photo with Aylor as they tweeted, "Shout out to our Riley buddy Aylor. He is strong beyond his years and one of the most courageous individuals we've ever met."