Sports Internship is Another Step Toward Goal
When you grow up in a small coastal island town mostly known for its lobster fishermen and stunning ocean views, pursuing a career in professional athletics isn't a common career path according to Sam Coombs (Kent State University, 2018). Now a senior studying digital media production Coombs has channeled his passion for sports into three major internships in the sports industry as he climbs toward his career goal to work in a professional sports setting in the MLB or NBA, or in media/sports information role for a university athletic department.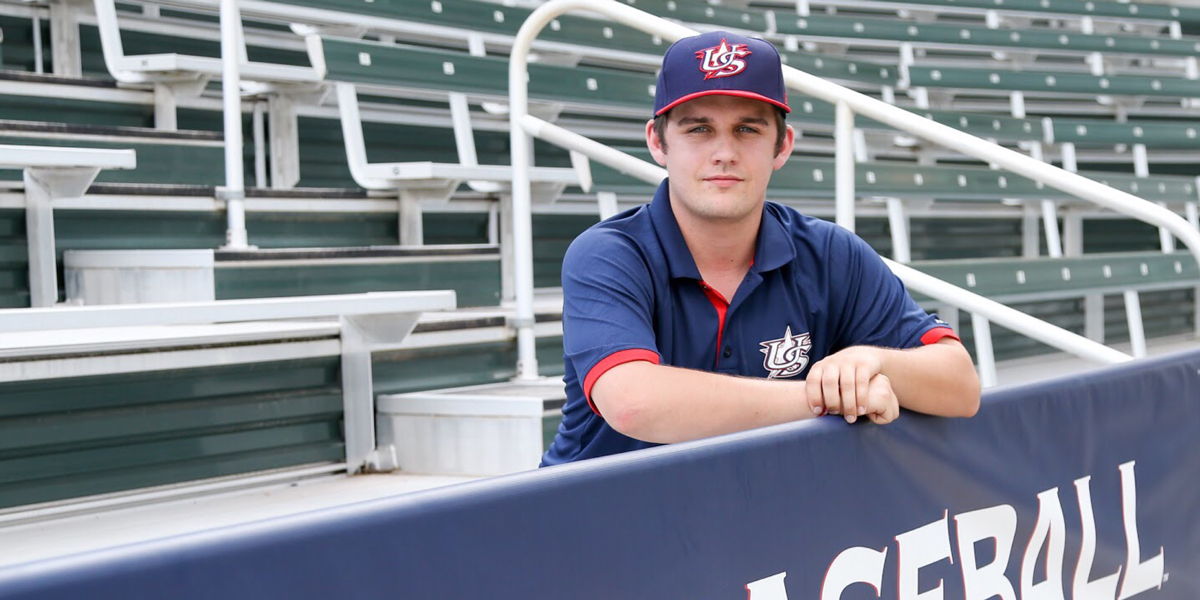 His most recent internship with USA Baseball developed after he connected with a mentor. In past summers when Coombs worked the Senior Little League World Series in Bangor, Maine he met Steve Lenox who was doing ESPN's broadcast of the World Championship game. Lenox shared contact information and helped guide Coombs in finding an internship. "Networking and connecting with people in your industry is key to getting where you want to go," said Coombs. "It's important to always work hard because you never know who is watching."

At USA Baseball he contributed to the creation of media content for the national governing body of baseball in the United States. He wrote and prepared press releases, media advisories, team feature stories and post-game recaps for the organization's official website. He also promoted events such as Tournament of Stars (top 80 high school players in the U.S.), Futures Invitational, and three Collegiate National Team Friendship Series with Chinese Taipei, Cuba, and Japan. And he helped manage the organization's social media accounts with 750,000 followers on all social media platforms and even devoted time to maintaining and organizing USA Baseball's history used for media guides.
Coombs is in the right environment to pursue his passion. "I just love being around the United States' best baseball players and seeing some of the best baseball you can see at each age level. Many of these players will be future MLB draft picks, and some will become some of the MLB's most talented players in the future. It's a great experience to be part of an organization that represents an entire country and produces our country's best baseball players to then compete internationally all around the world," said Coombs.
In 2016, Coombs got a first-hand look at producing sports television and talk shows as an intern with Fox Sports Ohio. "I worked right in downtown Cleveland and got to see the behind the scenes action for broadcast coverage in the studio for Cleveland Cavaliers basketball as well as the Cleveland Indians' run to their World Series appearance," he said.
Baseball and basketball are among his favorites. "I've been playing both of these sports my whole life, and there is no feeling like being on a team with your best friends."
He was used to the camaraderie found in sports, so when he first transferred to Kent State after three semesters at Southern Maine Community College, he was surprised to find it was difficult to meet people. His dad, a TKE alumnus from the University of Maine, suggested he join a fraternity.
Coombs talked to Delt members in the student center where he learned the chapter president was from a New Hampshire town not far from where he grew up in Maine. "It was a cool connection to make. I could immediately see that the Delts were not your stereotypical fraternity, which was intriguing," Coombs said.
He decided to join because the chapter made him feel like he had a home away from home. "Everyone treated me great. There were people of all different interests and characteristics, and I just really enjoyed the people I met," Coombs said.
"Delta Tau Delta has been a tremendous help during my time as an undergraduate. In high school I had never taken on any leadership roles or been that involved in an organization," said Coombs. Joining Delt gave him the opportunity to lead, and he served as vice president for a year. "I immediately became more self-confident and a better public speaker. I was able to prioritize my time better and gained a professional skill set that I didn't have before joining. Socially, I couldn't have asked for a better experience. I now am friends with people from all over the country and even as far as China," said Coombs.
Knowing how his leadership roles and internship opportunities have shaped his undergraduate experience, Coombs encourages others to pursue their dreams. "Have a goal in mind and go after it. Not everyone you reach out to will respond, but all you need is that one response to give you a chance to make a great impression on someone," Coombs said.
"Every opportunity no matter how small or how large, has worth…I look at each opportunity I have been given as a step on a staircase, and I have an ultimate goal in mind which is the top of the staircase. Each opportunity gives you a chance to use that opportunity to get to the next stair on the staircase whether that is a new job, more experience or getting you closer to your end-all goal," Coombs said. "Internships are an important component in becoming extremely successful in the work world."