Sometimes the encore is the best performance
We all see the memes and quotes floating around social media. Recently, one read, "You aren't wealthy until you have something money can't buy." Rick Walleigh (MIT 1970) and his wife Wendy had been financially rewarded by their work in the high tech industry in Silicon Valley; however, as they reached their mid-fifties, they found they lacked wealth in the personal reward of giving back to others.
"We didn't get fabulously rich [in Silicon Valley], but we had good careers and felt very fortunate, and we wanted to give back," said Walleigh. "We wanted to do something that was more directly beneficial to society."
Walleigh's wife first took the plunge by joining the Junior Achievement of Silicon Valley, as the vice president of marketing and development at half her former salary. A few years later, Walleigh decided to follow in her footsteps.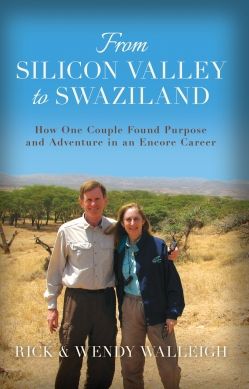 "I realized I didn't have to worry about my next raise, promotion or job," he said. "I could do anything I wanted, so I decided to think big: I decided to work on promoting world peace through reducing poverty. Since I knew very little about economic development and poverty reduction, I read 15 books, researched online and networked like crazy."
He was soon introduced to TechnoServe, an organization whose tagline is "Business Solutions to Poverty." Walleigh found it a great fit for his management consulting background, and they had a volunteer program.
"Wendy and I volunteered and worked in Africa for a year and a half," Walleigh said, "six months in Swaziland and a year in Nairobi, Kenya. Recently, we published a book based on our experience to try and encourage other baby boomers to embark on similar adventures."
The Walleigh's book is called From Silicon Valley to Swaziland: How One Couple Found Purpose and Adventure in an Encore Career. The book is now available on Amazon, and all royalties go to support TechnoServe.
Walleigh explained he sees more and more people who are reaching traditional retirement age and are still healthy and energetic thinking about their life and legacy.
"They ask themselves, 'Have I lived a good life?' and, 'Am I proud of what I've done?' As people ask these questions, many who have been fortunate in their careers are deciding to pursue activities that are directly beneficial to society, and some are doing it just like a second career," said Walleigh.
Award-winning social innovator, thought leader and author Marc Freedman coined the term "encore career" to describe this phenomenon.
Walleigh's interest and talents in serving others didn't just recently begin. In his collegiate years as a Delt, he served as the house manager, where he held major responsibilities and organized their "work week," his largest undertaking at that time. It also required he motivate his brothers to work hard. He's carried the lessons learned from this experience throughout his life.
Walleigh continues to work as a senior advisor for TechnoServe at minimum wage. He and his wife hope to influence others with their story – baby boomers will find it helpful in thinking about what they want to do after retirement, and it will allow younger generations to think about what they want to do in the future.
"Find a career that excites you," Walleigh said as advice to current collegiate members of Delta Tau Delta. "Work hard and pursue it with a passion, but be aware of what is happening in the broader world and how most of the people in the world do not have the opportunities that have been given to you. Remember how lucky you are and think about helping others who aren't as fortunate."