Social Good While Social Distancing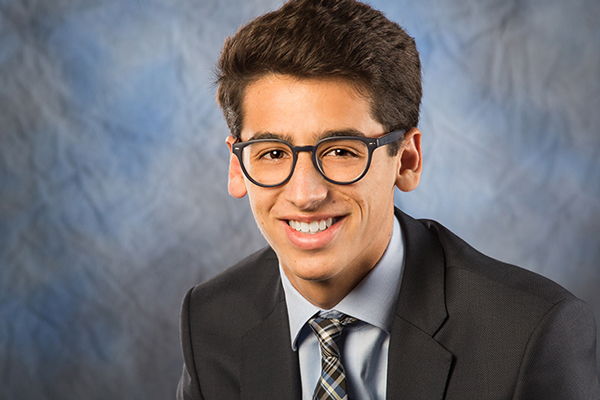 Benjamin Moss (University of Michigan, 2023) serves as a campus ambassador for Gift of Life, an organization whose mission is to cure blood cancer through cellular therapy. Gift of Life believes every person battling blood cancer deserves a second chance at life—and they are determined to make it happen. The organization is singularly passionate about engaging the public to help get everyone involved in curing blood cancer, whether as a donor, a volunteer or a financial supporter. It all begins with one remarkable person, one life-changing swab and one huge win — finding a match and a cure and Moss is helping spread the word at the University of Michigan.
Where are you from and how did you choose the University of Michigan?
I am from Bloomfield Hills, Michigan. I always knew that I wanted to go to U of M since I was a child. My mom went to undergrad there, and my dad went to law school there. So, getting into Michigan was always my goal. When I learned about their sport management program, I knew I wanted to apply.
How did you get connected with Delta Tau Delta? Why did you join?
I got connected to Delta Tau Delta actually through my cousin who works for Gift of Life. She had a friend whose nephew was a Delt, and she told me to check it out. I ended up meeting a bunch of the brothers at recruitment events and loved the strong brotherhood. So, it was an easy choice deciding to join Delt.
What is your connection to Gift of Life?
I've always known about Gift of Life through my cousin, Sharon Kitroser, who is the strategic partnerships manager. However, I learned a lot more about it while attending the American Israel Public Affairs Committee (AIPAC) last March in Washington, D.C. I swabbed and was added to the registry.
What motivated you to become an ambassador?
Two things motivated me to become an ambassador. The first was that I think it's a super-easy way to save someone's life. As an ambassador, I'll be running virtual donor recruitment drives to help bring young donors 18 to 25 into the registry, the exact demographic that transplant centers prefer for their patients. Joining the registry takes five minutes: All you have to do is complete a cheek swabbing kit and return it in a prepaid envelope. The cheek swabs will go to a laboratory for tissue typing, and that information will be entered in the registry. That's it. It's so easy and I want to help get as many people as I can to join.
The second thing that motivated me was the fact that blood cancer runs in my family. My great aunt Arlene died from Acute Lymphocytic Leukemia in 1970 when she was 24 years old. My grandpa has Chronic Lymphocytic Leukemia, and my aunt has Non-Hodgkin's Lymphoma. So potentially, one day I could need a transplant. This motivates me to try and find as many matches as possible so I can help my family, as well as others like them all around the world who need transplants.
What have you learned from serving as an ambassador?
While Gift of Life's Campus Ambassador Program (CAP) is in its seventh year, this is my first year as an ambassador. The organization recently hosted a virtual event to welcome those of us who've joined for the fall 2020 school year—there are over 350 CAPs this year! We learned more about Gift of Life's mission through a series of panel discussions and got to hear the amazing stories of donors and recipients.
Throughout the school year, the campus ambassadors will receive training on hosting recruitment drives and guidance on things like how to recruit multicultural donors to help diversify the registry so that more patients battling to survive blood cancer and diseases like sickle cell can have the hope of a cure.
Most importantly, I have learned that all it takes is one person to change someone's life. We can all be that person.
What do you want people to know about the marrow registry?
I want people to know that even during these times, you can do social good while social distancing. Joining the Gift of Life Marrow Registry is easy and anyone between 18 and 35 years old can do it by simply requesting a cheek swab registration kit to be delivered to their home.
Request a cheek swab registration kit

To learn more about joining the Campus Ambassador Program's spring 2021 semester, students may contact Traci Ackerman, Recruitment Manager, tackerman@giftoflife.org.