Shelters Receive Summer Facelift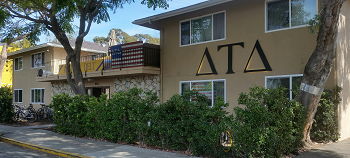 University of California-Santa Barbara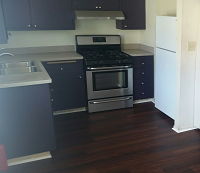 The Delta Psi Alumni House Corporation spent the summer months supervising the Delta Psi Shelter spruce up, which consisted of superficial improvements to the exterior and upgrades to the interior. The eight-unit apartment building that 28 Delts call home saw the installation of a new second-floor deck railing along with a fresh coat of paint. Additionally, the kitchen counters, sinks and faucets were replaced and new industrial strength flooring was installed throughout the interior units and chapter room. The bathrooms received an overhaul of new toilets, flooring, counters, sinks and showers.
The members were moved elsewhere for six weeks while renovations took place this summer, and all upgrades were finished on time and on budget. The men are currently in the midst of painting the interior walls of the units and chapter room for the final touch of the summer upgrade.
Georgia Tech University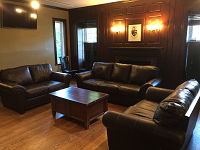 The summer renovation project for the Gamma Psi Chapter at Georgia Tech included 42 new windows and a refurbished front yard and patio, which included new brick pavers and a circular seating bench for family and guests. Additionally, a parent-provide gift enabled the purchase of new leather couches for common area. Built in 1922 in the Tudor style, the Gamma Psi Shelter has occupied the house on Georgia Tech's "Old Row" since the early 1940s.
The Gamma Psi House Corporation owns the building and land on campus, and 33 resident brothers financed the summer upgrades via room rental.
Florida State University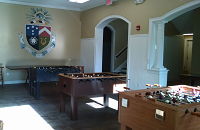 Due to recent water damage, the Delta Phi Shelter at Florida State received several renovations to the first- and second-floor bathrooms as well as the basement to support the foundation of the building and prevent future water intrusion. The first floor also received a makeover with new furniture and various sporting goods for the undergraduate members.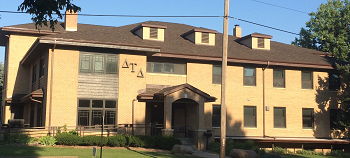 University of Nebraska-Lincoln
This summer, the Beta Tau House Corporation oversaw the replacement of the roof with attractive, high-quality architectural shingles and new gutters and downspouts. Additionally, the ceiling was reinsulated to reduce utility costs and provide a more energy efficient facility. The interior saw improvements as well with the installation of new data cables and wireless routers to enhance bandwidth and connectivity throughout the entirety of the shelter. The House Corporation also replaced the kitchen freezer as part of the summer upgrade.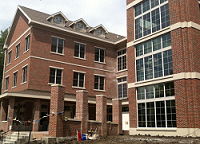 Iowa State University
The Gamma Pi Shelter at Iowa State University is nearly complete after the original structure was leveled and rebuilt from scratch.