Service and Learning through Spring Break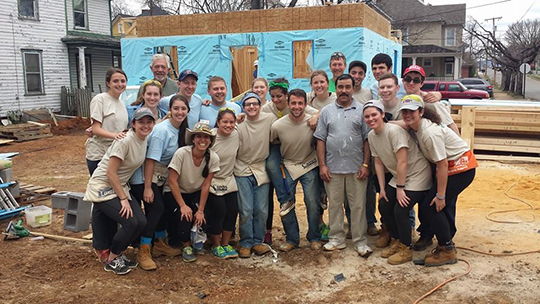 When Ryan Cantwell (Sacred Heart University, 2017) left his Fairfield, Connecticut campus and headed south for spring break in early March he packed his work gloves and prepared to build a house and build hope through Habitat for Humanity. Cantwell and a group of 19 student volunteers traveled to Roanoke, Virginia to help families in need.
During their week in Virginia, he and his group focused on two houses. First, they put a roof on an addition built onto a restored home and then they worked on a new house from the foundation up. "We got the first floor done—the first floor walls. We started working on the second floor and started building the parts for that. By the end of the week they said that we got a months' worth of work done, so they were very appreciative of that," Cantwell said.
Amy Alls, community engagement specialist for Habitat for Humanity in the Roanoke Valley coordinated the volunteers and was the contact for Cantwell's team. "The Sacred Heart University students were unstoppable. We were incredibly grateful to have them working with us," she said. Alls explained that this was the first year the Roanoke affiliate of Habitat Humanity International participated in the Collegiate Challenge, a year-round alternative break program and they were pleased with how hard the students worked.
This was Cantwell's third spring break service trip as he traveled to Texas during his freshman year and Tennessee during his sophomore year on similar trips. Also, during his sophomore year winter break he volunteered in Mississippi and hopes to return to Mississippi on a service trip during his senior year.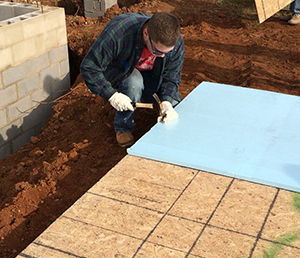 Natasha Sousa, the Sacred Heart faculty advisor for the Roanoke trip, worked with Cantwell and other students who gave up their spring break to face challenges outside of their comfort zone. "The advantage of this service trip is that students find the true meaning of having a home," said Sousa. "Students take so much more from this week than they could ever imagine."
Sousa worked closely with Cantwell in Roanoke and observed other students looking to him as a natural leader who was willing to do any task that was assigned. "Ryan is a perfect example of a student who inspires others by everything he does. From his involvement on campus to his passion for service he is nothing short of a great student who will continue to do great things in this world," she said.
Cantwell initially got involved with Sacred Heart's Community Connections program, which brings together students who share a service-learning focus. "Community Connections shows community service in the area of Sacred Heart," Cantwell said. "I was exposed to the Habit for Humanity affiliate and I fell in love with the organization. I love doing the work we do and helping the families we serve." For the last three years, he has also volunteered regularly with Habitat for Humanity of Coastal Fairfield County in Connecticut through Sacred Heart University's Habitat for Humanity Campus Chapter.
Community Connections actually led Cantwell to Greek life. "A few of my leaders were involved with Greek life. They weren't Delts, but they exposed me to the opportunities Greek life offered. I decided to look at fraternities and discovered Delt fit my personality."
Cantwell's service focus spreads into his fraternity life as he is currently Interfraternity Council's vice president of philanthropy and he served the Iota Tau Chapter as community service chair during his freshman and sophomore years.
He encourages fraternity brothers and other students to get involved in volunteer service. "You gain so many different things. You gain more of an understanding how different cultures work in the country. You open yourself up to see how much difference you can make in someone else's life and how much other people you help can change your life. That's what I've noticed, they've changed me."