Seeking to Understand the World
Minnesota native Isaiah Strong (Butler University, 2019) had never left the United States but wanted to challenge himself and grow as an individual. He wanted to broaden his capacity to understand the world, so he decided to study abroad.
"While abroad I hope to gain a more well-rounded perspective on global issues, humanity and life itself. I want to immerse myself in different cultures and learn from people whose life experience is radically different than my own," said Strong.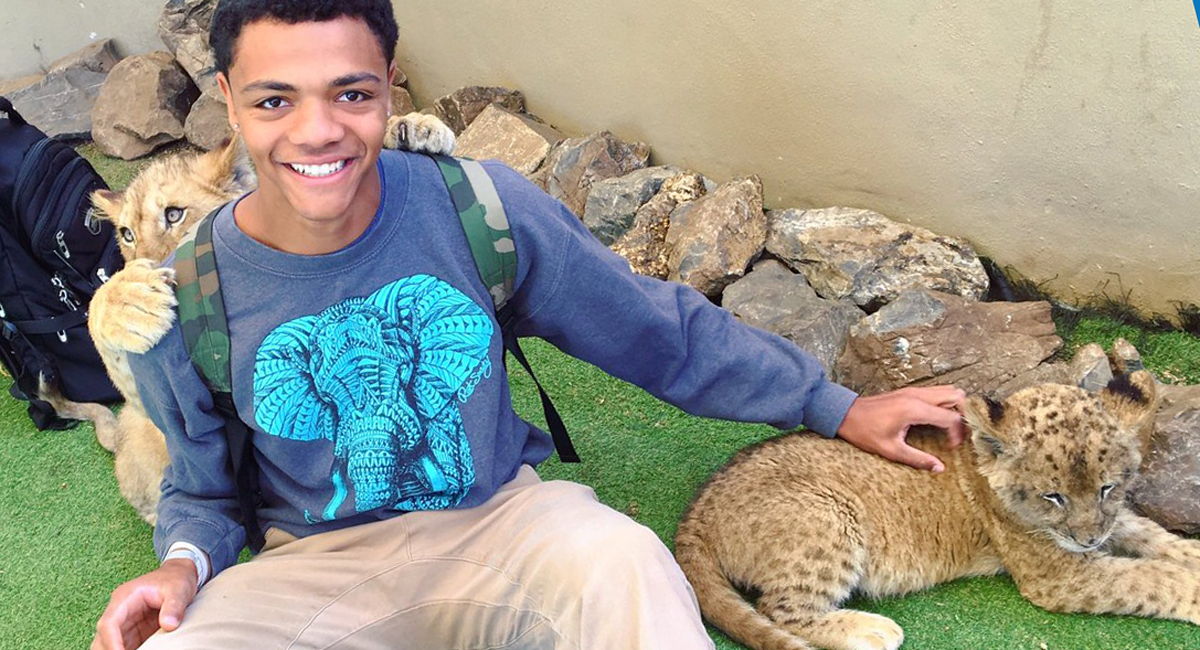 This fall, he is studying at the University of Johannesburg in South Africa. Strong says the city is similar to cities in the U.S., and he sees evidence of many western norms, practices and companies.
"The incredible diversity and warmth of the people has stood out to me as a unique trait of the country," said Strong. In his first month, he went on a safari and visited several markets throughout the city and historical sites including the Apartheid Museum, Nelson Mandela's home and Constitution Hill.
"This stands in stark contrast to what I would've experienced had I returned to campus in the fall. I miss my friends and family, but this journey has allowed me to meet new friends, learn about another nation's history and culture and engage in more new experiences than I could have back home," said Strong.
He hopes to pursue a career in the humanitarian or government sector and said his dream job would be chief of staff for a politician. "I've realized that my true calling lies in working to make the lives of others better through tangible policy or movement efforts," said Strong. "I believe I can best achieve this through either non-profit or humanitarian work or work within government."
Strong will graduate with a degree in both strategic communication and recording industry studies, the latter reflecting his love of music. He plans to apply to graduate schools with specialties in either international communication or politics.
Strong's parents serve as a source of motivation. They founded work full-time for the non-profit organization they founded. Parenting with Purpose supports children of incarcerated parents and assists those parents in rehabilitation and assimilation.
"I've also been influenced by Denis McDonough, the former chief of staff for Barack Obama," said Strong. "He is also from Minnesota, and I have had the privilege of speaking with him. His insight and character inspired me to continue seeking ways to influence the world via government policy and legislation."
At Butler, Strong serves on Student Government Association's education and advocacy committee and is involved with both the student initiatives board and the diversity and inclusion board. In this role, he helps plan campus programs that promote inclusion and diversity. Strong helped organize monthly roundtable events in the diversity center to bring together staff, students and faculty for discussion of diversity topics like race, class and gender. He also worked with faculty to create a specific diversity component for the week before the start of classes when the campus community welcomes first-year students.
He was inspired to join Delta Tau Delta after meeting many juniors and seniors whose collegiate careers he wanted to emulate. "Many of the brothers were well-respected, involved in on-campus activities, and had studied abroad during their time at Butler, all of which greatly appealed to me," said Strong.