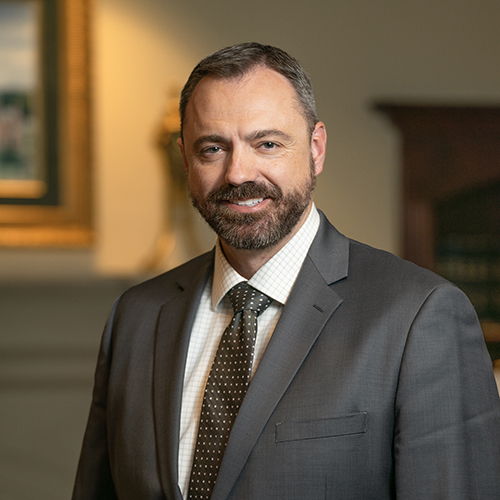 Ryan Caldwell (University of Nebraska-Kearney, 2002) was elected International Treasurer of Delta Tau Delta Fraternity at the 2022 Norfolk Karnea. Prior to serving on the Arch Chapter, he was the Beta Tau (University of Nebraska-Lincoln) Chapter Advisor and Chairman of the Arch Chapter's Corporate Governance Committee. Over the last 20 years, Caldwell has served in a variety of other volunteer roles including House Corporation Treasurer, Secretary, and Director, Member Discipline Committee member, Diversity, Equity, & Inclusion Taskforce member, and Division Vice President.
Caldwell was initiated in 1998 at Theta Kappa Chapter at the University of Nebraska-Kearney. As an undergraduate, he served as Chapter President for two terms. He served the Interfraternity Council as the first IFC New Member Educator. Caldwell served as the campus Election Commissioner, was inducted into Mortar Board Senior Honor Society, was President of Phi Alpha Theta (History Honors Society), and was awarded the William Nester Student Leadership Award in 2002. He graduated in 2002 with a degree in public administration and history. Caldwell graduated from the University of Nebraska College of Law in 2005.
Caldwell has been recognized for his service to the Fraternity on several occasions. He was awarded the Western Plains Silver Chevron Award in 2009, the William Fraering Award for Young Alumni Service in 2014, and a special distinction for alumni service from the West Plains Division in 2022.
Professionally, Caldwell is the managing member of Caldwell Law, LLC, a consumer and small business bankruptcy law firm that helps clients reorganize their debt while protecting property and allowing businesses to continue operating. Caldwell is a native of Yuba City, California in Northern California, and currently resides in Lincoln, Nebraska with his wife Stephanie and their three children, Caroline, Nolan, and Decker. In his spare time, Caldwell has amassed a large baseball card collection and is known to perform cover songs on the internet from his office.
Get in Touch
Chapter: Theta Kappa
College: University of Nebraska at Kearney
Class of 2002
Treasurer Responsibilities
Oversees the Fraternity budget, financial reporting and governmental compliance. Serves as AC liaison between the Audit Committee, and Investment and Finance Committee.