Russell Honored with Evin C. Varner, Jr. Fraternal Communications Award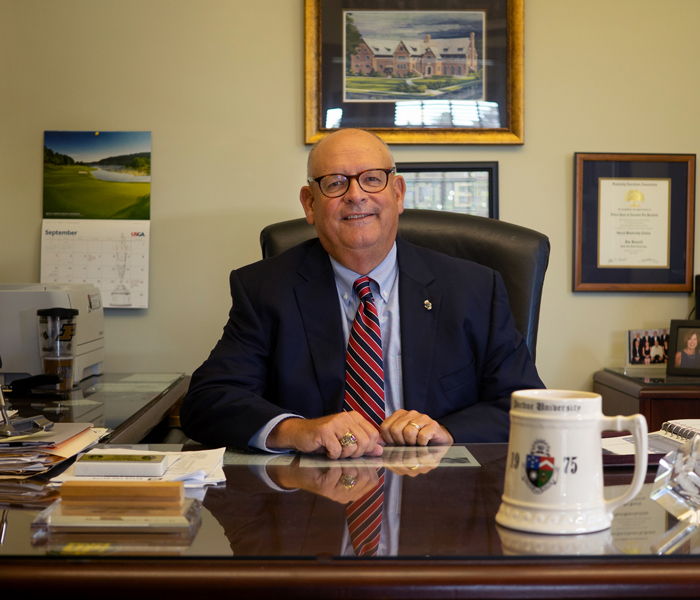 During its 98th Awards Program on April 30, the Fraternity Communications Association (FCA) announced the Evin C. Varner, Jr. Award recipient for 2021 as Delta Tau Delta's Jim Russell (Purdue University, 1975).
The Varner Award recognizes those who, over several years, have communicated the meaning of "fraternity" through working for a fraternal organization and who have demonstrated sincere and credible leadership and service to Greek-letter organizations.
The award is named for Evin Varner, Grand Senior President of Alpha Sigma Phi Fraternity and President of the College Fraternity Editors Association (CFEA), now the Fraternity Communications Association (FCA).
Evin Varner led both organizations to enhanced programs. He was a leader and speaker in many interfraternal programs and won many awards as editor of his fraternity's magazine, The Tomahawk. He achieved all this while compiling a distinguished career in communications, marketing, and public relations. Varner was the first recipient of the award shortly before his death in 1985.
Varner always had time for those who sought his counsel, and he readily shared his sense of mission. He was an innovator, a doer and above all, a friend. He influenced others' appreciation of the role of the fraternal communicator and the effectiveness of interfraternal cooperation. It is this spirit—the outreach of caring and sharing, as well as communicating and achieving—that the Evin C. Varner, Jr. Fraternal Communications Award recognizes and inspires others.
"With surprise and heartfelt thanks, I accept the Varner Award with humble appreciation. It truly is a wonderful honor to be recognized by the good souls of the Greek movement who day by day craft the communications message that speaks to the fraternal ideals we so proudly embrace. Thank you.," said Russell. "While my 17 years on the Delta Tau Delta staff were spent in the executive director's chair, be assured I always considered myself a storyteller and professional communicator first and foremost."
Russell was the sixth man to hold the title of executive vice president for Delta Tau Delta. He followed Hugh Shields (1931-1965), Al Sheriff (1965-1982), Gale Wilkerson (1982-1989), Ken File (1989-1996) and Duane Wimer (1996-2001).
In addition to his Delta Tau Delta responsibilities, Russell was active interfraternally, including a four-year stint on the Fraternity Executives Association's board of directors. He served as its president in 2016-17. He was the second Delt to hold that office, following Al Sheriff in 1975-76.
Before joining the Delt staff, Russell was a long-time Delt volunteer with 13 years of service as chapter advisor at his home chapter (Gamma Lambda) at Purdue. He also served 34 years as an officer on Gamma Lambda's house corporation. He also was a member of the Fraternity's board of directors while serving as president of the Fraternity's Northern Division from 1995-99.
In his early career, Russell spent 17 years as a sportswriter for three Indiana newspapers, with 13 of those years with the Indianapolis News, the evening newspaper published for 130 years through 1999. (Before the closing of the Indianapolis News there had been a partial merging of staff with The Indianapolis Star). In 1994, Russell took over the position of sports information director for the Indiana High School Athletic Association, where he remained until 2001.
Russell is the second member of Delta Tau Delta recognized with the Fraternity Communications Association's Varner Award. FCA honored Jay Langhammer (Texas Christian University, 1966) with the award 2014.