Russell Announces Retirement As Executive Vice President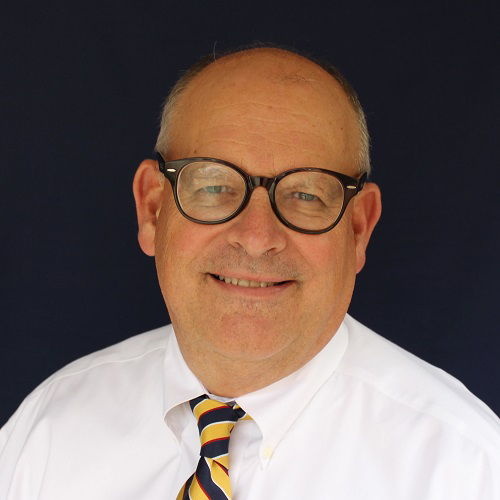 Jim Russell (Purdue University, 1975), who has served as executive vice president of Delta Tau Delta since 2001, today announced his retirement effective Sept. 30, 2018.
"These nearly 17 years have been the most fulfilling of my professional career," Russell said. "It has been an honor to serve and lead through times of tremendous growth, special celebrations and daily challenge. I have been blessed with a talented and loyal staff and the strong support of the Arch Chapter throughout.
"It's now time for Patty and me to get serious on pursuing a growing bucket list. She has been with me since my first Delt recruitment event in 1971 and has been a tremendously supportive partner in all things Delt. This most interesting journey would not have been possible without her.
"It's also time for new leadership within the Central Office and the Fraternity as we launch the next Fraternity strategic plan at the 2018 St. Louis Karnea. I have every confidence the Board of Directors will engage a visionary and highly motivated professional who will lead us forward. He will have my full support."
During Russell's tenure the Fraternity:
In partnership with the Delta Tau Delta Educational Foundation, established a permanent headquarters in the Indianapolis suburb of Fishers, Ind. (2002).

Marked its 150th birthday (2008) with a two-year celebration of events starting at the 2006 Indianapolis Karnea and concluding with the 2008 Pittsburgh Karnea which included a memorable day at its birthplace at Bethany College with 700+ Delts and guests; the celebration also included production of a special Fraternity history book, a traveling gavel across the chapters and the Foundation's Sesquicentennial capital campaign.

Totally revamped its education and leadership programming, including establishment of The Road (2008) for ongoing member education and the Presidents and Advisors Retreat (2004).

Reached 10,000 undergraduate members for the first time (2016).

Achieved its first aggregate 3.0 grade point average in history (Spring 2010) and now has posted 10 consecutive terms above 3.0. In the most recent compilation, Delts in aggregate ranked 99 basis points above their male peers at the same schools.

Entered its partnership with JDRF (2012) which has raised in excess of $1.4 million to support research to eliminate type 1 diabetes. During the school year just ended, Delts raised a record $329,865 for JDRF.

Russell is the sixth man to hold the title of executive vice president. He followed Hugh Shields (1931-1965), Al Sheriff (1965-1982), Gale Wilkerson (1982-1989), Ken File (1989-1996) and Duane Wimer (1996-2001).
In addition to his Delta Tau Delta responsibilities, Russell has been very active interfraternally. That included a four-year stint on the Fraternity Executives Association's board of directors. He served as its president in 2016-17. He was the second Delt to hold that office, following Al Sheriff in 1975-76.
Prior to joining the Delt staff, Russell was a long-time Delt volunteer. That service included 13 years as chapter advisor at his home chapter (Gamma Lambda) at Purdue and 34 years as an officer on its house corporation. He also was a member of the Arch Chapter while serving as president of the Fraternity's Northern Division from 1995-99. He was cited to the Fraternity's Distinguished Service Chapter in 2000.