Risky Chicken Launched by Recent Graduate
"Risky Chicken" came to Ben Reingold (Kenyon College, 2020) as he sat between two Delt brothers in an economics elective called "game theory" in fall 2019.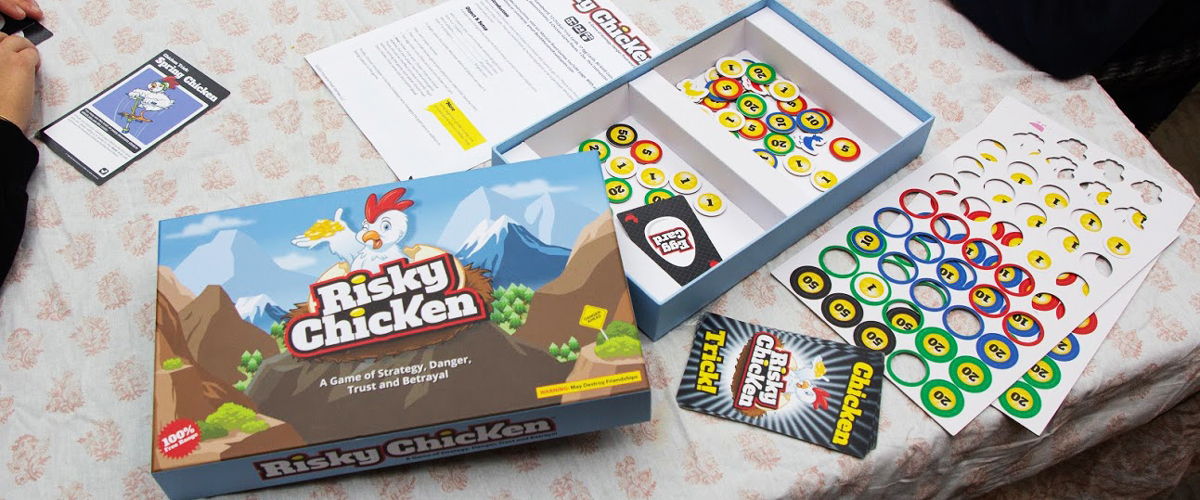 Reingold enjoyed playing and making board games as a child, but the idea for this strategy game was different and more sophisticated. "I was very excited, and I scribbled down everything I could think of on my notepad," Reingold said.
After class he turned to chapter brothers to test the idea for the game. Their positive reactions motivated him to keep developing the game. Based on that day's game theory lesson, Reingold based the game on the repeated prisoner's dilemma. "What I found interesting about it, is that it was a situation in which you had two players at a time who would make a commitment to each other—they each have to choose whether to honor that commitment or betray it for their own benefit," Reingold said. "In one way, it doesn't teach morals very well—that's why it's for age 13 and up. But in a funny way, it does teach morals because a player who is always cheating and lying isn't likely to win because you also need friends in the game."
Reingold fine-tuned the game over winter break last year developing the fully-fledged board game, which he shared with friends from home. They loved the game and two friends rushed to tell their parents about it. Once their father, a retired investment banker, played the game he suggested starting a business to publish it.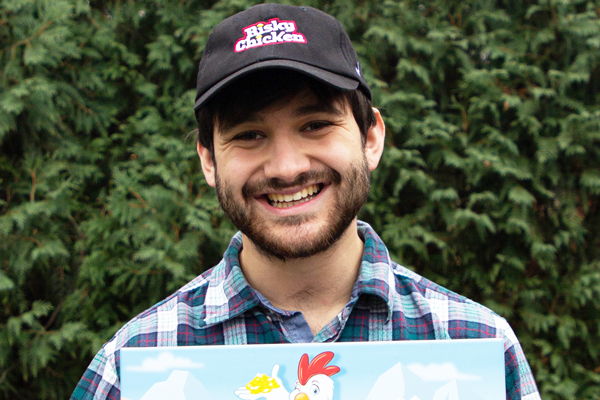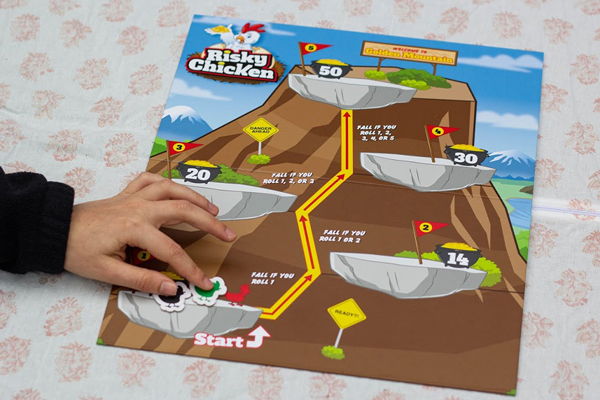 Back on campus for the spring 2020 semester, Reingold spent six weeks hosting daily play tests with students prior to spring break. "It is actually the Delt lounge historically, but it's also a public space on campus, so I hosted play tests there with a lot of Delt brothers, friends from my acapella group and other circles," Reingold said. Feedback, ideas and creativity from playtesters, particularly Delts, helped Reingold get the game where it is today.
Due to the pandemic, Kenyon students didn't return to campus after spring break. Reingold finished his senior year from home, took on tutoring two-elementary students to assist with their virtual learning and began working part-time at his family's accounting firm, all while continuing to develop Risky Chicken.
With the core game established, but without experience in illustration and manufacturing Reingold turned to Google to start a thorough research process. "It's been a learning experience, but it's been a lot of fun figuring out navigating," Reingold said.
Reingold hired a talented illustrator, Lawrence Christmas, to bring the Risky Chicken theme to life. "It's silly. Despite the depth of the strategy, the game is about chickens that climb a mountain," Reingold said. "Every player is a chicken who climbs a mountain to collect gold coins and the richest chicken is the winner. Throughout the game, players decide whether to be honest or lie to their fellow players. You can get ahead by lying, but it will ruin your reputation and you need friends to win the game."
Reingold also hired a manufacturing firm and in fall 2020, began accepting orders at riskychicken.com.
Reingold's research show there had been a real resurgence in popularity in board games, mostly among millennials. "I think a lot of it has to do with the desire to connect with people when you're with them and to do so without screens," Reingold said. "There's nothing wrong with video games. There's nothing wrong with games my friends like where we're all using our phones, but I think there is something special about the experience you have sitting around a table with friends playing a board game."