Returning to the Battleship Wisconsin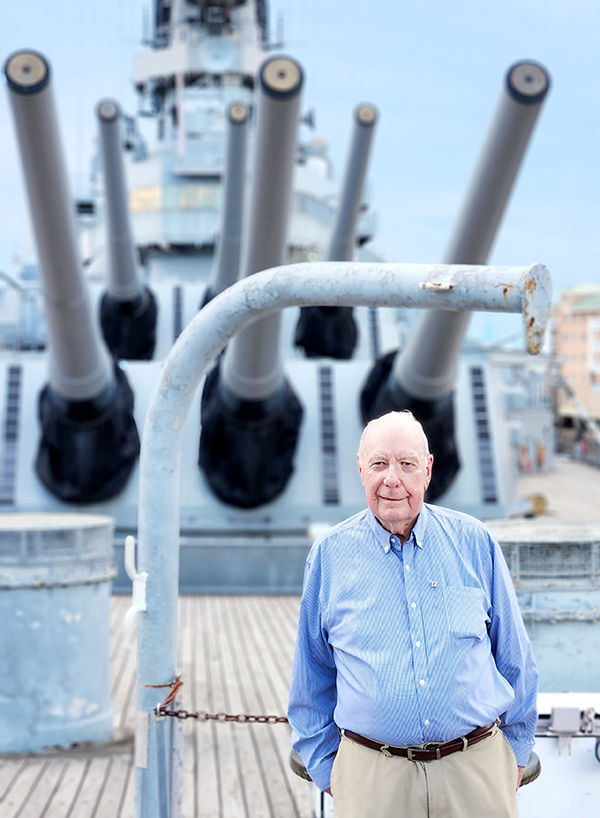 Ken Folgers (Illinois Institute of Technology, 1958) had just finished his freshman year of college in 1954 when, as a 3rd class midshipman, he spent an 8-week training cruise aboard the Battleship Wisconsin (BB-64).
One of the largest and last battleships ever built by the U.S. Navy, Wisconsin is an Iowa-class battleship and the second ship of the United States Navy named in honor of the 30th state.
Departing from Norfolk, Va., Folgers crossed the Atlantic to visit Scotland and France all while standing watch throughout the battleship. "We moved around the ship to every corner — from the lookout on the fantail, to the lookout on the bow, to the lookout 13 decks about the main deck, to the boiler room," Folgers said.
He recounted how the massive battleship had a mess hall, an ice cream parlor and a barbershop.
"I'd never even seen the ocean before," said Folgers, who grew up in Chicago and was more familiar with the Great Lakes. The training cruise also included a visit to Guantanamo Bay and experience firing the battleship's 16-inch guns.
Folgers served on active duty in the Navy from 1958 to 1961 on a small ship out of Pearl Harbor and Guam.
In August 2022, Folgers, who served as Delta Tau Delta's 35th international president, attended the Norfolk Karnea, where he had a chance to revisit the Battleship Wisconsin. Now part of the maritime discovery center located along the waterfront in downtown Norfolk, the Battleship Wisconsin helps the center tell the story of the maritime environment, industry and the military.
While nearly 500 Delt brothers gathered for the Karnea photo on the shore before boarding visiting the Nauticus museum and touring the deck of the Wisconsin, Folgers received a private tour reserved for those who served on the ship. He even got to see where his bunk was 68 summers earlier.
"It was great to be aboard. It was such a great ship," Folgers said.