Research and Networking Pay Off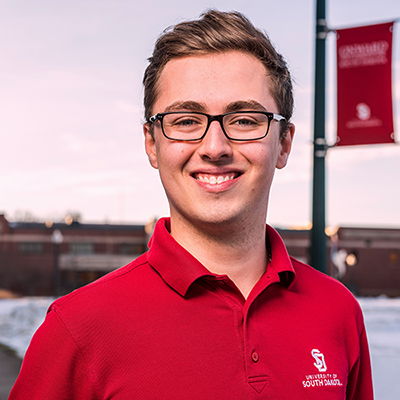 Dustin Santjer (University of South Dakota, 2017) is a finance and political science major who initially pursued a career in politics. He interned for the United States Senate for Senator Mike Rounds (R-SD) between his sophomore and junior years, then shifted his sights towards finance. As a summer analyst at Credit Suisse in New York through this past August he worked in the CFO and Financial Strategy Group, a group directly beneath the firm's senior management.
His path to the analyst position at Credit Suisse was not typical. Santjer knows investment banks often recruit a majority of summer analysts from top-tier Ivy League and business schools in the fall. As a non-target candidate, he worked a variety of contacts to try to breach the banks' recruiting process. Though he struck out in the fall and early April, later in the spring he got a tip from a Delt alumnus in Chicago about an investment bank with a position they were filling late in New York. By chance, Santjer was headed to New York City for a conference that week. He confirmed for an interview on Thursday and received his offer on Friday.
To some, the opportunity may sound like he was simply in the right place at the right time, but Santjer's fortuitous opportunity was the result of months of research and focused networking. His advice for those looking for summer opportunities for next year is to do your homework. "There are so many different opportunities. It's important to fully understand what you want to do and to be aware of alternatives," he said.
After preparing by researching the opportunities, he says the real leg work begins: networking. "I found that documenting the people that you know in your life, information about them up to the most specific and minute detail is extremely beneficial," Santjer said. He advises using LinkedIn and only professional networking sites, asking existing contacts if they know anyone that can help, and never be shy about asking for help.
"Don't give up and treat every single conversation you have as if it could be an interview. You are always representing your personal brand and you never know what jobs could stem from having a fantastic first impression," he said.
Over his many months of searching for a job, he learned about the many nuances that go into investment banking and felt prepared for the role he took, but he didn't know specifically what work he'd be doing. "I had some experience with predictive modeling and I knew that the team would take advantage of that and help me grow those skills. I think a huge surprise that I helped deal with was the Brexit vote."
In investment banking, where everyone is constantly learning and constantly adapting to the ever-changing environment, the hours can be long ranging from 60-100 hours a week, but Santjer recommends not being afraid of the demands.
"Investment banking as a whole is a very demanding profession. The banks put their analysts through intensive training programs, helping provide a well-rounded foundation for modeling within excel, finance and accounting principles, and structure of the industry," said Santjer.
With his senior year underway, he remains focused on major commitments such as his thesis and his continued involvement with Delta Tau Delta.
Santjer represented the voice of undergraduate members serving on the Fraternity's Undergraduate Council (UGC) from 2014 to 2016, serving as chairman during the 2015-16 academic year. "Being a part of the UGC gave me the opportunity to see how large and impactful Delta Tau Delta's reach is nationwide at a very early stage in my Delt career. I was exposed to groups of people that many young Delts don't have the opportunity to meet."
In 2014 Santjer was also elected president of the Delta Gamma Chapter and participated in the Ignite program in California. His experiences demonstrated the value of the power of Delt as a whole.
"We are all Delts for life, a whole fraternity, and the relationships that I have gained both from my chapter and from the interactions with other undergraduates and alumni have been invaluable. I've made great contacts, but more importantly, a lot of lifelong friends across the world," Santjer said.
He looks forward to the two years following graduation of working for Credit Suisse, then possibly pursing an MBA and says his love for technology may lead him to pursue a few venture capital opportunities.