Raising the Baar as a Long-Distance Advisor
What does it take to make an impact? Trust, communication, passion and dedication. John Baar (Sewanee 1975) proves that being local is not always the answer to this question. Baar serves the Delta Tau Delta chapter at The University of the South in Sewanee, Tenn. as chapter advisor, though he personally resides in Chicago, Ill.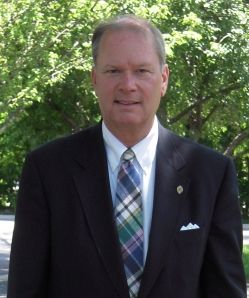 "I think when the undergrads see someone driving down from Chicago to Sewanee, just to work with them, it makes an impression," Baar explained. "I support them in every philanthropic event and help them with ideas, based upon my experience."
As a collegiate member of the Sewanee chapter, Baar served as treasurer and then president. More recently the chapter faced operational challenges, and he was asked to assist with the chapter by friend and President of the Beta Theta House Corporation John Spainhour (Sewanee 1973). Together, they recruited a group of Beta Theta alumni and formed an Alumni Council. They also recruited John Solomon (Sewanee 1970) as the chapter's faculty and academic advisor. Solomon is a Spanish professor at the University's Theology School.
"My role, as the advisor, is to work closely with the chapter officers in setting some high expectations and helping them set goals," said Baar. "I guide them toward creating a plan to fulfill those expectations and reach their goals. If they come to me with a problem, I don't solve it for them, but instead I ask them how they would solve it."
Baar further explained he makes sure the collegiate officers know they are the ones who run the chapter, not him. As an advisor, he is always there for feedback, but he always prefers to work through the officers. Baar often urges the men to lean into the Delta Tau Delta Ritual and its message, as, "it has everything that a successful life requires."
The Beta Theta Chapter at Sewanee has certainly been impacted positively by Baar's involvement; however, he has also been enlightened. Until his partnership with the chapter, as an advisor, Baar didn't fully appreciate International Fraternity and the true meaning of belonging to a fraternity.
"Now, I see how important it is, and part of my job is to help the actives understand how essential this relationship is to a healthy and thriving local chapter. Not to mention, I am always very impressed with the quality of our active members and the brotherhood they have."
Baar's long-distance involvement with the chapter has formed a strong bond and learning environment for all. He explained that today's methods of communication, like email, social media and texting have been incredibly beneficial to their relationship.
"Alumni involvement is critical for a chapter to consistently succeed at a high level and to maintain the values that underlie excellence," Baar concluded. "For the undergrads to understand they are part of a long tradition and they have a responsibility to preserve and improve that for those who come after them is very important."