Pursuing a Passion for Storytelling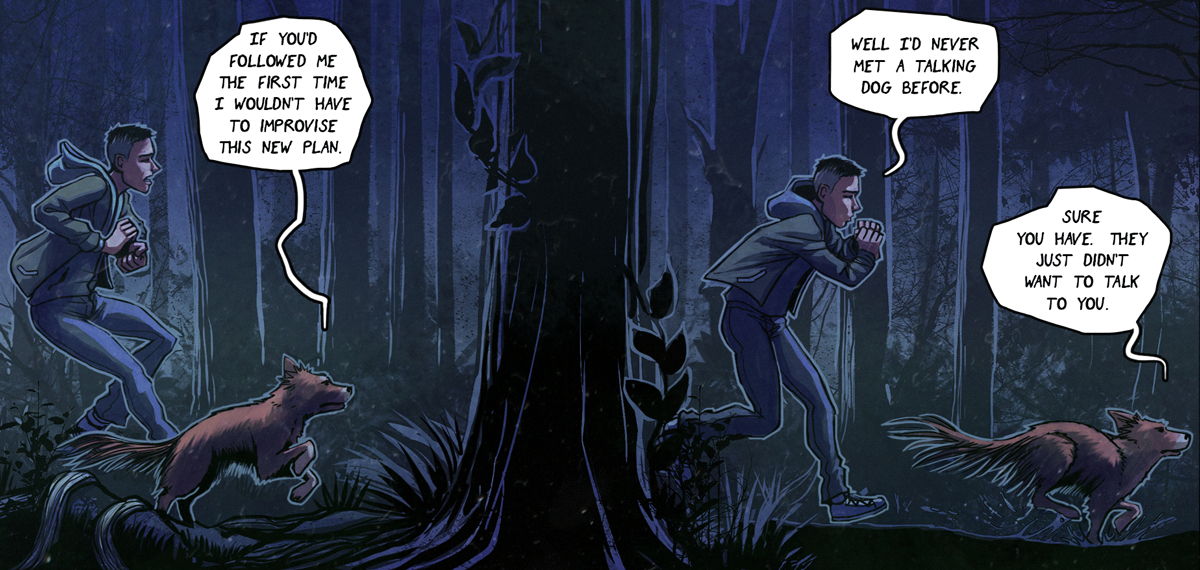 Gabriele "Gabe" Cheng (University of California-Riverside, 2008) left his successful seven-year career as a high school teacher to pursue his passion for writing. He is self-publishing his first webcomic called, "For Molly" with art by Benjamin Sawyer. "For Molly" is a fantasy comic that takes place in modern New Jersey where an anti-social talking dog named Molly helps a recently divorced New Yorker named Greg rescue his sister from an evil that lurks in the forest. Greg and Molly's unlikely friendship is tested on every step of their journey. Cheng draws from his own experience to explore themes like guilt, abandonment and loyalty.
Cheng discovered comics as a storytelling medium in college while studying film and visual culture. "I've loved super heroes and comics since I was a little kid, but I didn't start actually reading comic books regularly until college. That's when I started to appreciate the storytelling potential of the medium. At first glance, it just seems like drawings and words. Then I started reading some of the master writers and artists and saw all these cool ways that space, form, color, movement, text and emotions can be used to tell beautiful and unique stories. To me the possibilities are limitless, and I've barely just scratched the surface in my reading and my writing," Cheng said.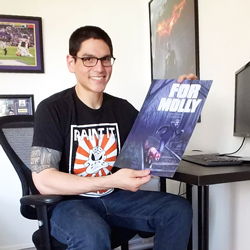 His current webcomic, "For Molly," started as a screenplay. "I submitted it to some screenplay writing contests but received exactly zero awards. So, I had a choice to either let it sit on the proverbial shelf or go out and make it into something myself. I spent some time researching how to self-publish a comic, revised and rewrote the story, turned it into a script for a comic, hired an artist, did a Kickstarter to pay the artist and started publishing online," Cheng said.
Cheng received some important advice during his research: "'Don't make a comic just because it's a way to tell your story, make a comic because it's the ONLY way to tell your story correctly.'" Cheng said. "I try to keep this in mind as I continue to revise and rewrite the story of 'For Molly.' Because this isn't about just haphazardly cramming my screenplay into comic book panels like a square peg in a round hole. It's about taking a story I really love and turning it into the best comic I can possibly make. So that means using the medium to its full potential and telling the story in a way that can only be told as a comic."
Cheng has published one chapter of "For Molly" so far and he is working on at least four more chapters to publish online. He will raise the money for each chapter with a Kickstarter campaign. "For Molly" is currently completely web-based but Cheng plans to create a paperback graphic novel to sell online and at comic book conventions and shops.
His future goals include continuing to write more comics. "There's a line of dialogue on the final page of Frank Miller's seminal Batman comic, 'The Dark Knight Returns,' where an elderly Bruce Wayne is preparing to train an army of crimefighters to carry on his crusade. 'This will be a good life,' he says, 'good enough.'" Cheng said. "I think about the future and ask myself if writing comic books for the next five years, 10 years, 20 years would make me happy. The answer is yes. That would be a good life. Good enough."
"This sounds cliché, but I wouldn't be the person I am today if I hadn't joined Delta Tau Delta," Cheng said about his Delt experience. "So many core aspects of my personality, my work ethic, my sense of humor, the way I relate to my friends and family were strengthened during my time as an undergraduate Delt."
Cheng served as Ritual advisor for his undergraduate chapter. "The Delt ceremonies and the meanings behind them have always been really important to me, and I did the best I could to pass on my knowledge and enthusiasm to the guys carrying the torch of my beloved Theta Lambda," Cheng said.
Cheng's best friend is one of his Delt brothers. He reconnected with many of his Delt brothers when he contacted them about his Kickstarter campaign to help publish his webcomic. "These were guys I hadn't spoken to in years, but they were excited to hear I was pursuing my passion and jumped at the opportunity to support me. Of course, I was incredibly grateful for their donations, but what was even better was talking to them on the phone or even just reconnecting via email," Cheng said.
Cheng lives in Sherman Oaks., Calif. In his spare time, he enjoys reading comics and science fiction novels. He co-hosts a fan podcast with his older brother called, "Another Lousy Millennium" about the animated show, "Futurama" episode-by-episode. He is also a diehard fan of the Baltimore Ravens (Cheng was born in Baltimore). Since losing 85 pounds a few years ago by going on the Nutrisystem diet and working out, Cheng runs 5Ks and is training to run his first 10K within the next six months.
Go to formollycomic.com to read Cheng's webcomic for free. Two new pages of the webcomic are published every Wednesday.