Purdue Delts Win Fourth Consecutive Grand Prix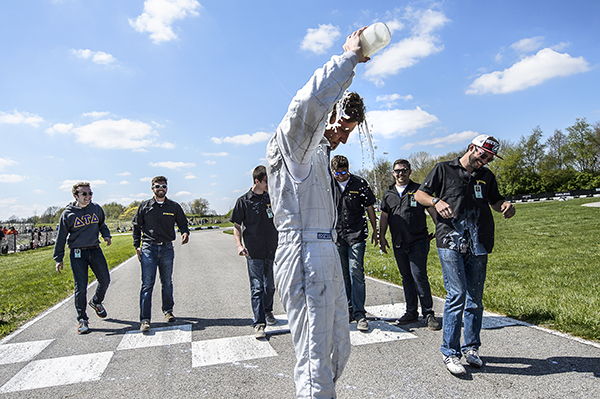 For the past four years, Jimmy Simpson (Purdue University, 2016) and his crew have enjoyed life in the winner's circle. Simpson is the first person in the 59-year history of the Purdue Grand Prix to have won four consecutive years.
"It was good racing, and luckily we were just a little bit faster than everyone else," Simpson said. "I didn't think it was going happen after all the problems we have had this year."
The Delt team finished their kart early and were practicing pit stops in a church parking lot the night before the race when they burnt out their primary clutch after the manufacturer changed the type of transmission fluid the team was used to using.
Backed into a corner, they decided to run an engine clutch they used in all their practices and in the 2013 and 2014 Grand Prix as well.
"We were really nervous about this race, the clutch gave us some problems but lucky it held together," Simpson said. "I couldn't believe it. I thought it would have blown up halfway through the race."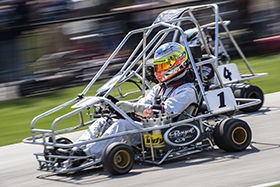 With a clutch that was supposed to last one to two years, Simpson was closely trailed by Indiana University-Purdue University (IUPUI) freshmen Brenden Johnson for most of the last 65 laps. This win was not easy as previous years.
"There was a lot of contact early on between me and other top two guys," Simpson said. "We had a phenomenal pit stop, after that the kart felt really good and I didn't make any mistakes, but I really had to fight for this one."
After fending off Johnson and 31 other drivers, Simpson again found himself crossing the finish line in first. Surrounded by his crew, Delts and other spectators at the finish line Simpson did what he has always done after winning the Grand Prix and showered himself and his crew in ice cold milk.
"The first year it was extremely hot, so when they handed me the glass of milk I poured it on my head and started throwing it on the crew guys and that caught on so every year after that I throw milk everywhere," Simpson said. "Looking back it's dumb idea because you smell pretty bad, but it's just something we do when we win."
Creating a Grand Prix team and a racing culture within the Gamma Lambda Chapter was a huge goal for Simpson when he joined.
"Once we established the team, guys went through recruitment just because we won the Grand Prix," Simpson said. "The men in the chapter see us as a racing powerhouse within the community."
The Gamma Lambda Chapter now has three Delt teams comprised entirely of members fighting to get into 33 team field.
"We have two young and talented drivers and many other experienced members in the chapter," Simpson said. "Hopefully, they will continue the legacy we have created."
Delt has embraced the Grand Prix with what Simpson calls the "racing bug." With four straight victories and many members now interested in racing, Simpson has created a racing dynasty within the chapter.
"Other organizations on campus just want to compete in the race, but the only goal our guys have is to win the race. We view anything other than placing first a failed mission," Simpson said.
Simpson attributes the chapter's success to a strong group effort where members of the chapter help in any way they can.
"The guys take a lot of pride in it and you can tell they like to win," Simpson said. It's nice after winning the race and you look out and you see 40 of your brothers running around the track in celebration. It's a really great feeling to have type of support."