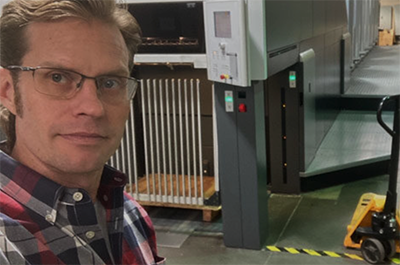 Justin Bass (Texas A&M University-Commerce, 2002) gravitated to the printing industry after starting out in graphic design in college. "I grew up in the print industry and eventually circled back to work in the print industry directly," Bass said. "I ended up majoring in printing and business in college."
After he earned his bachelor's degree, he went to work as a sales rep for DiscPro Printing & Graphics in Houston where he has been for just over 20 years.
"I really enjoy helping people and assisting with projects. I like being the go-to guy for whenever anyone needs anything at all," Bass said.
His breadth of experience in print production translates to his sales role as it allows him to help clients adjust projects to save money and time. If a design can be adjusted to fit a certain press to achieve better results, Bass knows what to recommend. He has run printing presses and full bindery equipment, served as a pre-press operator and done design. Through his career Bass has observed changes in efficiency in the front part of a job from the proofing process to getting a job on press. "They have cut out a lot of procedures over the years with the advancements in technology," he said. "Deadlines are tighter and faster than 20 years ago."
As he approached college, Bass was drawn to the east Texas campus and the print program at Texas A&M-Commerce where he was part of the Student Printing Association. After a few friends invited him to join Delta Tau Delta he welcomed the opportunity based on the diversity of the chapter and the camaraderie of the members. Through the Fraternity Bass developed some of the business organizational skills he uses today. "I learned to plan and implement procedures and to communicate effectively," he said.
A family man, Bass is inspired by his wife and daughters. "They are what drive me every day," he said.